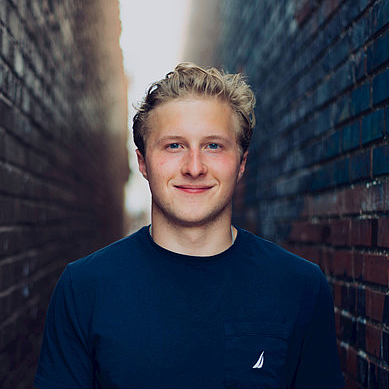 Michael Naber, 23
Company: Simerse
Title: Chief Executive
Business: Artificial intelligence
Location: University Park
Employees: 5
Annual Revenue: Less than
What led you to start this business?
I've always been fascinated by emerging technologies and dreaming up new business opportunities. I knew AI was going to be a game changer for businesses, but I also knew that not all businesses would have the resources and skills to take full advantage of it. Typically, when new technology gets introduced in the market, the cost is usually prohibitive for most businesses. I knew that there would be a way to help reduce the cost, make it even more efficient, and make it more available for mid-size and smaller businesses. Ultimately, finding a way to make AI more available to businesses led me to start Simerse.
How did you fund it, and how are you funding it going forward?
Right now, Simerse is bootstrapped, meaning that we have not taken on outside investment. We have revenue coming in the door, but raising capital will allow us to grow quicker. To that end we expect to close a formal round this summer.
Are there advantages to starting a business in your 20s?
Being a recent graduate, I don't have years of industry experience for the field I'm in. However, this is such a new field, no one really is coming into this market with any long-term experience. We are building the airplane as we fly it. To make up for this, I've had to jump in with both feet into highly technical subjects by reading research papers, attending webinars, and even just calling people and asking a ton of questions. In addition, being new to the scene means that I don't have any preconceived notions of how things ought to work. When we are trying to solve problems for businesses, we come in with a fresh perspective and more often than not can drive meaningful results for our customers.
How has the pandemic affected your business and how have you adjusted?
Simerse was founded in the midst of the pandemic. We don't have a "normal" baseline from pre-pandemic times. Like many companies at the moment, we are fully remote, and Zoom has become a part of daily life. Despite the pandemic, we have achieved significant milestones in our product development, and I couldn't be prouder of our team for persevering. In some ways, the pandemic gave us the opportunity to compete with larger companies that have bigger travel budgets. With everyone locked down, we didn't need to start raising money as early in the process as we might have.
Where do you go for advice regarding your business?
I'm extremely fortunate to be an alumnus of USC, and I've relied heavily on the Trojan family for advice. Simerse went through the USC Marshall/Greif Incubator this spring, and I regularly connect with professors from across the university.
I was fortunate enough to be offered an internship at Virgin Orbit in Long Beach and ended up staying on part-time for nearly nine more months. It was a great place to learn, and my bosses there were excellent mentors.
For reprint and licensing requests for this article, CLICK HERE.