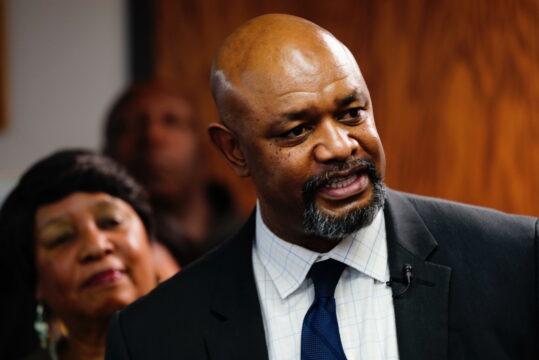 AURORA | A community hub in central Aurora is formally changing hands this week, swapping brochures on city amenities for grant dollars, cups of coffee and maybe even a yoga pose or two.
The Aurora branch of the NAACP is set to cut the ribbon on a new economic development center Wednesday afternoon, opening a suite of free financial and business resources available to residents from across the metroplex.
"During COVID, there were a lot of businesses that unfortunately weren't able to receive some of the federal assistance money because they were just left out of the application process, or they weren't approved, or in some cases, some mom-and-pop small businesses may not have had the infrastructure required for these loans, and there really wasn't any technical assistance to help them," said Omar Montgomery, president of the Aurora branch of the NAACP. "Through this economic development center, there will be infrastructure to help."
The facility will sit in the former office space of Visit Aurora, the city's tourism arm, in suite 200 of 2260 South Xanadu Way. The city's cheerleading entity, which recently moved into a spot in north Aurora's Stanley Marketplace, effectively gifted the NAACP their old haunt by donating the bulk of the furniture, awarding a $10,000 grant for moving costs and agreeing to pay the lease for the first six months of operations, according to Montgomery.
"They have been more than generous," he said.
A litany of additional groups have endeavored to stand up the new hub, including Amazon, The Village Exchange Center, the Second Chance Center and the South Metro Small Business Development Center, among more than a dozen additional entities. Several groups will assist in providing workforce training, and the Village Exchange Center — which was recently dealt a blow after $75,000 worth of the group's tools were lost in a fire — will dole out start-up grants for new business owners. The organization has given out about 50 assistance grants of their own to entities upended by the pandemic in the past 18 months.
And while COVID-related relief will remain front of mind for the foreseeable future, Montgomery said the center is intended to be a long-term office facility centered to the evolving needs of small business owners.
"It could be a place where you could come and do your Zoom meetings, or you could do your trainings," he said. "The workforce has changed since COVID, so we want to be a place where you can do the training, have interviews for jobs, prepare for interviews, while also being a wellness center and little coffee shop area for board meetings or whatever … If we can be there longterm, we want to be an asset to the community, to the city of Aurora, to small businesses and to our workforce community."
Yoga classes and other community events are on the facility's docket, too, Montgomery added.
He said the local NAACP and other groups are currently coordinating to obtain grant dollars to keep the space open for several years after the six-month gift of free rent from Visit Aurora runs out.
The center's resources will remain free and available to all residents, though they will be targeted toward Black or other historically underserved business owners, according to Montgomery.
"We are hoping to address and overcome some of the inequities," said Aurora City Councilperson Crystal Murillo, who plans to make remarks at the grand opening event Wednesday. "I mean redlining was sanctioned by the government."
Financial officials in Aurora, like those in umpteen cities across the country, for decades denied services to Black residents, sequestering wealth to certain areas in the practice known as redlining.
"We're 100% focusing on BIPOC and Black businesses, but anyone can come there and receive services," Montgomery said. "But those are the businesses that have traditionally been left out of some of the resources in the federal system."