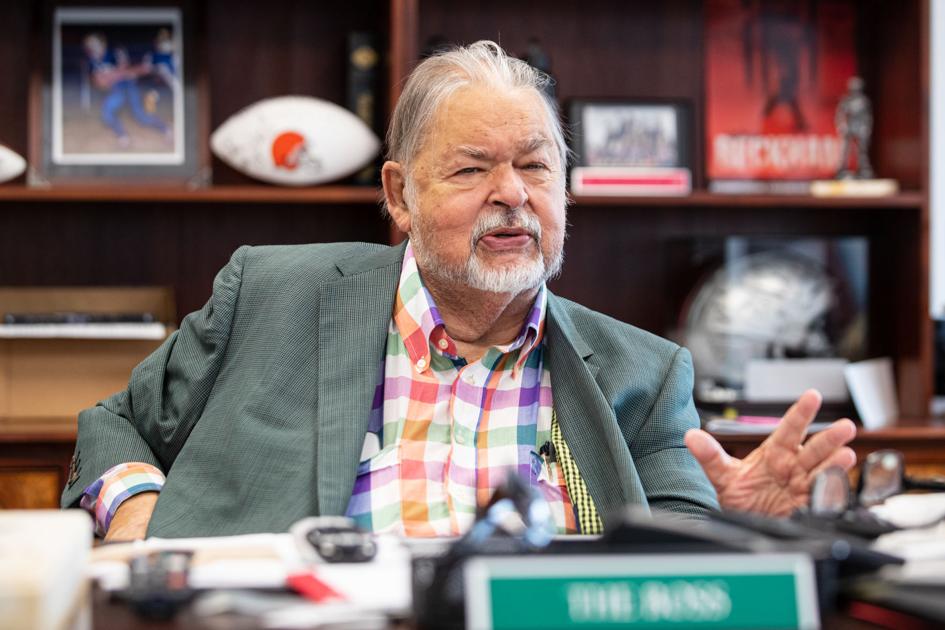 BARBOURSVILLE — Guyan International, the holding company for Permco, was recently honored by the governor for its export success to Singapore and Kenya.
The privately held company in Barboursville was one of 27 West Virginia companies honored by West Virginia Gov. Jim Justice and state officials in a virtual ceremony on June 30.
During the event, each business received the governor's Commendation for International Market Entry Award, which is given to companies that made their first sale to a new country in the previous calendar year. Guyan International was recognized for its manufacturing of high-pressure hydraulic pumps, motors and auxiliary products for mobile hydraulic applications in the mining, agricultural, industrial, construction, waste disposal and energy industries that were exported to Singapore and Kenya.
Justice said exporting to a new country is an incredible accomplishment.
"We are all proud of their success," he said. "Congratulations to all the winners and thanks to all those who are making this happen in West Virginia."
Exports are an important component of West Virginia's growing economy. In 2020, the state's exports were valued at $4.5 billion.
"West Virginia has a very diverse economy with several thriving industries and an array of businesses that have taken the next steps to export outside of the United States," said West Virginia Department of Economic Development Secretary Mitch Carmichael. "Every time a West Virginia business expands into a new market, it should be celebrated. It's an incredible achievement that contributes so much to the state's economy."
Since 2002, more than 2,200 export awards have been presented to more than 170 companies for selling products to nearly 200 countries. This year, awards were presented to businesses from 13 West Virginia counties for exporting goods and services to 50 different countries.
Robert "Bob" Shell, Jr., 78, chairman of the board of Guyan International, said it's an honor any time business success is recognized.
"We have been recognized for our international business success since 2001," Shell said.
The company has done international business in Mexico, England, Switzerland, France, Germany, Spain, China, Egypt, Turkey, Australia, the Philippines, Singapore, Malaysia, Indonesia, New Zealand, Portugal, South Korea, Iran, Canada, Saudi Arabia, United Arab Emirates, Italy, South Africa, India, Sweden, Brazil, Russia, Israel, Afghanistan, Finland, Denmark, Iraq, Taiwan, Norway, Belgium, Uruguay, Argentina, Kenya, Chile, Tanzania, Uganda, Sudan, Poland, Thailand, Ireland, Columbia, Scotland, Ecuador, Peru, Panama, Bulgaria and Bangladesh.
Shell said his family founded Guyan Machine Shop in Logan in 1914 and built a thriving business before founding Permco in Streetsboro, Ohio, near Cleveland.
"Permco was founded in 1964 to design and manufacture replacement parts for the mining industry," Shell said.
In 1976, Shell began producing entire hydraulic pump units. Permco is the recognized leader worldwide for its hydraulic pumps used in heavy industry.
"When you see a dump truck going down the highway is most likely has Permco pumps on it," Shell said.
Shell said the Permco division is the crown jewel of company.
"We are the largest supplier of dump pump hydraulics in the world," he said.
Shell said the company has two additional manufacturing plants in Tianjan, China, and Permco is the international brand servicing customers around the globe.
"If you see heavy equipment in China, or just about anywhere overseas, it's got our pumps on it," he said. "We manufacture our hydraulics to a higher level of precision and pressure, and they can take contamination that a lot of others can't take."
He said countries, like China, require a higher level of quality than they have domestically.
"Of the six largest manufacturers of construction equipment in the world, they all use Permco products," he said.
The Kenya operation involves Chinese contractors building a conduit from Mombasa to Nairobi, Shell said.
"That's a four-lane highway for heavy trucks, as well as heavy cars, train tracks, electrical service and everything you could possibly need for modern transportation and modern communication," he said. "There are 200,000 Chinese working out of Kenya on these projects and we're the name they identify with when they need hydraulics."
Shell said the company started exiting the coal industry about five years ago.
"We don't have an emphasis on coal, but we still sell to coal OEMs who make mining machinery, especially in China and India," he said. "Our primary emphasis has switched to waste management, trucks and logging."
He added that the company has more success with its operations in China that it does domestically.
"Here we are kind of an outfit that used to be in the will-fit parts business for the coal mining industry, and some people still think of us that way in some ways," he said. "But we far surpassed that today in both quality and reach."
Shell said the company is different because it focuses on specialty applications where quality and attention to detail are required.
"We are interested in long-term relationships, and we are not interested in getting into pricing battles with anybody," he said.
Shell says he plans to retire in January.
"I appreciate what my grandfather, Bernard, and father, Robert Shell Sr., did and I think I am leaving a strong foundation for my son, Robert Shell III, and grandson, Robert Shell IV, who will be the fourth- and fifth-generation leaders of this growing company."
Other Cabell County businesses honored for exports included BEK Inc., dba Level 1 Fasteners, of Huntington for exporting high-precision fasteners to the United Kingdom; Steel of West Virginia of Huntington for exporting structural steel I-beams, channels and special shapes to China, Spain, Canada and South Korea; and West Virginia Power Systems of Huntington for exporting medium voltage fuses and arrester to Canada and Mexico.