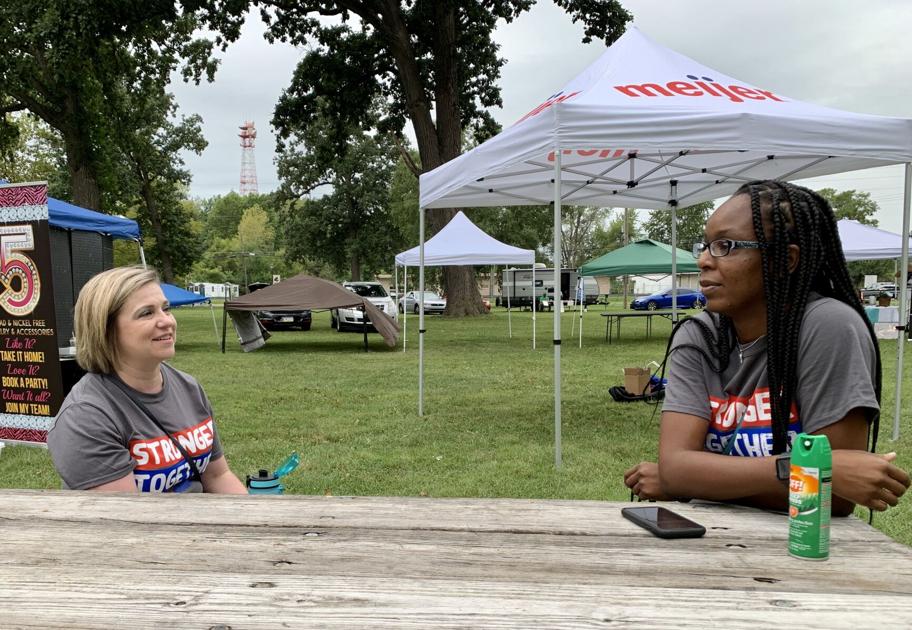 ANDERSON – By mid-afternoon Saturday, a few of the more than two dozen vendors at the Anderson Black Expo's Summer Festival had decided to pack up their tents and leave Jackson Park.
But persistent showers that at times intensified into downpours did little to dissuade the hundreds of people who continued to mingle and sample food from local and regional restaurants. The day-long event also included a spades tournament, a fashion show and live musical entertainment.
The Madison County Health Department was also on hand offering COVID-19 testing and vaccinations as well as blood pressure screenings, cholesterol checks and other minor medical tests.
"We don't have too many things that we can look forward to on the west side of Anderson, so we appreciate the Black Expo putting this event on each year," said Betty Williams, public relations director for the Anderson Madison County Black Chamber of Commerce. "I think it's important to everyone both Black and white, Hispanic, to come out and celebrate with them on their achievements and what they are trying to do to improve the community."
Many of the booths set up around the perimeter of the park's large, grassy clearing were manned by Black business owners who acknowledged a sense of responsibility for showing support to their counterparts. Some said they've been attending the festival for more than a decade.
"I remember coming here as a young Black kid with my father who started the business," said Chet Maxey, who with his family co-owns Ribs Express, a soul food restaurant and catering company in Anderson. "It's great seeing the same thing, young kids out here making deals with other vendors and learning those business skills that will hopefully help them maybe run their own business one day."
Kalicia Patterson and her co-worker, Brandi Leonard, had a booth set up to recruit potential workers for Meijer, which is partnering with several organizations locally in attempting to diversify its workforce at its Anderson store, as well as others in Muncie, Marion and Noblesville.
"We want to make sure the community knows that we're here," Patterson said. "Our focus is diversity and inclusion, so it's about just bringing everybody together."
Having been in business for himself for about seven years, Shawn Hall of Muncie has made the Black Expo Summer Festival a regular stop on the list of must-visit events for his dessert shop, Danielle's Funnel Cakes.
"We go across Indiana and all around doing different festivals, and this is a big one for us," he said. "I'm very familiar with Anderson, and it always has been a business-friendly town."
Williams said that having the Summer Festival back after last year's pandemic-prompted hiatus is meaningful for the city's efforts to revitalize business and social opportunities on the west side.
"To see this many people out here in the rain, that is telling us that they are wanting this to happen," Williams said. "They are ready for something on the west side to be proud of and to look forward to."