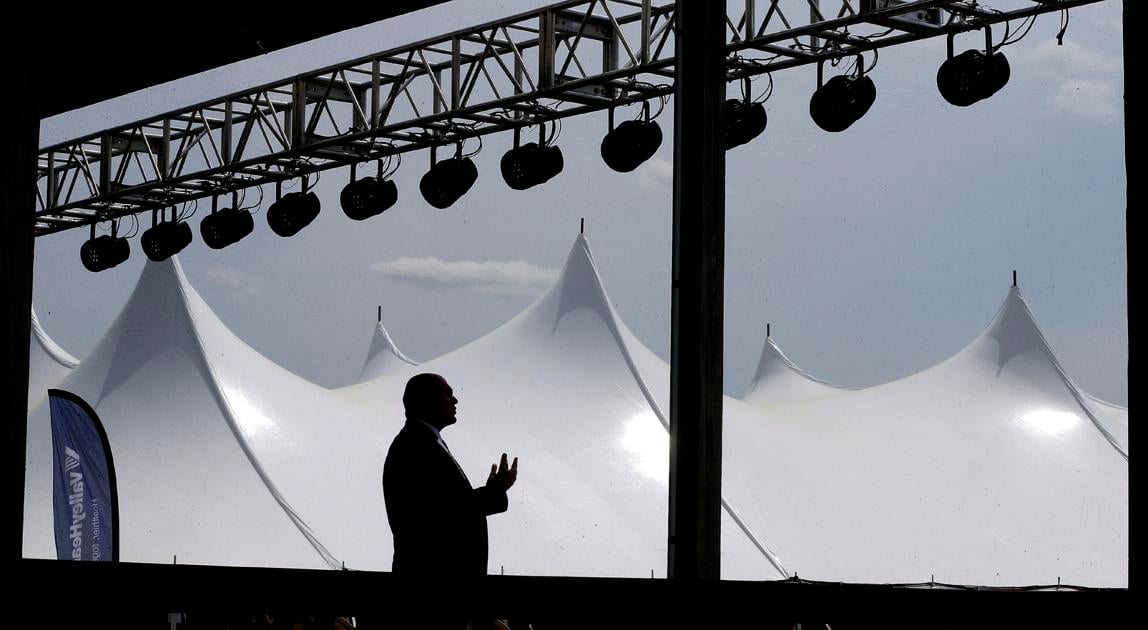 CLEAR BROOK — After US Airways Flight 1549 landed on the Hudson River after striking a flock of birds and losing all engine power on Jan. 15, 2009, Dave Sanderson said he knew his life would forever be changed — even if he didn't exactly know how.
A dozen years later, Sanderson shared his survival story — one that he calls a miracle — with area business professionals at the 94th Shenandoah Apple Blossom Festival's Business at the Bloom Luncheon on Wednesday at the Frederick County Fairgrounds.
The "Miracle on the Hudson" pushed Sanderson from a three-decade career in sales to pursuing a life of leadership coaching.
Sanderson, a graduate of James Wood High School in Frederick County, uses his experience from that harrowing incident to push leaders into finding their "distinct advantage."
"Throughout our lives, many of us will be tested by a traumatic life event," Sanderson told the audience. "These mid-life jolts can either propel us or derail us, taking us back to square one. These jolts can create a lifetime of purpose, create new relationships, new careers, new world views and clarity of our mission on earth."
He encouraged people to look within themselves and find reasons not to give up instead of finding reasons to blame failures on.
Sanderson said the most frequently asked question he gets is, "How did you get back on a plane after surviving a plane crash?"
"One thing I've learned is that it's easy to blame events," Sanderson said. "But if you keep blaming events, you never give yourself an opportunity to grow."
He said instead of focusing on the traumatic events of that day, he turned his turmoil into triumph.
He walked the audience through the events of Jan. 15, 2009, and how the lessons he learned that day shaped his life moving forward.
Sanderson detailed several situations where he could have given up — standing in 36-degree water that was filling the crashed plane and facing a potentially life-altering fear of flying a few days after the crash to return home to his family.
Those lessons, he said, led to him creating nine leadership points that he now uses in his leadership coaching:
• Process saves lives.
• Casualness leads to casualties.
• People of value value people.
• The main thing is keeping "the main thing" the main thing.
• Let go of needing to be right to do the right thing.
• Divorce the story of limitation and marry the truth of unlimited capacity.
• Leaders are expected to mentor someone.
• 5+15 is better than 15+5 (regarding 5 minutes of explanation and 15 minutes of allowing for questions).
• Grace is fueled by gratitude.
"If you go back to 2009, there weren't a lot of positive things happening in this country. But all of a sudden you have a crew and passengers do something that had never been done in the history of aviation," Sanderson said. "One team, one goal, one miracle. And it gave people hope."
Sanderson said now his mission in life is to provide that same hope, something he said business leaders are also tasked with doing.