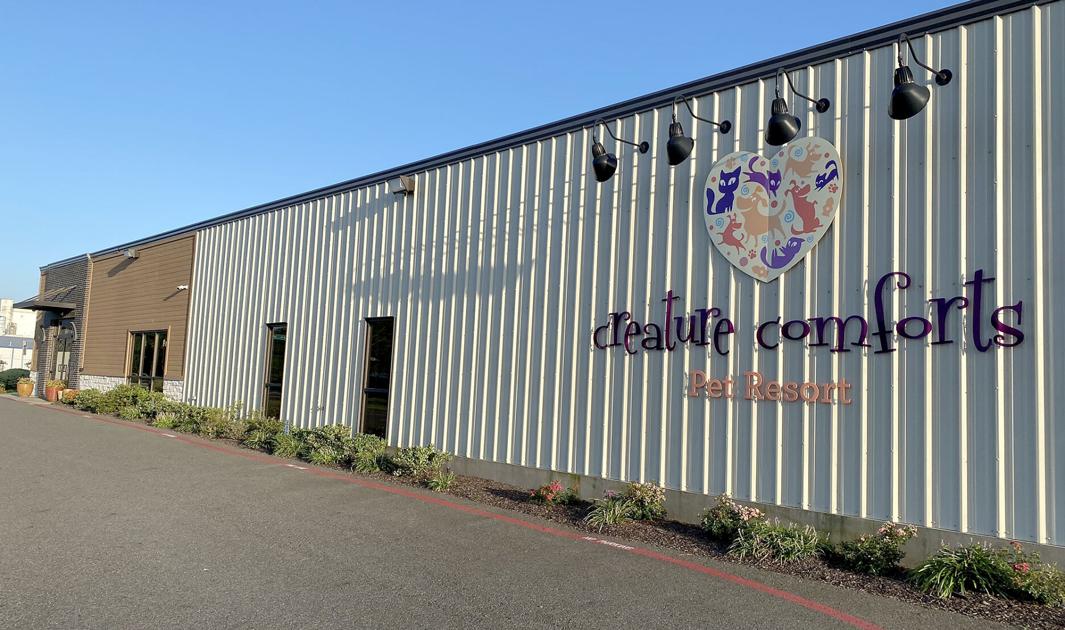 Spirit Halloween will return to Longview beginning Sept. 9, according to the company's website.
The store this year will be at 1207 E. Marshall Ave., in the Alpine Village shopping center. A Mount Pleasant location is planned to open Aug. 28 at 2306 S. Jefferson Ave., and in Marshall on Sept. 4 at 1300 E. Pinecrest Drive.
Two Tyler locations already are open at 4516 Broadway Ave. and 8942 S Broadway Ave. Hours are 11 a.m.-7 p.m. Thursday and Friday; 10 a.m. – 8 p.m. Saturday; noon-6 p.m. Sunday; and 11 a.m.-8 p.m. Monday-Wednesday.
Creature Comforts to grow
Creature Comforts Pet Resort in Longview expects to more than double its space with a new facility it plans to build near its current home.
Tonya Read began a pet sitting business in Longview about 20 years ago. She and her husband, Bret, opened Creature Comforts about eight years ago at 1600 W. Cotton St. at H.G. Mosley Parkway. The business offers pet boarding, daycare and other services. The 7,600-square-foot building sits on about 1 acre and includes an outdoor dog splash pad. It can accommodate about 130 dogs for boarding as well as 12 cats.
The business has purchased about 4 acres around the corner from its existing location, where soccer fields previously were at the northeast corner of H.G. Mosley Parkway and Loop 281.
"We've outgrown where we are now," Read said. She said Creature Comforts is working with a Fort Worth design firm that knows the pet industry to plan the new facility so it's current with all safety and cleanliness practices.
"We're looking at starting at at least 12,000 feet, but it's probably going to be more," Read said.
She is planning to sell the existing facility when the new one is ready because she'd prefer to have her whole business under one roof.
In addition to accommodating about 200 dogs and 25 cats, the new facility will feature yards, play and splash areas as well as all the existing and expanded services. It also will have a cat area that includes activity walls and a place for them to look out the window.
Read estimated she's 18 to 24 months away from moving.
Christus opens endocrinology clinic
The new Christus Trinity Clinic-Endocrinology is a "full-service practice focused on treating patients with diabetes, endocrine diseases, metabolic diseases and more," Christus Trinity Clinic reported.
The clinic also added endocrinology specialist Dr. Sowmya Boddhula.
"Christus Trinity Clinic Endocrinology specialists are dedicated to providing the highest level of care to patients across Northeast Texas, and we are excited to be able to expand access locally to this community," said Brandy Moore, vice president – physician practice operations for the clinic. "This is a care that this community needs, and by opening this new clinic, we are meeting the people of this community where they are."
Providers work with patients on conditions that include pituitary diseases, hyperthyroidism, thyroid cancer, adrenal dysfunction, osteoporosis and obesity with access to advanced imaging services such as thyroid ultrasound and biopsy.
Boddhula received her medical degree at Sri Venkata Sai Medical College, Mahaboobnagar, India, and joins Christus Trinity Clinic from her position in the University of Cincinnati Medical Center in Cincinnati, Ohio.
"My goal is to help patients when they need me most — and that means treating problems, but also education and preparation," Boddhula said. "I want to help them learn how to manage their diabetes on a daily basis by understanding the relationship between a number of factors like medical nutritional therapy, exercise, medications, emotional and physical health, and blood glucose levels ."