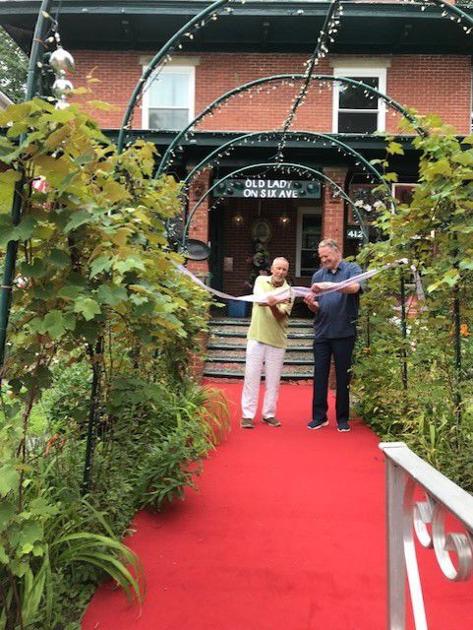 HUNTINGTON — A new art gallery business in Huntington hosted a grand opening celebration on Saturday, July 31, featuring live entertainment, numerous exhibits and raffles benefiting the Facing Hunger Foodbank.
The Old Lady on Sixth Avenue is at 412 6th Ave., adjacent to the Prunty Law Offices.
Ted Taylor is the owner of the home-based business that offers glass window art, mobiles art, etching on glass and custom window art. Pottery, art classes and art on consignment are also available. Taylor has collaborated with fellow artists to offer a variety of items at what he called "this one-of-a-kind shop."
Taylor says the property itself is a work of art that is creative and welcoming, reminiscent of artistic venues that are typically confined to major metropolitan areas.
"As far as the name, my house is 108 years old, so we named her the Old Lady on Sixth Avenue," he said.
Taylor says he moved to Huntington from Florida five years ago to be closer to his grandchildren.
"I bought a three-story house here in Huntington and renovated the house," he said. "As an artist myself, I was looking for a place to sell my artwork, and then decided to turn my first floor into a retail art gallery and to provide a space for other artists. I wanted to bring something else to Huntington."
Huntington Mayor Steve Williams participated in the ribbon-cutting ceremony with Taylor last week. The event also included live entertainment from Allen Stotler, Red Band, Michelle Horan Band, The Huntington Blues Society, The Secret Arrangement Band and fire-spinning by Lady Eureka.
The business is open from 10 a.m. to 5 p.m. Tuesday through Saturday and on Monday by appointment.
For more information or to make an appointment, call Taylor at 772-913-5606 or via email at [email protected]. You can also follow Old Lady on Sixth Avenue on Facebook.
NEW BUSINESS REGISTRATIONS: The West Virginia Secretary of State's Office registered 1,343 new businesses statewide during the month of July 2021, according to Secretary of State Mac Warner.
Calhoun County led the state in the percentage of new business registration growth for the month with a total of six new businesses, a 2.9% increase.
The Secretary of State's Business & Licensing Division reported that Lincoln, Pendleton, Summers and Hancock counties also had notable growth during the month. A total of nine new business entities registered in Lincoln County in July 2021. In Pendleton County, nine businesses registered. Summers County saw 12 new business registrations and Hancock County registered 19 new businesses.
Counties that lead the state in total businesses registered for the month of July were Kanawha, Monongalia, Berkeley, Harrison and Cabell. Kanawha County successfully registered 129 businesses in July. Monongalia County reported 91 business registrations. In Berkeley County, 79 businesses registered. Harrison County saw 60 new businesses register, and Cabell County had 53 registrations for the month.
Statewide, West Virginia registered 15,884 new businesses in the previous 12-month period, from Aug. 1, 2020, to July 31, 2021. Summers County led all 55 counties with a 17.92% growth rate for the year.
ASHLAND TOWN CENTER: Ashland Town Center has expanded its operating hours to 10 a.m. to 9 p.m., Monday through Saturday, and from noon to 6 p.m., Sunday.
The expanded hours took effect Aug. 2.