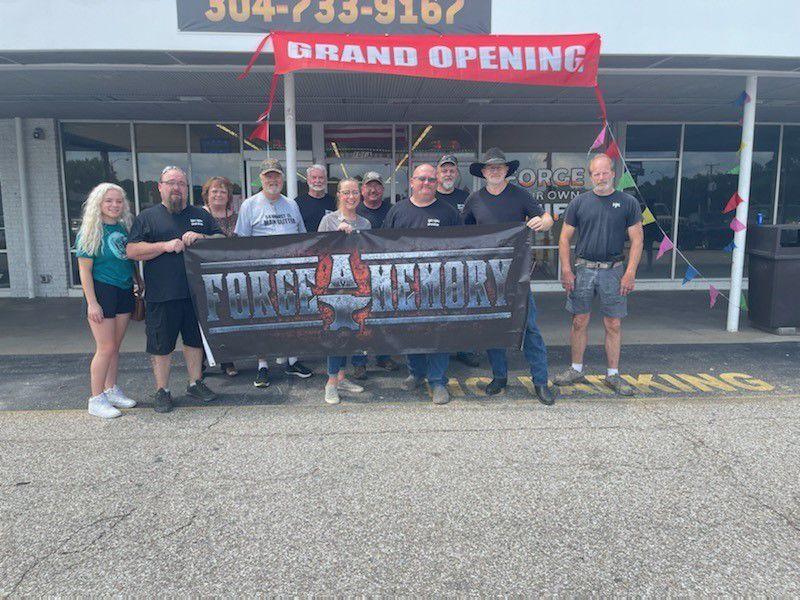 HUNTINGTON — Dana Ryder Jr. had been operating a one-employee company — Ryder's Knives — out of a shop next door to his home on Howells Mills Road in Ona in his spare time over the past four years.
After appearing on an episode of "Forged in Fire" on the History Channel in June, Ryder decided to turn his business into a full-time operation at a new location in Huntington.
"We looked around and tried to find a good place at a decent price to rent or lease so we could relocate and expand our business," Ryder said. "A couple friends of mine own and operate a couple different businesses in the Eastern Heights Shopping Plaza, so I asked about if there were anything available and how much was it to lease. I ended up coming down and meeting with the manager and agreed upon a price."
Last weekend, Ryder hosted a grand opening for his new Ryder's Knives location in the Eastern Heights Shopping Plaza in the 4000 block of U.S. 60.
"Also, Robbie Bowman from Pigeon Forge, Tennessee, came up to help kick off the grand opening and while he was here he invited me to franchise into his Forge A Memory family," Ryder said. "Now our business is expanding even more across the nation. The name Forging A Memory is something that you are doing when you come to forge out your own knife; you are making a memory. It's something that you will never forget."
The new location offers individual forging experiences or groups on basic forging for $80, plus tax.
"You forge out a railroad spike into a knife with our help and we guarantee you will leave with a smile and a sharp blade," Ryder said.
The business also provides an advanced forging experience.
"This is where you can forge out your own custom knife from high-carbon steel, drilling the tang handle part of the knife and fasten handles to it, gluing and pinning them into place," Ryder explained. "The advanced forging experience is $500, plus tax."
Ryder's Knives also supports veterans and first responders with 10% off anything they purchase in the store.
"With that we have a 150-foot-long wall that we are placing pictures of people in uniform on as an 'Honor Wall,'" he said. "So send us a picture of yourself, a friend or loved one that has served our country or our community and we would love to share their story with everyone who enters the store." Ryder said.
Ryder's Knives' hours of operation are from 10 a.m. to 6 p.m., Tuesday through Friday and from 10 a.m. to 4 p.m. on Saturday. It is closed on Sunday and Monday.
For more information, call the business at 304-733-9167.
STATEWIDE CRAFT BEVERAGE SUMMIT ON TAP FOR AUG. 24: The Robert C. Byrd Institute at Marshall University, Brilliant Stream and the West Virginia Food & Farm Coalition will host a statewide virtual summit from 6 to 8 p.m., Tuesday, Aug. 24, to discuss strategies for strengthening and expanding the craft beverage industry in West Virginia.
"Craft: A Farm to Bottle Summit" will focus on ways to streamline the relationships between breweries and the farms that supply them in order to improve efficiencies, as well as the cradle-to-grave technique of turning waste into fuel, food and ultimately profit, according to a press release from RCBI.
Guest speakers John Garcia, owner of Lookout Brewing Company of Black Mountain, North Carolina, and Aryn Jane Fonda, co-founder of Weathered Ground Brewery of Cool Ridge, West Virginia, will share their experiences building strong farm-to-brewery connections and implementing measures to reduce waste in their brewing operations.
In addition, Garcia will share his plans to open another brewery in Huntington, where he spent his childhood.
"We invite everyone — whether you're a grower, bottler, brewer or just someone curious about this fast-growing West Virginia industry — to join us for our Craft summit," Evan Nelson, manager of Agricultural Innovations at RCBI, said in the release. "This interactive gathering is a perfect opportunity to learn best practices for success."
The digital forum will conclude with a Pour It Forward happy hour from 7 to 8 p.m. Participants are encouraged to grab a glass of their favorite West Virginia craft beverage for an informal networking session with other like-minded people, Nelson added.
The summit is funded through the U.S. Department of Agriculture's Specialty Crop Block Grant Program.
Fred Pace is the business reporter for The Herald-Dispatch. Follow him at Facebook.com/FredPaceHD and via Twitter @FredPaceHD.