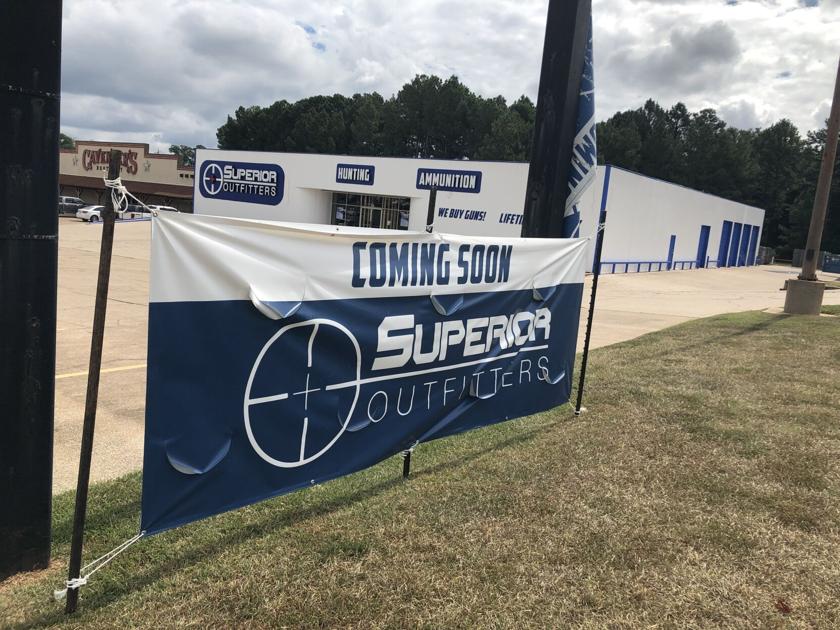 Superior Outfitters' business growth is prompting a move next month to a larger building in Longview.
The full-service gun and outdoor store first opened in Tyler about six years ago before opening in Longview two years ago. It's currently on Fourth Street.
"We've just outgrown our current location," said David Cravey, a Longview resident who co-owns the business with Austin Rohr.
Renovations are underway at the new building, at 1310 W. Loop 281, where an ABC Auto Parts previously was located. A grand opening is scheduled for Oct. 29 and 30.
Cravey said the new location will provide a larger showroom, allowing the store to expand the products it carries.
Hours are 10 a.m.-7 p.m. Monday-Saturday and 1 p.m.-6 p.m. Sunday.
Office relocation
Special Health Resources has moved its administrative offices from Seventh Street to a new location at 2020 Bill Owens Parkway in Longview.
The organization celebrated the move Friday with a Longview Chamber of Commerce ribbon cutting and tour of the new office. Marketing and Communications Manager Jennifer George said the organization's growth prompted the move.
The administrative offices previously were in the same building as the organization's Woman & Child Health Center, which houses obstetrics/gynecological services, women's primary care and pediatric care.
"But we've grown. We've been in Longview for 30 years, and we have been continually growing," George said. The health center needs more patient exam rooms, and the administrative offices needed more room, too.
Now that the administrative offices have moved, Special Health Resources is renovating the half of the Woman & Child Health Center where the administrative offices were located.
"One of the first things we did is make a waiting room for pregnant moms," George said. People who are in the clinic for sick visits wait outside in their cars, but a separate waiting room for pregnant mothers provides them with extra protection.
"Our mission is making health care accessible, and we believe that means making health care accessible to everyone," George said.
Special Health Resources accepts Medicare, Medicaid and offers a sliding fee scale for uninsured people that is based on their household income size and income. Spanish speaking providers also are available, and Special Health Resources offers free substance abuse outpatient treatment to adolescents and adults, as well as behavioral health and dental services.
New CEFCO location
Temple-based CEFCO Convenience Stores has opened a new Kilgore location at 1009 N. Kilgore St.
A connected location of Huddle House, a national restaurant chain that serves breakfast, lunch and dinner, is expected to open later this month.
The 24-hour store features hot and cold food items, including CEFCO Kitchen made-to-order burritos, tacos, and bowls, and hand-breaded fried chicken, pizza, breakfast sandwiches, and other CEFCO Kitchen food offerings.
The gas station offers seven fueling stations with ethanol-free fuel and diesel available.
Health spa anniversary
Domanique Ingram celebrated her Rejuvenating Massage and Beauty Spa's first anniversary with a ribbon cutting with the Longview Chamber of Commerce earlier this month.
The spa at 501 N. Spur 63, Suite C-1, offers massage, including deep tissue and ashiatsu; liposuction; body cavitation (a fat cell treatment); and ear candling. Hours are by appointment by calling (903) 746-6019.
Family Dollar changes
The Family Dollar store at 308 W. Main in Hallsville marked its grand reopening Thursday. The renovated, 8,000-square-foot store offers a larger assortment of merchandise, including more frozen and refrigerated food, and $1 items.