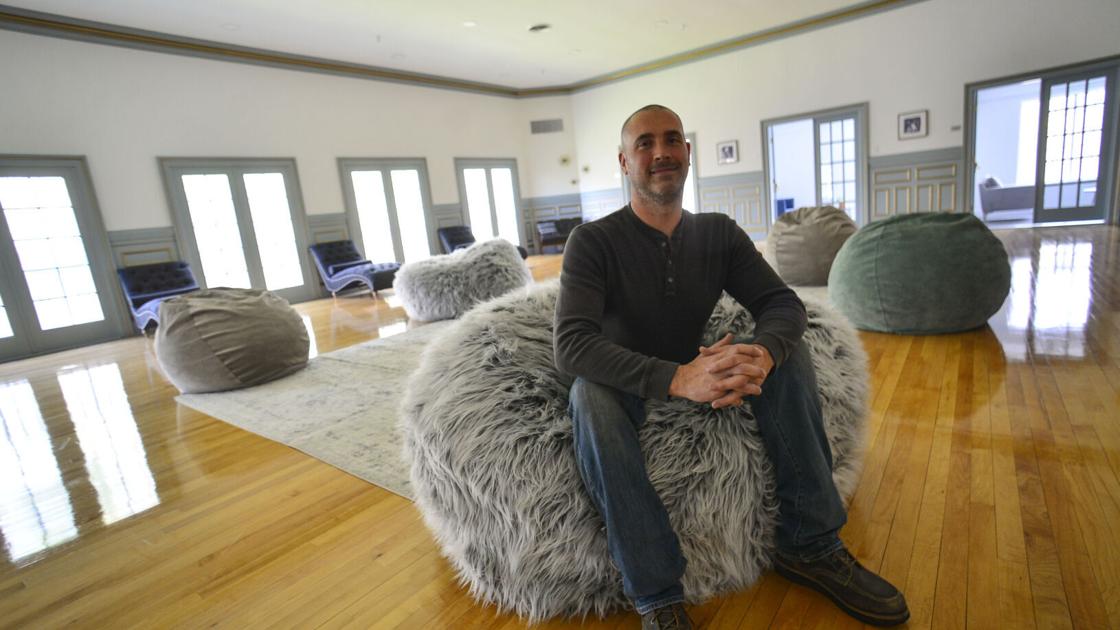 BRATTLEBORO — A Brattleboro-based coworking space is expanding, with plans to start a Bennington location.
Vermont Innovation Box opened earlier this year at 70 Landmark Hill Drive in Brattleboro, where it operates a coworking space and leases private offices.
Chris Willett, the company's "operations curator," said the Brattleboro location's success led owner Paul Belogour to want to open a Bennington branch. Belogour also owns the parent company of the Brattleboro Reformer, Bennington Banner and Manchester Journal. The Reformer's offices are at the 70 Landmark Hill Drive building.
"Paul said, 'Hey, you know, it's working out good at Landmark, let's do another coworking space-slash-private offices on the second floor of this [Bennington] building,' " Willett said.
Meanwhile, Vermont Innovation Box has also added a second location in Brattleboro, converting a storefront suite in the Belogour-owned C.F. Church Building at 80 Flat St. into 13 small offices.
While the Flat Street location doesn't include a coworking area, Willett said tenants have access to the Landmark Hill Drive location if they want to use that space. And all Innovation Box members will be able to use both the Brattleboro and Bennington coworking spaces, he said.
"All three of them will be tied into each other once Bennington goes online," he said. "… You can have an office in one location, but have the use of all three."
In Bennington, Vermont Innovation Box will move into 423-425 Main St., which currently houses the Banner. Belogour inherited the property when he acquired the Banner and its sister newspapers in May under the new company, Vermont News & Media.
Willett explained that the Banner's office will move over one spot, and the coworking space, plus about a dozen private offices, will occupy the upstairs. The ground floor will also have retail space. Willett said he expects the coworking space to open by early November.
Based on his conversations with Bennington-area businesses and civic leaders, Willet said, he believes the demand is there. He sees the coworking space appealing to professionals who live year-round in the Bennington area, as well as local college students and visitors who need to do a little work during their trips.
The Lightning Jar, an entrepreneurship hub, previously operated a coworking space in Bennington, but closed it during the pandemic, leaving a gap, said Jonathan Cooper, a community and economic development specialist with the Bennington County Regional Commission.
On top of an existing group of independent professionals and remote workers, he said, the pandemic has ushered in a new wave of working from home.
"We have a not-slight increase in people who have moved here while being capable of retaining remote work opportunities, and so that demand has certainly increased," he said.
Another coworking space, The Barn at Center Hill in Manchester, opened last year, signaling there's interest in that kind of service, Cooper added.
Willett said demand has been strong so far in Brattleboro. The Landmark Hill Drive building — a sprawling old mansion dating to 1910 — has eight anchor tenants, including a hairdresser, an aesthetician, an insurance company and a mortgage broker.
Other clients pay to use private offices or the coworking space, which offers both day passes and monthly memberships. During the summer, the Innovation Box had about 12 to 15 people with monthly memberships coming and going regularly, though that's slowed a bit as fall approaches, according to Willett.
He said there's been especially strong interest in private office space, which led him to propose building more at the Flat Street storefront.
The Flat Street location has a different ambiance — trim and modern, in contrast to the stately old elegance of Landmark Hill Drive. The space consists of a lobby and a hallway lined with small, individual offices. As of Friday, one client had moved in, and two more leases were out, Willett said.
Part of the vision for Vermont Innovation Box is to also be a business incubator, supporting new ventures. Willett said he's working on building up that part of the operation.
Tenants of the Landmark Hill Drive location said they like the atmosphere, and benefit from being around other businesses.
Joslin Roderick, founder of the Dummerston coffee-roasting company World Coffee-World Community, uses a private office at the Landmark Hill Drive location.
She said it's a good way to get out of the house — hers is a home-based business — and connect with other local entrepreneurs. She has a background in social-business development, she added, and hopes to forge ties with others who share that interest.
"It's important to just be around other people that are doing economic development in the region, and focusing on business and opportunities," she said.
Among the building's anchor tenants are a cluster of businesses focused on beauty and wellness, including a hairdresser, a massage therapist and skin-care businesses.
Katie LaCoy, owner of Cultivating Aesthetics, a med spa offering Botox and other services, said she and the other female entrepreneurs in that wing of the building have grown close and support one another. There's also crossover in their clienteles, and they refer customers to each other. "It's all word of mouth," she said.
Willett said Belogour — who has rapidly accumulated a large portfolio of properties and business ventures in southern Vermont — is willing to try new things.
"He likes to take chances and say, 'This doesn't exist, so let's create it, because there could be a need for it,'" Willett said. "He said, 'If it doesn't work, it's OK, we'll pivot, and we'll change.'"