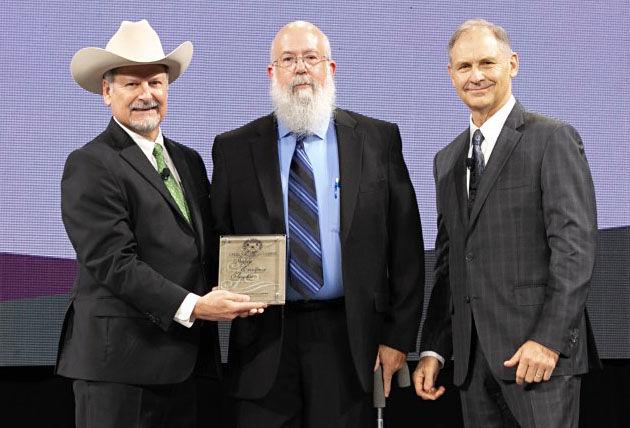 Coldwell Banker Premier
Coldwell Banker Premier's Founder and CEO Steve DuBrueler was honored with the most prestigious award the international Coldwell Banker brand bestows, The Chandler Barton Spirit Award. DuBrueler's award was presented on the main stage of Radio City Music Hall in New York City at the company's annual "Gen Blue Experience" convention.
Named after Chandler Barton, former president and chief executive officer of Coldwell Banker from 1989 to 1996, this award is presented annually to a professional who exemplifies Barton's "Can Do" attitude and holds firmly to a business purpose through innovation, creativity and the drive to persevere, despite obstacles or setbacks.
Farmer's market
The New Market Farmer's Market is extending its season. The market is open from noon to 4 p.m. each Friday through mid-December. Closings will be posted on the Market Facebook page. Information: Sharon Payne at 540-850-6613.
Perry Engineering wins
Perry Engineering Co. has been awarded third place in the Willis Towers Watson Construction Safety Excellence Awards, presented by the Associated General Contractors of America.
This marks the third win for the Frederick County-based company in the last three years. Perry Engineering is one of only two companies in Virginia to win this year.
Bob Lanham, the association's president and president of Williams Brothers Construction Co. in Houston, said Perry Engineering was selected as a third-place national winner because of its exceptional leadership in safety. He noted that the firm developed and implemented a safety and risk control program through continuous improvement and maintenance. Lanham noted that Perry Engineering's commitment to protecting its most valuable asset, its workers, makes it a leader in the industry.
To enter the contest, the company had to submit a 56-page application that explains its safety program "in exquisite detail." That gets submitted to the AGC, and the organization does a preliminary review of the applications before selecting finalists. Once finalists are chosen, a five-person panel determines winners at the AGC's national convention, held in Orlando this year.
Only three finalists are selected in the Safety and Risk Management category in the 200,000 man hours-worked division, which is Perry Engineering's category.
Life Line screening
Live Line screenings for people to find out their risk of cardiovascular disease, osteoporosis, diabetes and other chronic serious conditions will be offered Nov. 3 at American Legion Post 77, 157 E. Washington St., Strasburg.
Special package pricing starts at $149 but other packages are available. Registration can be made by calling 877-237-1287 or visit www.lifelinescreening.com.
Women's Leadership Symposium
The Shenandoah County Chamber of Commerce Women's Business Council will host its annual Women's Leadership Symposium from 8:30 a.m. to 3 p.m. Nov. 19 at Shenandoah Center at Bryce Resort in Basye.
Power-packed sessions will engage business women throughout the day with motivational and compelling content, high profile speakers and successful women business owners who will share their experiences and counsel.
Registration: https://tinyurl.com/5btbpwb5.
Submissions
Send in your events at www.nvdaily.com/site/forms