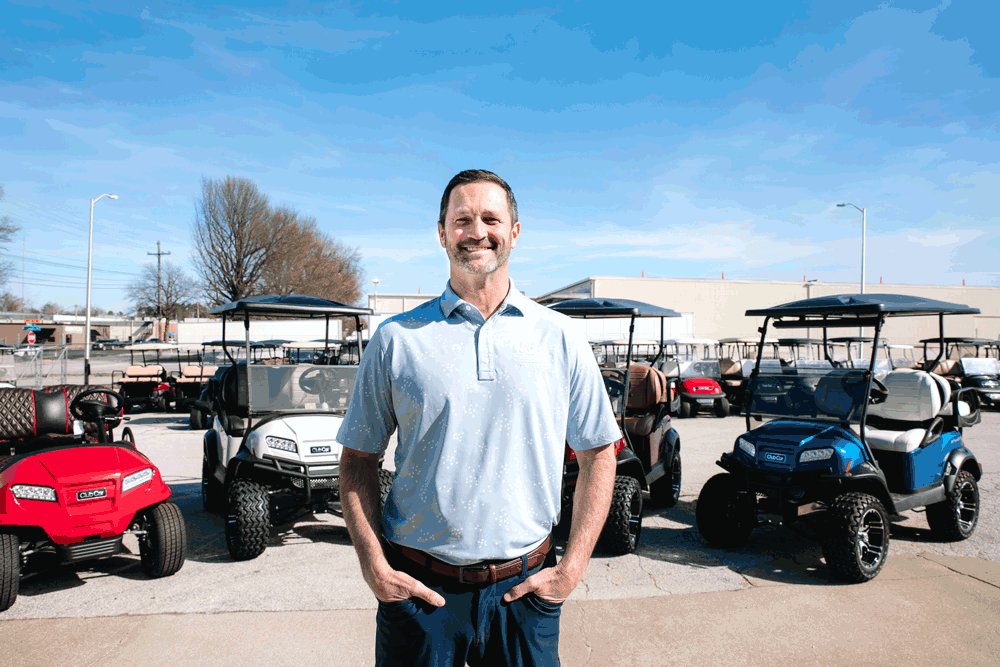 For most of its 38-year history, Springfield-based Clear Creek Golf Car and Vehicles experienced steady, solid growth.
That plodding approach was detonated in 2019, when investor Jerry Marti went in with Clear Creek President Brian Cheever to buy the business.
"When I started (at Clear Creek) in 1999, we had one Springfield location," recalls Cheever, now a part owner of the seller of electric- and gas-powered golf and utility cars.
That same year, Clear Creek opened a second location, and Cheever says that was the end of expansion for years.
After Marti came aboard and infused the business with capital, he says new growth came rapidly.
"I always thought Lake of the Ozarks was another place we should be," Cheever says. "When Jerry bought the business, he said, 'I want to do it better. Where are those opportunities?' … Within days, we were looking to make Lake of the Ozarks happen."
The Lake of the Ozarks location took a year to get off the ground and opened in early March. The company also operates stores in Lamar and West Plains, and two in Arkansas: Little Rock and Rogers.
"It's been fun and breathed new life into the company," says Justin Fraker, retail sales manager. "We've been eager to get the chains let off and let us run."
Marti says there was a lot about the business that made it an attractive purchase from Mark Ringenberg, the company's second owner. Cheever's leadership topped his list.
Marti, who owns the nine-hole Jacob's Creek Golf Course in Lamar, has invested in restaurants, print shops, commercial real estate and self-storage. But he says he's more excited about Clear Creek's potential than any other business he's owned.
Stellar year
Cheever says demand for golf carts in 2020 was at a record pace.
The company's previous annual revenue high was $11 million. In 2020, revenue hit $17 million.
"And that's without Little Rock and West Plains" Cheever says, referring to two acquisition made during the year. "We had a really good year at every location."
Club Car, the company's vendor, struggled to keep up with demand, despite being closed only two days last year because of COVID-19. According to Springfield-Greene County Health Department officials, physical activity on golf courses and other outdoor places were permitted while following social distancing guidelines during the pandemic.
"Our business has been very good because people are getting outside or staying in their neighborhood more, and they want that golf car to get around," Cheever says.
But, Marti points out, appeal for golf cars and utility carts goes well beyond the golf course.
"Most people, when they look at the golf-car business think that golf cars are for golf courses, and that is just not the case," he says. "Obviously, that's the most visible part of the business, but the real growth for our company and the reason we continue to open so many stores is because people enjoy using golf cars for lake houses, running around the farm, and more and more towns are allowing golf cars on their city streets. Our real growth is in the consumer sector, not in golf courses."
Fraker says he enjoys assisting customers select the model that will best suit their lifestyles – sometimes "helping someone who got moved into a retirement community and it's the last car they're going to buy. It's their transportation."
While Clear Creek leases and maintains fleets for golf courses and offers parts and service, it also works with resorts, theaters and colleges. Cheever says customers may rent one car for a wedding or 50-60 for an event, pointing to the Rock'n Ribs BBQ Festival as a past example.
When looking for growth opportunities, Cheever says he looks for companies where all of these opportunities may not have been leveraged. That was true with the Little Rock acquisition, which operates as Golf Cars of Arkansas and marked the company's second Club Car dealer territory acquisition.
"In our world, you don't want to buy a business that's a lemon, but a successful business where there are areas of opportunity," Cheever says. "They never had a sales rep making business-to-business calls."
The previous owners also didn't list on Facebook Marketplace, which Cheever says now accounts for about 80% of retail sales.
Challenges accompany opportunity
Cheever concedes there are challenges with rapid expansion.
Once a small company with a dozen employees in two locations, Clear Creek has grown to 42 employees and officials expect to add more.
Cheever says as a small company, documenting policies and procedures and establishing a corporate culture wasn't on the company's radar.
"I think we're finding ourselves needing to truly define our culture and put it in writing, establish core values and have it printed on the wall," he says. "We want to continue to grow, but in the right way."
That said, Marti and Cheever already are looking down the road to more opportunities. Marti says he anticipates opening more stores in the Little Rock area.
Cheever says they'll go wherever the opportunity is: "What's next? Hot Springs, Fort Smith, Joplin, wherever that may be."