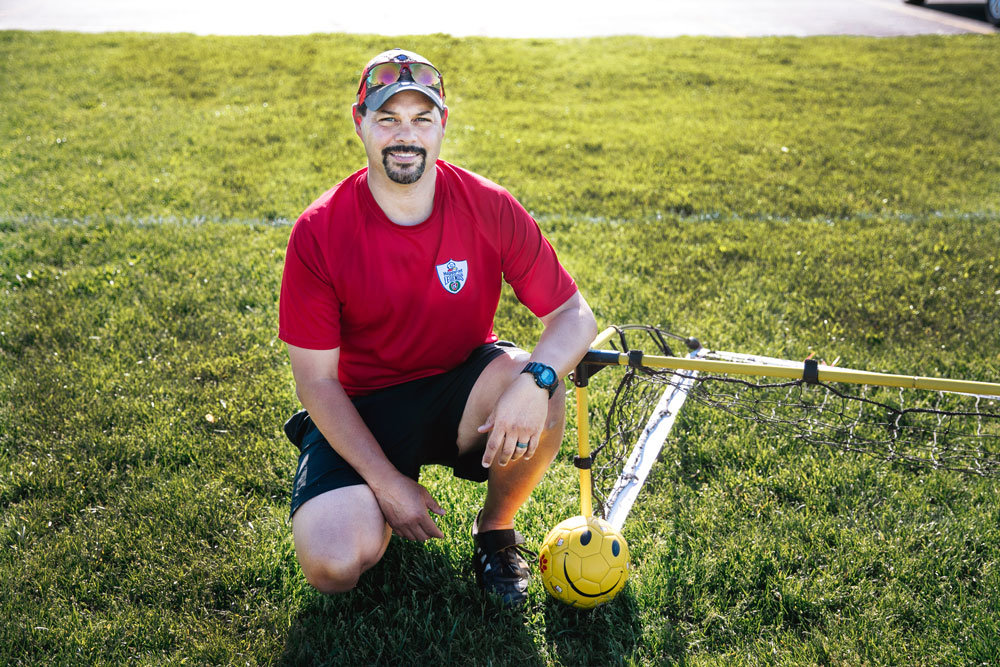 Two men who didn't find career satisfaction in the corporate world are finding personal and professional success through soccer.
Springfield HappyFeet Soccer franchisee Matt Holdaway and program Director Josh Ganson have teamed up to build a robust venture.
Holdaway says he had just completed an internship with Walmart Inc. in Bentonville, Arkansas, when the Kansas City native had a chat with his former soccer coach about his life vision.
"I always wanted to work with kids and families and work in sports, maybe someday own my own sports program," Holdaway recalls.
At his former coach's recommendation to check out HappyFeet Soccer, Holdaway emailed program founder Andy Barney.
"He gave me the big picture of what they're doing with the program and the philosophy of how it's designed," Holdaway says of Barney, who started the franchise in 1998 in Kansas City. "It was a puzzle-piece moment when all the things fit together."
Declining to disclose his investment, Holdaway describes the transaction as a standard franchise operating agreement, with an upfront fee and monthly royalties.
Holdaway started his first program in Bentonville, Arkansas, and he continues to manage it.
When Holdaway was ready to expand, he looked at the Springfield market. He says it was a unique opportunity because Springfield already had a HappyFeet franchise, but business had dwindled.
"I was able to come in and revamp the HappyFeet program there and apply everything we learned in northwest Arkansas to Springfield," he says.
He first needed a strong manager.
Ganson lived and breathed soccer most of his life. He played as a kid and throughout college and worked as a college soccer coach for 12 years – most recently assisting the Missouri State University women's team. After years of being on the road and away from family in previous financial services jobs, Ganson decided it was time to retire from that work.
"I had tried my hand at big-boy jobs and had never really found my niche. My degree is in economics. I tried banking. I tried insurance. I tried mortgage sales. None of it fit," Ganson says. "There was no fire there like there was with coaching."
Two years ago, he spotted an ad for a HappyFeet director. Ganson says he and Holdaway had several interviews before he landed the job two years ago April 1.
"We work together really well," Ganson says.
Not the average game
Unlike traditional youth sports leagues, HappyFeet isn't about winning and losing. It's about teaching the youngest soccer players foundational skills, such as dribbling.
The program is divided into three age divisions, beginning at two and a half years old, called Little Toes, and up to 5 years old for HappyFeet classes.
Each of the lesson plans tailors to the children's developmental stage and emphasizes a different skill each week.
"Our soccer ball, Bob the Bobcat, goes on an adventure each week to learn a soccer skill. And Bob helps us navigate the adventure with our soccer skills," Ganson explains.
In the second 30 minutes of the two older divisions, there's a scrimmage, but it also is nontraditional.
"We don't focus on the rules of the game," Ganson says. "Our goal is to help them find a love of the sport on their own terms. It's education based. We're building brave, creative leaders for life."
Victoria Fink says her 5-year-old son Daniel has bloomed with HappyFeet. He started in the Little Toes program.
"I got to watch him grow and flourish," Fink says. "In the beginning of the season, he was very attached to me being there. By the end, I was very pregnant, and I was like, you can do it on your own."
And he did.
Fink credits Ganson and the other coaches for creating an atmosphere where kids can develop a love for the sport without fear of failing or making mistakes.
"There's a lot of soccer leagues that are very, very competitive and I really enjoy the more laid-back atmosphere," the mom of seven says.
Organizers say children who want to continue with soccer have the option to progress to the Junior Legends program for ages 5 to 7.
Business application
Despite the arrival of COVID-19, Ganson says the Springfield HappyFeet franchise has shown solid growth in registrations.
"This time last year, we were on pause. Our spring league didn't kick off until the middle part of May," he says. "We have five leagues a year. Our spring league became our summer league, and we lost our summer league altogether."
Still, enrollment is up to 232 children this year from 153 in 2019. League fees range $90-$130.
HappyFeet partners with St. John's Chapel United Church of Christ for use of its five soccer fields off of South Fremont Avenue. In exchange, HappyFeet takes care of all mowing and field maintenance.
"It's been very successful for both of us," says Ganson.
Holdaway, who also operates a HappyFeet franchise in Nashville, Tennessee, says finding the right coaches is one of the greatest challenges in meeting increased demand.
"We work with prekindergarten-age children primarily. Because of that, we have parents' three most precious commodities: their time, their money and their children," he says.
The business side is not lost on Holdaway. He says he emphasizes taking best practices from the business world and applying them to sports – things like registration systems, communications and marketing.
He says he's surrounded by plenty of inspiration.
"We're right here in the Ozarks. We've got Walmart and JB Hunt, Tyson, O'Reilly, Bass Pro Shops – we've got some titans of industry in business, so I just watch those guys. What are they offering their customers? What kind of experience are they offering?" Holdaway says. "We take those ideas and apply them to the sports world."