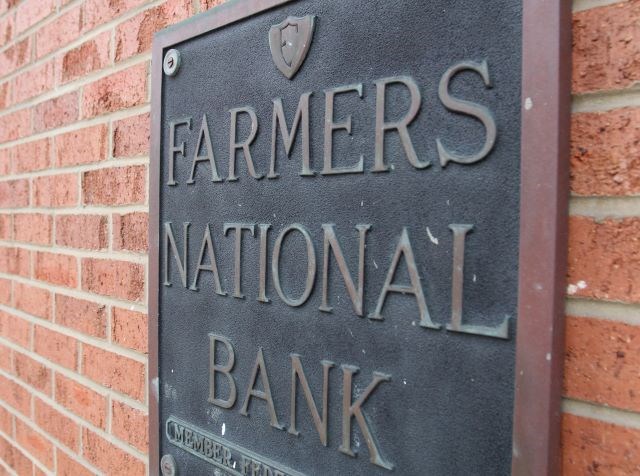 CANFIELD — Farmers National Banc Corp.'s board of directors on Tuesday declared a quarterly cash dividend of 11 cents per share.
The common stock cash dividend will have a record date of June 11 and is payable to shareholders June 30.
Giant Eagle recalls Chicken Street Taco Kits
PITTSBURGH — Giant Eagle Inc. has issued a voluntarily recall of Chicken Street Taco Kits due to the possibility the product may contain an undeclared egg allergen.
Those who have an allergy or severe sensitivity to eggs could experience a serious or life-threatening allergic reaction if they consume these products.
The impacted products have "sell by" dates through May 28 and can be identified by PLU 56598 located in the upper right corner of the item's scale tag. The recalled items were sold in the prepared foods departments at Giant Eagle and Market District locations in Ohio, Pennsylvania, Maryland and Indiana.
Giant Eagle was made aware of the issue by its supplier partner, Reser's Fine Foods, when they discovered the product was missing the egg allergen declaration in one of the ingredients, chipotle crema. There has been no reported illness associated with the recall, a news release states.
Customers who have purchased the affected product should dispose of it and return a qualifying receipt to their local Giant Eagle or Market District store for a refund. Customers with questions can call Giant Eagle Customer Care at 800-553-2324 from 9 a.m. to 9 p.m. Monday through Friday.
Thompson Heating & Cooling receives Carrier award
WARREN — Thompson Heating & Cooling, 219 N. River Road, recently was named a recipient of the 2021 President's Award from Carrier.
This is the fifth consecutive year the family-owned and operated company has received the award, which recognizes outstanding dealers in the heating, ventilation and air conditioning industry.
"It is truly an honor to receive this recognition from Carrier because of the service we provided during a year filled with challenges and uncertainty, co-owner Peg Wiery said in a news release. "While this is our fifth consecutive year receiving this award, each one is special as it serves as a constant reminder of the trust our community and clients have in us to be exceptional in everything we do."
The President's Award is designed to encourage Carrier dealers to objectively review their businesses and to reward dealers who have excelled in customer satisfaction, the release states.
"Our team embraces the spirit of the President's Award with every customer we help," co-owner Bill Wiery said. "Their commitment to our customers is unparalleled, and we are excited to celebrate our legacy and this latest achievement with our employees who truly are the best professionals and people residents of Trumbull and Mahoning counties can trust to do the job right and with a smile."
Thompson Heating & Cooling is celebrating its 70th anniversary this year.
Insight Clinical Counseling and Wellness opens in Canfield
CANFIELD — Insight Clinical Counseling and Wellness LLC will have a ribbon-cutting ceremony and open house at noon Thursday at its newest office, 3685 Stutz Drive, Suite 103.
The Canfield facility is the third office the mental health and wellness practice has opened in a little over a year. Insight also has locations in East Liverpool and Salem. Its team has grown from one counselor to 22 mental health and wellness professionals.
"With May being Mental Health Awareness Month, we couldn't think of a more fitting time to officially open our Canfield office and welcome in the community," Jessica Oates, Insight founder and counselor, said in a news release.
At the Canfield location, Insight will begin offering wellness services including reiki, massotherapy and nutrition.
"We believe overall wellness plays a large role in mental wellness, which makes services like reiki and massotherapy a nice compliment to traditional counseling services and not something you'll find at every practice," Oates said.
The office also will offer parent-child interaction therapy, a form of therapy that encourages play and interaction between the parent and child through the supervision of a certified therapist.
Austintown Bounce to reopen in new, bigger location
AUSTINTOWN — Austintown Bounce is celebrating its grand reopening at a new and bigger location with a ribbon-cutting ceremony at 3 p.m. Friday.
The new, indoor facility at 6000 Mahoning Ave, Suite 520, is twice the size of the previous space and features six large inflatables, more than 40 arcade and ticket redemption games, a Create-a-Pet-Station, concessions and a relaxation area for parents.
Admission on Friday is $1 per child, and every child in attendance that day will have a chance to win a free party room package, valued at $250.
Austintown Bounce was founded in 2007 by Bruce N. Shepas and Harold Porter as an inflatable rental company. In 2009, they opened an indoor play center. They were forced to close their doors last year due to COVID-19.
Pebble returns to highlight Valley businesses
CANFIELD — Pebble, a product owned and operated by 898 Marketing, is relaunching its efforts to showcase various local businesses.
"The Mahoning Valley is full of untold stories from businesses and owners that move forward, shape and grow our community in a positive way," Jeff Ryznar, president of 898 Marketing, said in a news release. "Relaunching this free service for businesses to give them a platform to tell their story is another way we are being called to serve the Mahoning Valley."
Pebble, which received new branding before its relaunch, will continue to shine a light on local businesses, including restaurants, bakeries, boutiques, shops and more, the release states. There is no cost to the businesses that are featured.
"Coming out of the pandemic, we knew the local business community needed help now more than ever," Bill Rusu, 898 Marketing's content marketing manager, said. "This is the perfect opportunity for those who've made it through the last 15 months to tell their stories and introduce their business to those who may not know about them."
Businesses interested in being featured in the series should email [email protected].
— Do you have a business announcement you'd like to share? Email [email protected].