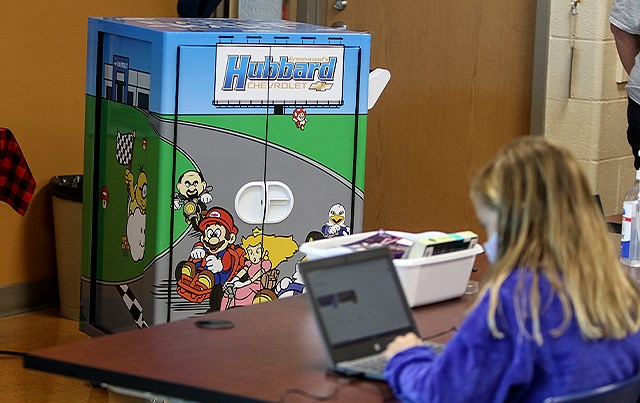 YOUNGSTOWN — Greenwood's Hubbard Chevrolet on Friday donated a customized Chromebook cart with 30 Education Edition Chromebooks to Hubbard Elementary School, 150 Hall Avenue SE.
"We're very excited to finally be able to donate this Chromebook cart to the elementary school and see the positive impact it will have on the students," Steve Rotunno, new-car manager at Greenwood's Hubbard Chevrolet, said in a news release. "This has been in the works for a while, but we're thrilled to finally roll it out and see how much fun the students will have with it and how it will enhance their education."
Red, White & True sales event underway at Baird Brothers
CANFIELD — Baird Brothers Fine Hardwoods' 10th annual Red, White & True sales event is underway and will run through Sunday.
Customers can shop on Baird Brother's website Saturday and Sunday, or at its 7060 Crory Road location or by phone at 330-533-3122 on Saturday. There will be no on-site activities, but customers can enter to win 400 square feet of flooring valued at more than $3,000.
"We certainly miss in-person Red, White & True activities and factory tours, but we're happy to still offer customers our biggest sale of the year," Steve Stack, director of new business development, said in a news release. "We've extended the sale so people have more time to shop, and we're doing videos, interview and tours on our social platforms to let customers see what goes on behind the scenes here."
Virtual factory tours and product highlights can be viewed on Baird Brothers' Facebook and Instagram pages.
Baird Brothers is also encouraging donations to Second Harvest Food Bank of the Mahoning Valley throughout the sales event.
"In years past, we've raised donations to help fight hunger right here in the Valley," Stack said. "We want to make a big impact with our 2021 event, as well, and we will be accepting donations to Second Harvest Food Bank throughout the sale."
Boardman Schools Fund announces board changes
BOARDMAN — The Boardman Schools Fund for Educational Excellence recently announced two changes to its board of directors.
Matthew H. Gambrel has been elected vice president and joins fellow officers Lynda Beichner, president; Michael Walston, treasurer; and Annie Sofran, secretary.
Kate Spires, a 2000 Boardman High School graduate and an architect with BSHM Architects Inc., is a new board member.
The Boardman Schools Fund for Educational Excellence is a nonprofit organization that awards teachers grant money for classroom projects that go beyond the scope of those funded by the school's educational budget.
The organization has awarded more than $75,000 since its inception in 2009, a news release states.
For more information about the organization or its Reverse Raffle, visit its website or Facebook page.
Svoboda earns Certificate of Added Qualification in Headache Medicine
YOUNGSTOWN — Nurse practitioner Andrea L. Svoboda recently earned the Certificate of Added Qualification in Headache Medicine, administered by the National Headache Foundation.
Svoboda, of Boardman, graduated with a master's degree in nursing from Chamberlain College and earned her Family Nurse Practitioner certification through the American Academy of Nurse Practitioners. She has been practicing at Mercy Health-Youngstown Neurology since 2016.
The goals of the AQH are to establish the standards for headache practice and to help those with migraine disease and headache disorders in locating clinicians who can provide optimal headache-related health care, a news release states.
For a list of AQH professionals, click here.
— Do you have an announcement about your business or organization you'd like to share? Email [email protected].