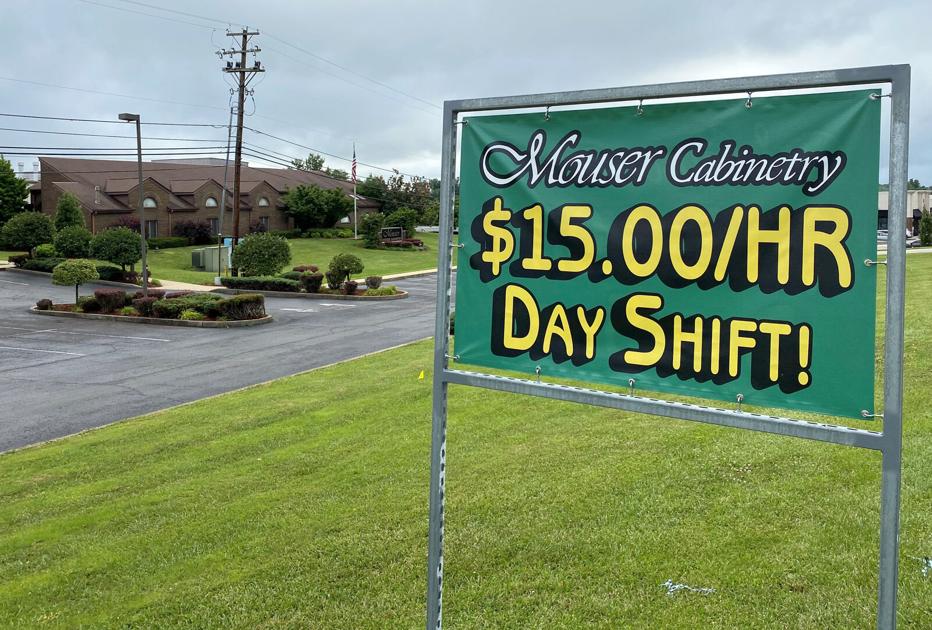 A bright green sign has been in place for weeks in front of Mouser Cabinetry along North Dixie Avenue, promoting employment opportunities just feet away.
Still, Mouser Human Resources Manager Terry Meade said the company is down about 10 percent of its workforce needed to meet an increased work demand.
Like many businesses – whether restaurants, factories, construction or retail – Mouser is facing a never-seen-before challenge: Finding people who want to work.
"It's very challenging right now and the economy is just booming," he said. "… We're raising our wages, doing a lot of things to recruit employees. We have the sign out front and we're taking advantage of multiple ways to advertise, more than we've ever done.
"… There's just not a lot of people looking," he added. "I think there is a labor shortage."
That's something that Barry Saylor, who owns Subway restaurants in Radcliff and Brandenburg, said he thinks about daily.
"I thought the pandemic shutdown and revenue loss was the most difficult thing I would face," he said. "I was wrong. Every business desperately trying to grab the only seven people looking for work has been tougher."
In a four-business stretch on West Dixie Avenue in Elizabethtown, three of the businesses – all fast-food restaurants – are attempting to land a deeper workforce. One is promoting jobs on a marquee, one on a storefront window and one with a banner in front of the restaurant.
"The demand for folks is out-exceeded by people who are in the labor market," Flex Films USA Human Resources Manager Kent Fuller said.
Flex Films is a leading international manufacturer of polyester chips, specialty films, coated and metalized film, laminates, pouches, holographic films and adhesives used in packaging.
"From what I can gather, a lot of businesses in this area are fundamentally experiencing the same thing," Fuller said.
He said Flex Films' starting pay is around $15 an hour and production employees can earn an additional $4 per hour by meeting production and attendance goals.
Flex Films USA in Elizabethtown has 160 employees at the technical and production level and "we're constantly looking for nine or 10 people," Fuller said. "Sometimes less, sometimes more."
Mouser also pays $15 an hour – $31,200 a year, assuming an employee doesn't work any overtime or holidays.
Meade said custom cabinetry currently is in such demand that a typical 25-day lead time to get the work done now is much higher.
"We're at 70-some days right now," Meade said.
He said Mouser, which hired 23 people in June, still needs to hire 30 more to bring their workforce to around 300 employees.
Part of the challenge, they say, is those who are drawing unemployment have been receiving an extra $300 a week in federal unemployment benefits for several months as part of a $1.9 trillion American Rescue Plan. More than two dozen states have ended the unemployment assistance.
Kentucky is not one of the states.
"It's a combination of different things," Fuller said. "Part of it could be various reasons people haven't decided to look yet. Maybe the COVID, but I also do think that part of it also leads to the funding of certain things. There are reasons for people to not go and search."
Meade said unemployment benefits are only part of the challenge employers face.
"Everybody is complaining about unemployment and stimulus checks, and I think that's part of the problem, but do I think that's all of the problem? I really don't," he said. "I think the country is going through a labor shortage right now because the economy is doing so well."
Gov. Andy Beshear has pitched an incentive for Kentuckians to again join the ranks of the employed with a one-time $1,500 bonus to qualifying Kentuckians who re-enter the workforce between June 24 and July 30.
The bonus will go to the first 15,000 unemployment insurance claimants who return to work. He has said that money – $22.5 million – would come from federal COVID-19 recovery money the state has received.
Meade said Mouser has had trouble not only in hiring people, but actually getting people to apply for jobs, despite seeking candidates by advertising online, on digital billboards and in newspapers, as well as in front of their business that has a high traffic count.
At Flex Films, they haven't changed hiring practices for candidates with a felony conviction, for instance, but, "We've taken a look at those folks who might have a low-end issue in relation to their background, and we evaluate that by person and the skill sets they can bring," Fuller said.
Saylor said Subway has made some changes to provide a higher hourly rate of pay among other changes.
"We have empowered our teams to help us work smarter," he said. "They like that. We have added tipping for employees to the credit card procedure and that has been very well received. And, since we are busy, the great people we do have, are making significantly more money."
Fuller said Flex Films USA has seen an increase in absenteeism and turnover at a time when they are booked out until September with orders, which he said is not normal.
"The funding that is there is making a difference in my opinion," he said. "The extra money there, people are deciding they're just going to hold off and there may be some scared to come back because of COVID."
A report Friday said the country added 850,000 jobs in June, while the unemployment rate climbed from 5.8 to 5.9 percent. In Hardin County, the unemployment rate is 3.9 percent with 1,795 people listed as unemployed, according to the Kentucky Education and Workforce Development Cabinet.