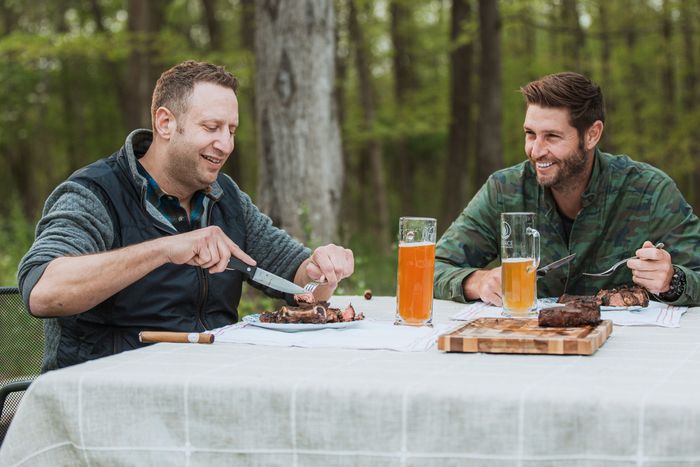 Sometimes, great parenting advice comes from the most unexpected sources. Sometimes, that source is former NFL star and father of three Jay Cutler.
"If you try one bite and you don't like it, that's fine. But we're at least going to try different things," Cutler says of the dining advice he gives to his three children: Camden, Jaxon, and Saylor.
Cutler and I are comparing notes over Zoom on how to get our kids to eat balanced meals; I'm fairly certain those exact words have also come out of my mouth. Unlike me, however, the former professional quarterback meal-plans like Martha Stewart. "Every week I try to make something different," he says of his cooking game plan, which he writes on a board for his kids at the top of the week. "I like to keep them on their toes because, you know, if you keep recycling something over and over again, they just say they don't like it, which is insanity," he says. "So I try to throw a different pitch at them every night."
While the former Broncos and Bears player may not be widely known for his skills in the kitchen, Cutler has had a passion for butchery for many years. The impetus for our conversation — before getting sidetracked by our kids — is, in fact, his latest business venture, alongside master butcher Pat LaFrieda. CUTS: Jay Cutler x Pat LaFrieda is a new meat subscription box that the two began creating during COVID. For $195 a month, subscribers receive nine pounds of meat, which can include anything from New York strips and filet mignons to chicken tenders and sweet Italian sausage. All of the offerings come from American farms that are up to LaFrieda's specific standards: The beef, for example, is uniformly grass-fed and corn-finished, and "processed humanely" following a procedure designed by famed animal-welfare advocate Temple Grandin.
While it's not uncommon to see LaFrieda-branded burgers and meats at many of New York's marquee restaurants, the butcher does not enter into partnerships like CUTS without vetting his co-founders as closely as he does his cows. But in Cutler, LaFrieda saw a butcher manqué. "The passion is there," LaFrieda says. "He gets his hands dirty. He wants to know why certain techniques are used in different circumstances. And, when someone like myself sees someone of Jay's stature — coming from a different profession — who has the same interests as me, it validates them very quickly."
Those who don't know Cutler from professional football may know him as Kristin Cavallari's ex-husband; the former Laguna Beach star and Cutler filmed a reality show about their lives, Very Cavallari, for a few seasons. Both of these descriptors are certainly more glamorous than Cutler's early years in small-town southern Indiana. But it was Cutler's childhood — hunting deer and turkey with his father and celebrating birthdays with a plate of Rockwellian steak and baked potatoes — that laid the foundation for his love of meat and butchery. "That's where we got our meat for the winter," Cutler recalls of hunting deer. "We were in a super small town; we didn't even have a restaurant there."
Food became even more important as Cutler's fledgling football career progressed. "I would eat an early dinner and then a late dinner," he says of his teenage years. "I was just destroying the refrigerator." And he wasn't picky: "You grow up in Indiana in the '90s, and you're eating Doritos and all the other crap," he says. But at age 27, Cutler was diagnosed with Type 1 diabetes, effectively putting an end to any sort of indiscriminate eating. "It was a massive change," he says. "That's when I really started noticing how food impacts not only my health, but my blood sugar and my mood." A few years later, when he and Cavallari became parents, he became even more aware of the provenance of what he was putting on the table. "I wanted to provide the best possible food for them," he says. The partnership with LaFrieda is finally his chance to put all his accumulated knowledge into a business plan.
It seems the meal-planning and food exposures are going well for the youngest Cutlers, by the way. "They're great; they eat vegetables and the boys are big meat eaters. Our daughter is kind of hit or miss; she's only 5, so she'll give you some problems sometimes," he says. This past year, continuing the tradition from when he was their age, he even took his boys hunting: "Both were successful, so it was fun to see," he says.
As for this week's menu? Cutler tells me it's often fairly international. "I like to pull all kinds of stuff from the internet and just try to mix it up," he says. "It's important for me to give them a variety of food. And show them, you know, there's a lot out there."