AUSTIN, TX – City of Austin Economic Development Department recognizes 30 local entrepreneurs and small business employees who earned a Business Skills Certification on Friday, July 23 with a virtual ceremony. Recipients were required to complete six training classes designed to strengthen skills needed to successfully manage and grow a small business. The classes were offered through a partnership with The University of Texas at Austin Center for Professional Education (UT CPE).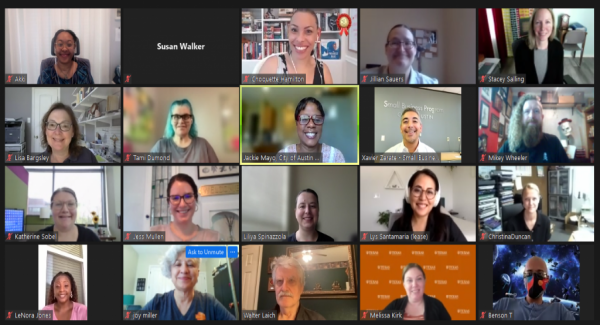 "We are delighted that so many current and future entrepreneurs were able to increase their business acumen even during a pandemic. This speaks to the resiliency of small businesses." explains Sylnovia Holt-Rabb, Acting Director of the Economic Development Department. "Austin continues to be a great place for small business creation and we are here to help."
While many classes were hosted in-person prior to the pandemic, the training program successfully expanded online options to provide continued learning with safety considerations. Class topics ranged from human resources basics to small business accounting, and social media marketing to recordkeeping. In December 2020, an additional 40 Business Skills Certification graduates were recognized and celebrated. Over the last decade of this partnership, more than 10,000 attendees have benefited from business training taught by experienced UT CPE instructors.
The Economic Development Department's Small Business Division offers weekly training classes, special events, business coaching, and helpful resources for those looking to start or expand a business in Austin. To view an upcoming schedule of classes, visit www.SmallBizAustin.org.
###
About the City of Austin Economic Development Department 
The City of Austin Economic Development Department supports business growth, creative industries, and local communities. These programs build an equitable, sustainable economy to improve the lives of all Austin residents. To learn more about helpful resources, visit www.austintexas.gov/edd or like us on Facebook @AustinEconDev and follow @AustinEconDev on Twitter.