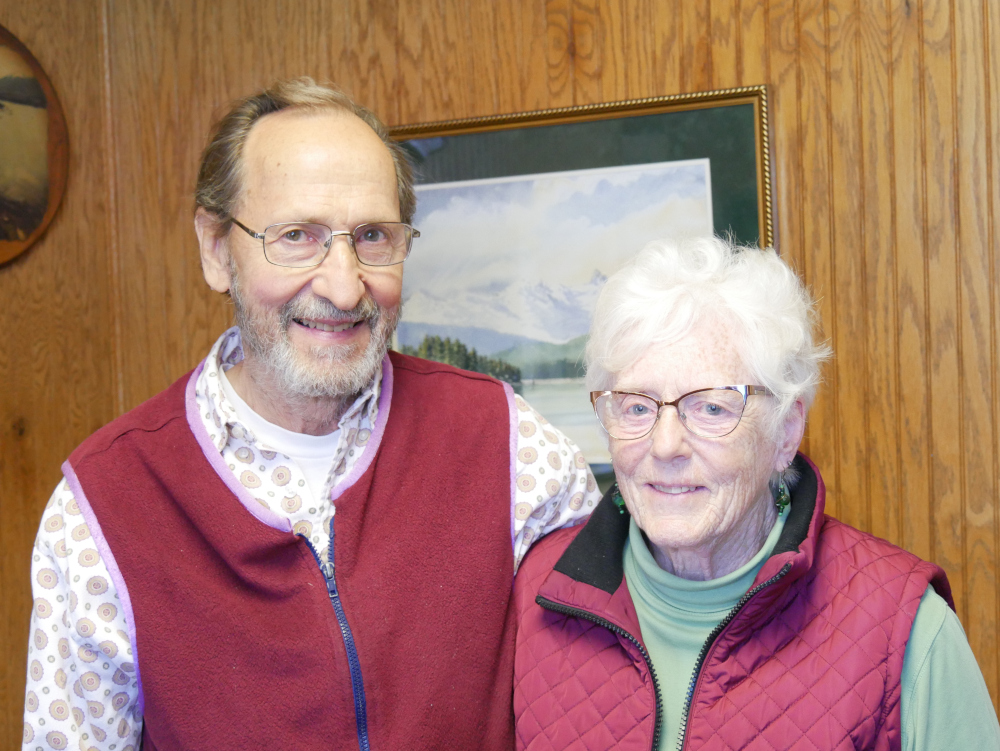 A dentist who's repaired and cleaned teeth of thousands in the Southeast communities of Petersburg and Kake is retiring this spring. He moved with his wife and family to Petersburg nearly five decades ago and they've retired once before. This time they're selling the business to the Southeast Alaska Regional Health Consortium which plans to continue a dental practice in Petersburg.
Richard and Sharon Sprague moved to Alaska in 1973. They were both 34 years old, with a Volkswagen bus, a U-haul trailer, a family of four and thousands of pounds of books and other belongings on the ferry trip north.
"All of our 7000 pounds that we so carefully packaged up and carried with us is still sitting in the warehouse in the same boxes it came in," Sharon said. "We never opened them. We didn't have time. We've always been busy.
Soon after moving here she found she didn't have anytime for the things they packed.
"You know I felt when we came we thought there's never going to be anything to do, there's nothing up here and within two weeks I realized what a diverse, educated community it was," she said. "I got into the arts and Polly Lee was teaching classes and I was painting, I was teaching tole painting at the time and they had a school play and I drug my violin out and we had a pit orchestra. There was just a lot of things going on and the whole community is that way."
The family moved to Petersburg that year so Richard could partner with the other new dentist Dr. Phil Beardslee. Both went to the same school, the University of Oregon Dental School in Portland and Beardslee had called his alma mater looking for help. And as it turns out, with one year left to go in that school, the Spragues had driven thru Alaska the year before and fallen in love with it.
"Made the trip all the way to Fairbanks, down to Anchorage, to Valdez and back down and went back to school for the final year," Richard said. "And the farther north we got, the more beautiful it was. And we knew we were doomed," Sprague said with a laugh.
The Spragues rented a place in Petersburg for two years before buying property on Sasby Island, directly across from Petersburg and part of the more remote city of Kupreanof. Sasby is a 100-acre island and the Spragues are the only residents.
The two dentists, Beardslee and Sprague, partnered for about 13 years then split and continued separately. For years they both also provided dental services in nearby Kake.
Through it all Richard and Sharon have been a team, raising the family and working together in the dental business, where she started helping out in 1985. They also got involved in politics of the tiny city of Kupreanof, serving as mayor and on the city council. They eventually outfitted their Sasby home with a micro-hydroelectric generator and water from the Petersburg Mountain hillside behind them. But Sharon remembers the days before that.
"I didn't have electricity much until we had the generator on and he put that on in the morning," she said. "And I'd have it on until probably nine or ten o'clock. And they'd all leave and go off to school and work. So I'd save everything up to do in the morning and as soon as the electricity was off, there wasn't any more noise. There was no anything. Refrigeration was a shelf out on the porch where the north wind would blow in and cool things. So we kept a screen on that so the squirrels wouldn't get in it. And that's what we moved to. And then the generator went a couple of years into being there and we had gas lamps and the kids did their homework with gas lamps."
They both turn 82 this year, born one month apart in the same town. So were they soul mates from the start?
"No. Not by a long shot," she said. "Now we just went to school together and we went to the same, our parents went to the same church, so that was an acquaintance. I'm good friends with his sister growing up together and that's what happened. He went to the military when he came home why, all the other girls were married and I was the only one that was left."
The couple also laugh that they've retired once before, in 1999. The dentist they sold to decided not to stay, meaning Dr. Sprague continued fixing teeth for nearly another two decades. And work is something that both say he is going to miss.
"When I look back at all the things that have happened, it's a pleasure to be able to help somebody," Richard said. "And that's where I've been able to help them with their problems and they rewarded me for it. And I'm real thankful for that."
The couple will be gardening at their south facing home on Sasby Island. They'll continue commuting back and forth to Petersburg in their Boston whaler and invite their neighbors to stop by sometime. They also have a garden going on property in Kake. But Sharon said its time for retirement.
"We're starting into our 80s and it's tim," she said. "And this is a good time for SEARHC to come in and start theirs and I'm sure they'll do fine."
SEARHC is the Southeast Alaska Regional Health Consortium. The regional health care provider is buying the practice and says it will continue it and expand it under a new name Oceanside Dental Clinic. Director of dental services Matt West said SEARHC is recruiting for a dentist and will be renovating the downtown building that the Spragues will lease to SEARHC.
"I hope that Petersburg sees this as a positive," West said. "The Spragues have quite the legacy that they are leaving behind and we hope to build and grow upon that. One of the things we intend to do is bring in specialty services. Our first thing probably early in the fall we'll be able to bring in pediatric dental specialists. And that's a service that we intend to provide on a regular basis to the community."
Oceanside Dental Clinic will be open for all patients not just beneficiaries of the Native Alaskan run health consortium. Until a new dentist is hired they'll rely on others in the SEARHC program. It's not the only option in town; Petersburg also has another dentist practicing.The Spragues' last day is April 30th and SEARHC takes over May 1st but won't likely have service reopened until later that month. The regional provider also took over behavior health services in Petersburg earlier this month.
SEARHC said patients can call 772-3320 to schedule future appointments.