THE FLATS – Jack Thompson, who spent more than 50 years serving Georgia Tech athletics from his days as a football recruiter to leading the Yellow Jackets' fundraising efforts, has passed away at the age of 84.
In his career with Georgia Tech Athletics, Jack Thompson made an indelible mark, first as a football recruiter who touched the lives of many of the Yellow Jackets who passed through the program in the 1960s and 1970s, but more importantly as a fundraiser in the Alexander-Tharpe Fund, Georgia Tech athletics' development arm, spearheading fundraising efforts for the construction or major renovation of every athletics facility on Tech's campus. His efforts also provided scholarships for thousands of student-athletes to receive their education and degrees from Georgia Tech.
"Jack was a friend, mentor and counselor to so many of us former student-athletes and the one who helped many of us get our first jobs out of Tech," said Georgia Tech director of athletics Todd Stansbury. "What an incredible legacy he has in the thousands of Georgia Tech student-athletes he helped along the way. Jack's passing is a tremendous loss personally for all of us who knew him and worked with him, and to the many alumni and benefactors who have supported our athletic programs over his many years of service. He was a Georgia Tech institution. During his half century here, there was not one student-athlete, coach or staff member that came through The Flats who didn't benefit from Jack's hard work, incredible talent and love for the Yellow Jackets. He will be greatly missed."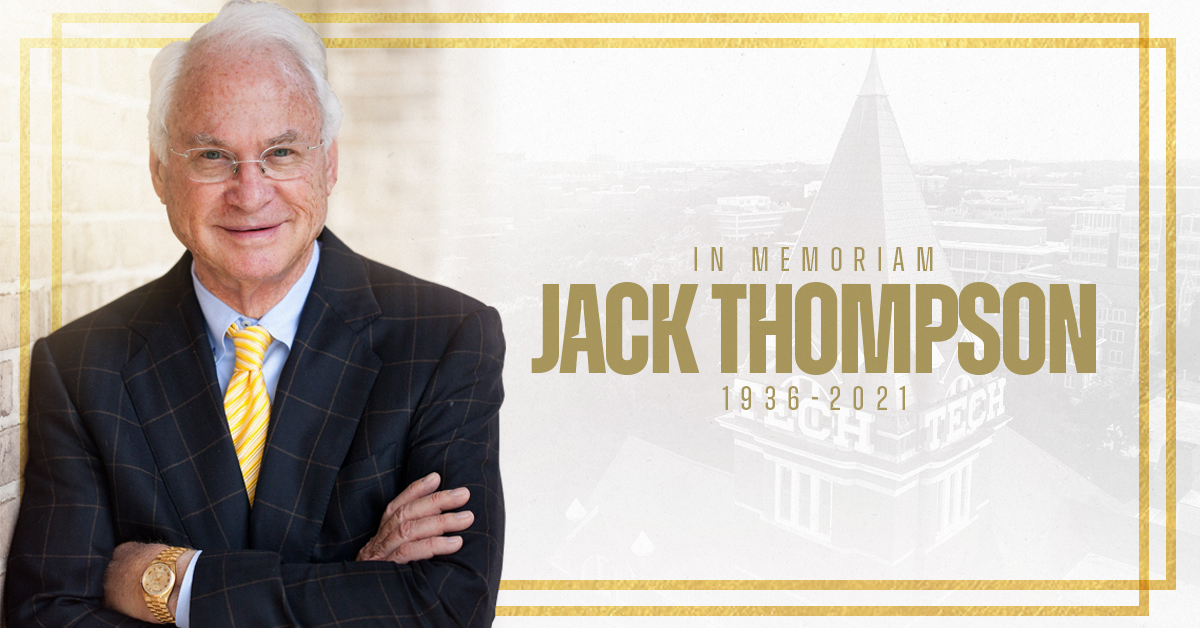 The A-T Fund raised nearly $600 million from Thompson's promotion to associate A.D. in 1982 to his retirement in 2018, after which he served as a special assistant to the athletic director until his passing. Highlighting his many honors and awards, Thompson was named an honorary alumnus of Georgia Tech in 2004. He was also named National Fundraiser of the Year by the National Association of Athletic Development Directors (NAADD) in 2005 and received a lifetime achievement award from the National Association of Collegiate Directors of Athletics (NACDA) in 2011. He was inducted into the Georgia Tech Sports Hall of Fame in 2018.
Thompson arrived at Georgia Tech in 1968 as director of football recruiting, a position that he served in under head coaches Bud Carson, Bill Fulcher and Pepper Rodgers. In that capacity, he helped recruit the first African-American student-athletes to be awarded scholarships at Georgia Tech, led by legendary quarterback Eddie McAshan. He moved into administration under director of athletics Homer Rice, where he began his long service in fundraising.
In addition to his role as a recruiter and fundraiser, Thompson was also instrumental in establishing Georgia Tech's presence in the Atlanta media market. He created and served as executive producer of the syndicated television show for Tech's head football coach, and later for both the head basketball coach and director of athletics. He also co-hosted the syndicated TV sports show, Sideline Sports, which aired on WXIA Channel 11 (NBC) in Atlanta for 19 years. These shows were recognized as among the most highly syndicated coaches' shows in America.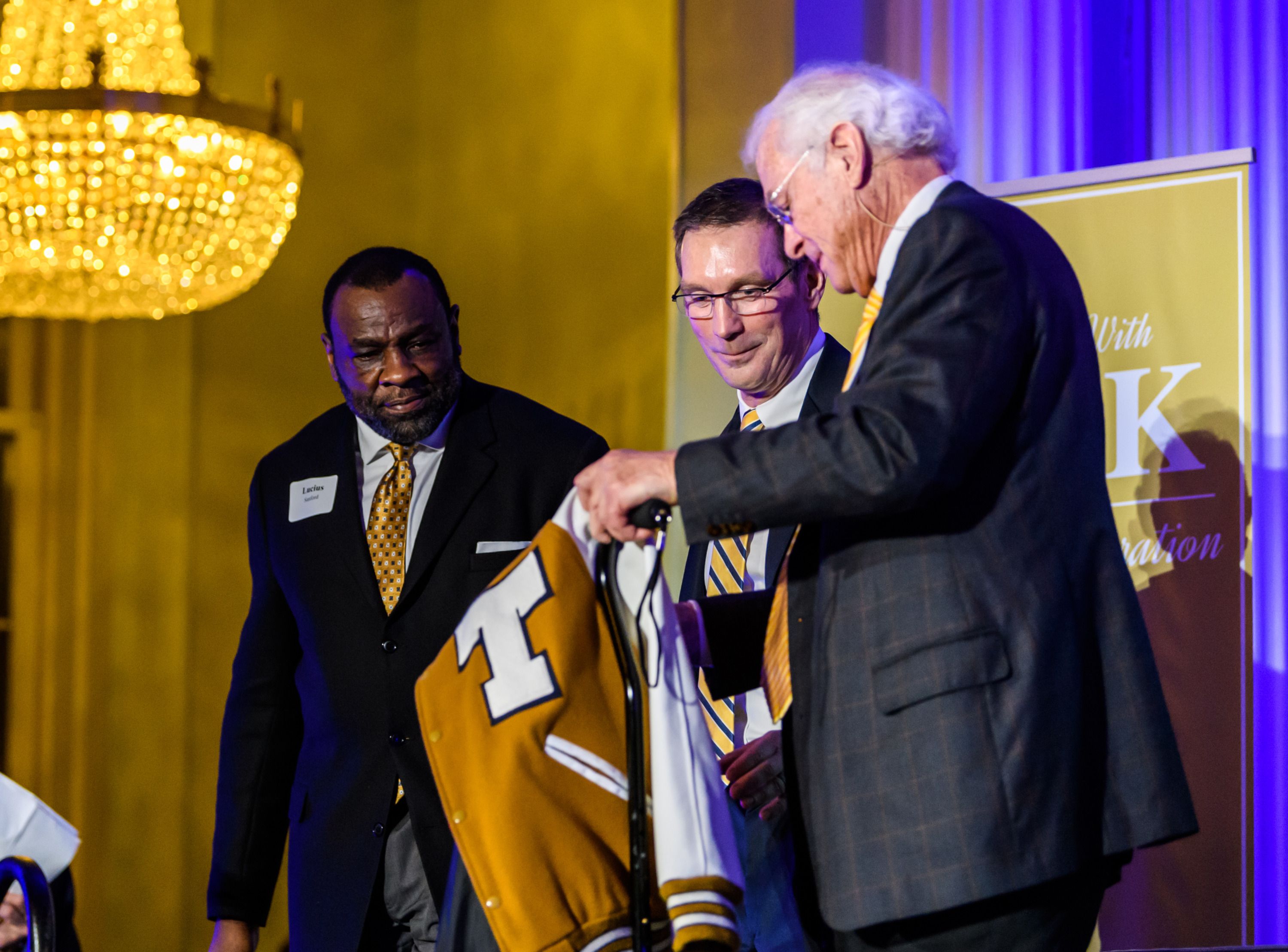 At a celebration of his 50 years of service to Georgia Tech Athletics in 2018, Jack Thompson receives a letter jacket from director of athletics Todd Stansbury and executive director of the Letterwinners Association, Lucius Sanford. (photo by Danny Karnik)
Thompson came to Georgia Tech in 1968 from the University of South Carolina. At South Carolina, he was the head swimming coach, physical education instructor, and part-time recruiter. He also worked in the athletic business and sports information offices.
Prior to his time at USC, Thompson served as head swimming coach and recruiter for all sports at Fork Union Military Academy in Virginia. Thompson also worked at that time as a reporter on the Virginia's Military School League for the Richmond Times Dispatch newspaper.
A native of Louisville, Ky., Thompson attended the University of Kentucky and served as an Infantry Officer in the U.S. Army Reserve.
Thompson is survived by his wife Mary, his son Scott and his daughter Tracy. He is predeceased by a son, Jay.
Funeral and visitation arrangements are pending.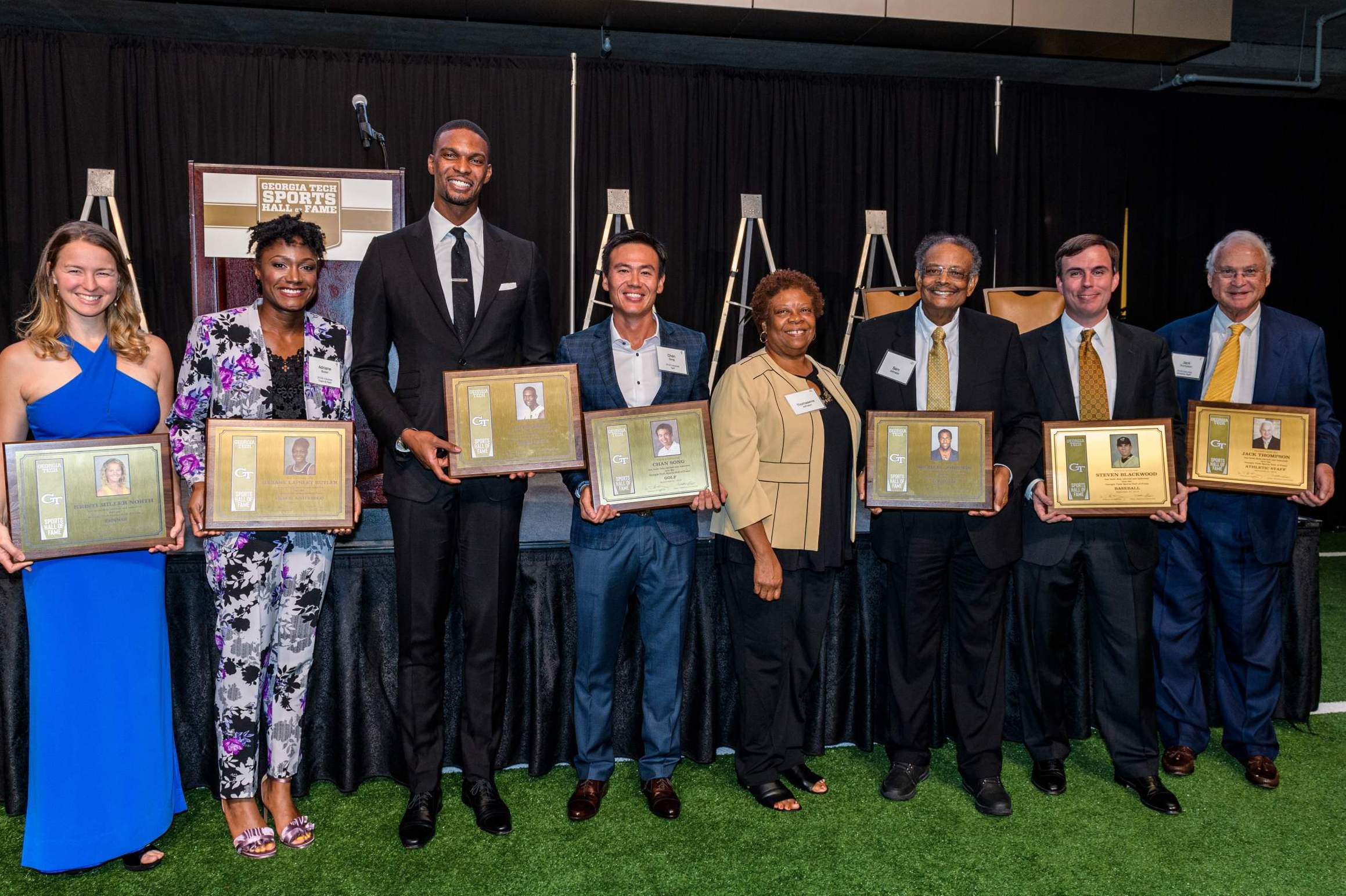 Thompson (far right) was inducted into the Georgia Tech Sports Hall of Fame in 2018. (photo by Danny Karnik)
Alexander-Tharpe Fund
The Alexander-Tharpe Fund is the fundraising arm of Georgia Tech athletics, providing scholarship, operations and facilities support for Georgia Tech's 400-plus student-athletes. Be a part of developing Georgia Tech's Everyday Champions and helping the Yellow Jackets compete for championships at the highest levels of college athletics by supporting the Annual Athletic Scholarship Fund, which directly provides scholarships for Georgia Tech student-athletes. To learn more about supporting the Yellow Jackets, visit atfund.org.
For the latest information on the Georgia Tech Yellow Jackets, follow us on Twitter (@GTAthletics), Facebook, Instagram or visit us at www.ramblinwreck.com.