THE FLATS – The Georgia Tech-LSU men's basketball game, part of the Holiday Hoopsgiving event that will be played Dec. 11 at State Farm Arena, will tip off at 6 p.m. and be televised on ESPN2. The Yellow Jackets and Tigers will be the third game of the quadruple header, which also features Auburn vs. Nebraska (11:30 a.m., ESPN2), Clemson vs. Drake (2 p.m., ESPNU or ACC Network) and Mississippi vs. Western Kentucky (8:30 p.m., SEC Network).
The game will pit the defending Atlantic Coast Conference champion Yellow Jackets, coming off a 17-9 season (11-5 ACC) and a berth in the NCAA Tournament, against an LSU team that finished 19-10 overall last season, with an 11-6 conference record, good for third place in the Southeastern Conference regular season. The Tigers appeared in the NCAA Tournament, where they lost to Michigan in the second round.
The former Southeastern Conference rivals will be meeting for the 36th time overall in a series that LSU leads, 21-14. The teams have faced off six times since Georgia Tech left the conference, with the most recent contest coming on Nov. 20, 2011, a 59-50 Tigers' victory in the Charleston (S.C.) Classic. Of those six meetings, three have occurred in the NCAA Tournament, including a 94-91 triumph in the 1990 South Regional in Knoxville, Tenn., that helped propel the Jackets to their first Final Four appearance.
Tickets for the Holiday Hoopsgiving event are available by clicking here.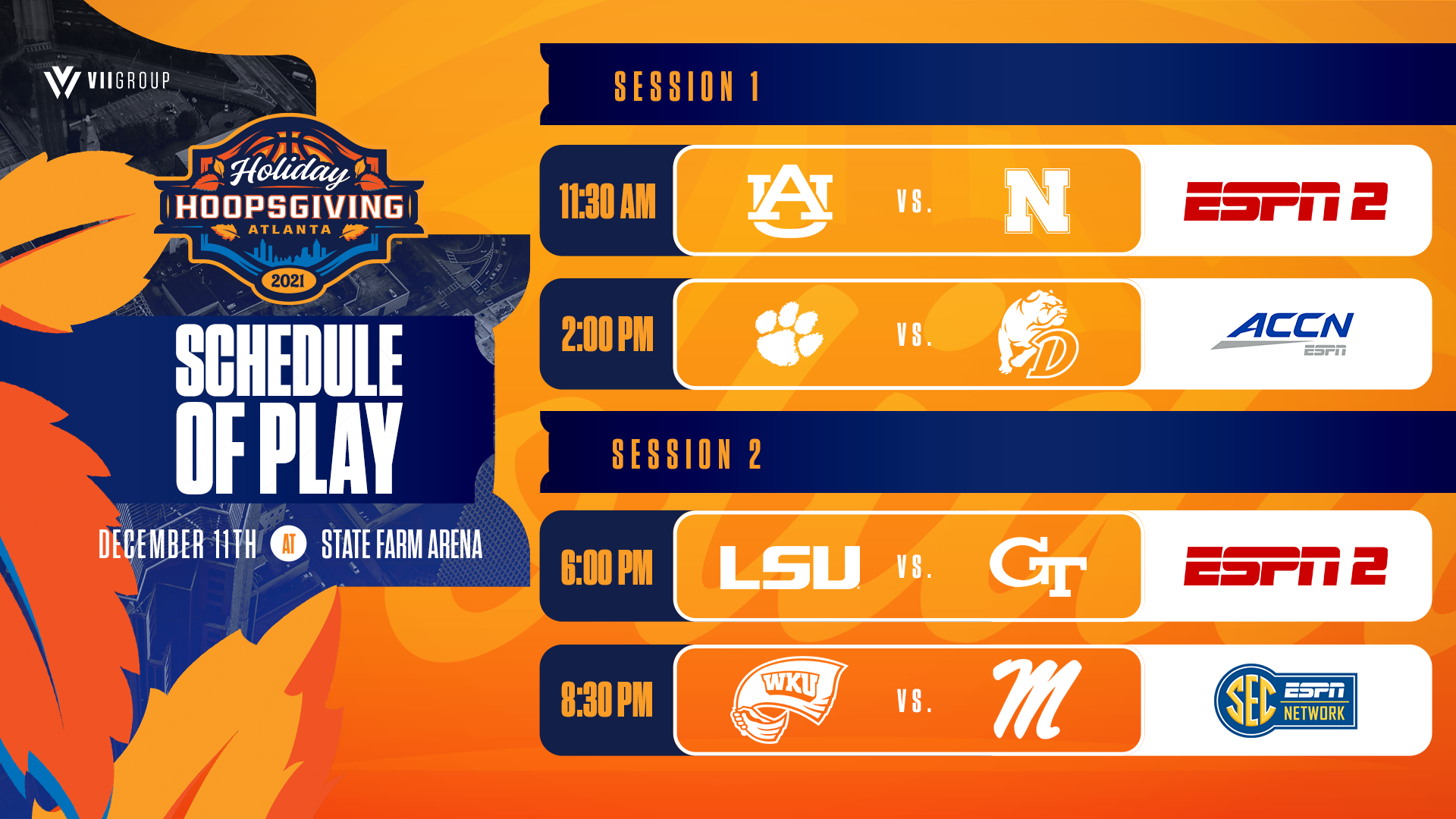 Georgia Tech's non-conference men's basketball schedule is complete, with the rest of the tip times and television to be announced in the near future. The Atlantic Coast Conference will announce the conference schedules for its teams in September. The Yellow Jackets have home-and-away series with Boston College, Clemson, Miami, North Carolina, Notre Dame and Virginia Tech, and will also host Florida State, Louisville, NC State and Wake Forest. Florida State, Clemson, North Carolina and Virginia Tech all played in the 2021 NCAA Tournament, with the Seminoles reaching the Sweet 16. (Tech will face Duke, Pittsburgh, Syracuse and Virginia on the road only).
The defending ACC champion Yellow Jackets (17-9, 11-5 ACC last season) welcome back five of their top seven scorers for head coach Josh Pastner's sixth season, including junior guard Michael Devoe (Orlando, Fla.), senior forward Jordan Usher (Canton, Ga.), senior guard Bubba Parham (Snellville, Ga.), senior forward Khalid Moore (Briarwood, N.Y.) and junior guard Kyle Sturdivant (Norcross, Ga.). Those returnees are bolstered by the transfer of guard Deivon Smith (Loganville, Ga.) from Mississippi State and a freshman class ranked No. 16 in the nation.
GEORGIA TECH SEASON TICKETS ON SALE
Men's season ticket prices start at $290, and returning season ticket holders that renew their seats by April 9 will save $25 per ticket. All price levels and associated TECH Fund donations remain unchanged from 2019-20. For a full pricing chart and list of benefits, click here.
Aside from receiving significant cost-savings compared to single-game ticket prices, season ticket purchasers can take an advantage of an interest-free payment plan, receive priority for tickets to post-season events, use online technology to transfer tickets, receive season parking options and access to a secure secondary ticket market.
Alexander-Tharpe Fund
The Alexander-Tharpe Fund is the fundraising arm of Georgia Tech athletics, providing scholarship, operations and facilities support for Georgia Tech's 400-plus student-athletes. Be a part of developing Georgia Tech's Everyday Champions and helping the Yellow Jackets compete for championships at the highest levels of college athletics by supporting the Annual Athletic Scholarship Fund, which directly provides scholarships for Georgia Tech student-athletes. To learn more about supporting the Yellow Jackets, visit atfund.org.
ABOUT GEORGIA TECH MEN'S BASKETBALL
Georgia Tech's men's basketball team won the Atlantic Coast Conference Tournament championship in 2021 after finishing fourth in the regular season. Tech has been a member of the Atlantic Coast Conference since 1979, winning four ACC Championships (1985, 1990, 1993, 2021), playing in the NCAA Tournament 17 times and playing in two Final Fours (1990, 2004). Connect with Georgia Tech Men's Basketball on social media by liking their Facebook Page, or following on Twitter (@GTMBB) and Instagram. For more information on Tech basketball, visit Ramblinwreck.com.