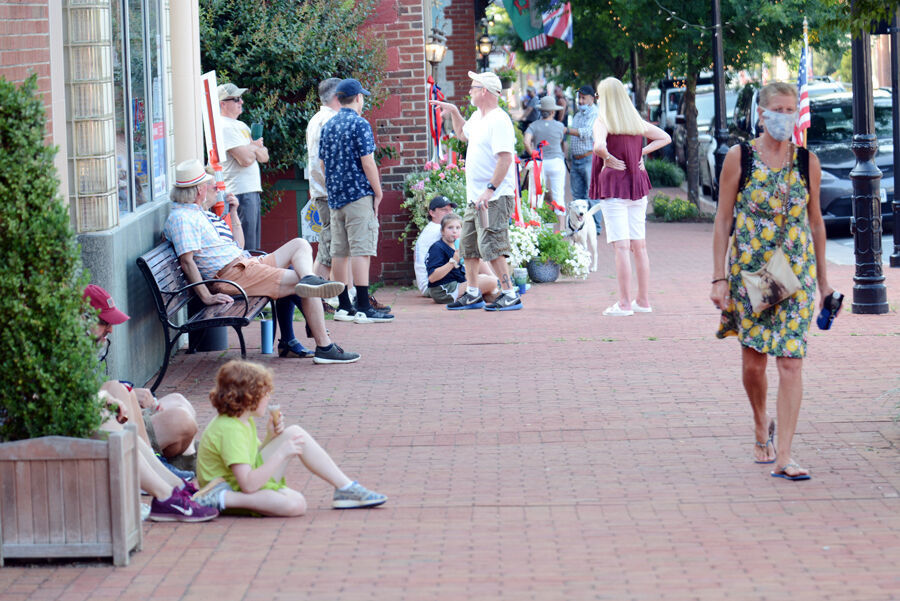 Gordonsville's First Fridays event series is returning Friday, May 7, the latest of nearly a dozen scheduled events through 2021. The series was created by Main Street Events LLC, a collaboration between local business owners Sunnie Capelle, Anthony Herring and Beate Casati, in 2020.
Next month's event will feature music from Charlottesville bands The Wavelength and The Hard Swimming Fish, who will be playing on the steps of the Gordonsville Town Hall building. Food trucks from Firefly on the Fly and Chill Bill's Italian Ice will also be there to satisfy hungry visitors. A number of businesses across Main Street from the town hall will be staying open later for those who wish to browse and shop. The event will be held from 5 to 8 p.m.
Capelle and her husband own the Nathaniel Inn, Herring is the owner of Well Hung Vineyard Restaurant and Casati owns Cavallo Gallery & Custom Framing. All three businesses are in Gordonsville on Main Street.
This year's slate of events officially kicked off on April 3 when Main Street Events hosted a market and art walk featuring various local artisans.
"We have posted our 2021 calendar of events online and are focusing this year on a few seasonal art walks on Main Street and then the summer music concert series First Fridays which will be taking place every first Friday of each month from May to November," Capelle said. "We are very excited to bring back these art and music events to the community as we got a lot of good feedback from last year and are trying to capitalize on that going forward."
All of the events are free in an effort to help drive business and attract tourism along the Main Street corridor.
"This year we are also very lucky to have more sponsors like Community Bank of the Chesapeake, East of Maui Coffee, Orange County Tourism and the Town of Gordonsville," Capelle said. "These events cost money and we are keeping it free to the public which is only possible through our sponsors. We are thrilled to have their support."
Other sponsors for this year's events include Gordonsville Town Councilmember Liz Samra and the Gordonsville Visitor Center.
First Fridays has the backing of officials like Lori Landes-Carter, tourism manager and director of the Orange County Visitor Center.
"Of course, I think it's just incredible," Landes-Carter said. "I love that the organizers are creating a really safe and fun environment for people to be able to enjoy the outdoors while listening to music, shopping and trying food. To have an opportunity to get back to some normalcy."
Herring is confident that Main Street Events is taking the necessary COVID precautions to protect attendees while still allowing them to socialize and have fun.
"As a community group, we are looking forward to hosting everyone for First Fridays," he said. "It's the first big event like this of the series. It will be socially distanced and safe. We believe it will be more successful this year because the vaccine is prevalent now.
According to Casati, mask wearing will be strongly encouraged but not mandatory.
"It's a bit more relaxed now with the current restrictions and people being more confident with the vaccines out," she said. "But we are still going to be pretty tight about all of it. We are trying to attract more traffic without it being too big."
Casati said that finding bands to play at each event this year wasn't as difficult as she expected.
"Because we started planning this at the beginning of the year, many bands had their schedules open," she said. "They didn't start getting booked until later. So, they were really grateful to get the opportunity to play. The Unsuitables are pretty popular, but some of the other acts hadn't even thought about scheduling.
She explained that Main Street Events is glad to be able to help bands after a year where live music and touring were almost nonexistent.
Landes-Carter mentioned that May could be an awakening of sorts for Orange County. With the Orange Uncorked Wine Festival being held May 1-2 and First Fridays later that week, she said that the Orange Economic Development Authority felt like weaving in their 2021 Small Business Week was the perfect way to boost the profile of the events.
"Rose Deal (director of economic development for the county) just put out a press release about the 2021 Small Business Week, which is running from May 2-8," Landes-Carter said. "We are just really trying to remind our community and visitors that you've got to shop local. Local merchants and businesses are what make us unique and give us our character."
Capelle echoed that sentiment and said that anything Main Street Events can do to kickstart growth in the retail, dining and tourism sectors of the county's economy is worth trying.
"As far as economics go, we have seen an uptick in sales during the art markets so far and hope that continues," she said. "Every business was impacted, and we hope these events continue to bring awareness to the great shops and things to do in Gordonsville. Champion [Ice House] opening soon will also bring people to the town and county. It's a win-win scenario."
Although, First Fridays is run by Main Street Events, the group is always in need of more helping hands.
"We are looking for volunteers for events because we all work full-time with two businesses each," Casati said. "Any kind of volunteer help is greatly appreciated."