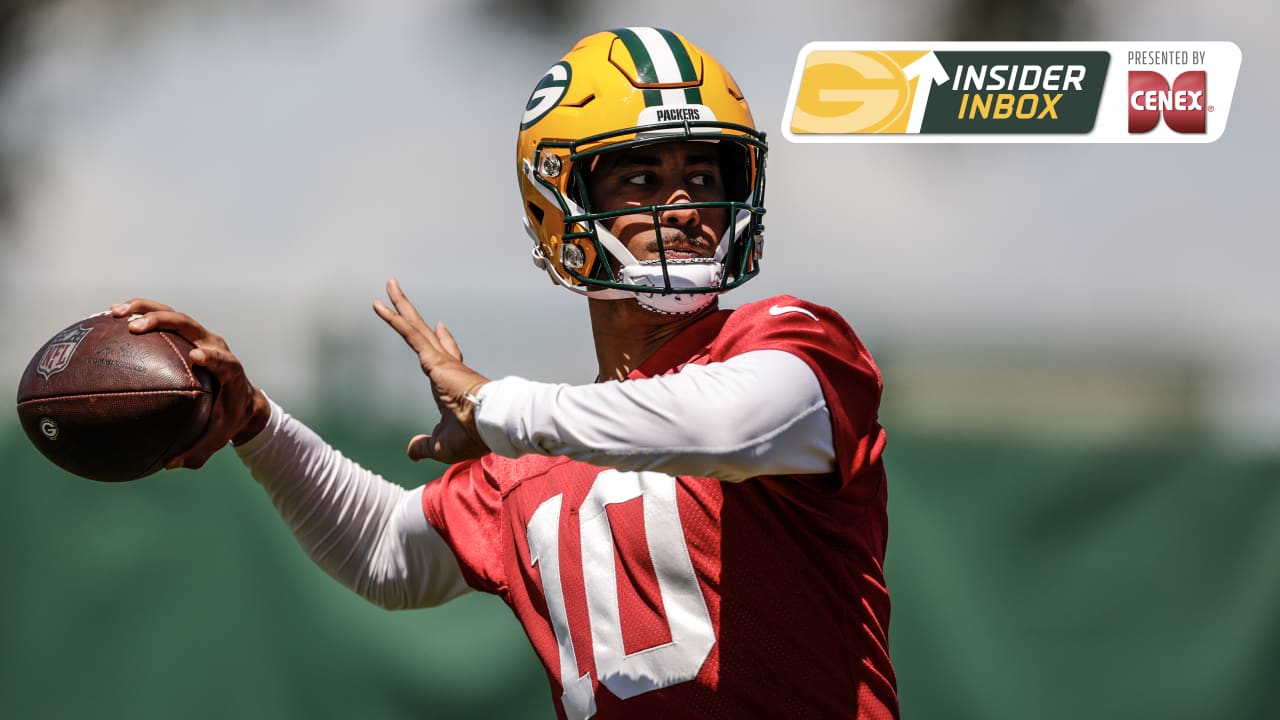 Stan from (I'm not publishing this fake town in), FL
Nice try, Ted from Kiewicz, NV. I thought it sounded strange, so I googled it. Can't find any town or village in Nevada with that name listed. Wes/Mike: Do you guys check out locations where question-askers are from, before publishing their locations?
I always do. In this case, however, I didn't want to admit Kiewicz doesn't actually exist because I want to believe it does. I want to believe!
Michael from Weston, Ontario
I was checking out your infographic on Packers jerseys, the 1922-1924 jersey would be a whole lotta fun. Any update on the third jersey? Or is it still on double-secret probation?
I have nothing to add to what Spoff wrote yesterday, but please Michael, tell me more about Weston, Ontario. Sounds like a lovely place.
Kyle from West Valley City, UT
Hey Wes, this Ainsworth Spofford business came up from a question I asked after the playoffs ended in 2019. I don't recall if you ever answered it yourself, though. So here it is again for you! Care to share an interesting fact about yourself?
I'm very proud of my ancestry, which I've researched heavily over the past 10 years. My favorite branch of my genealogy is my great grandfather on my mother's side, Casimir, who grew up as an indentured servant in Russian-partitioned Poland. He came to the United States prior to World War I and worked in the Chicago mills for two years to earn enough money to bring my great grandmother, Josephine, to the U.S. Together, they earned enough to move their young family to Pulaski, where farmland was a penny an acre. I often think about how the totality of those difficult, life-changing decisions is why I'm here today.
Ben from Menomonee Falls, WI
Not a question, more of a comment. I really appreciate the Inbox's philosophy on waiting to convey information until it becomes official (and having a no math policy). I also really like the culture you guys have created with in the II. The Inbox is almost like a family. Honestly it's really about the people! Like Lori from Brookfield, the poem guy, and all the crazies who comment down below. Not once have I ever been offended by anything posted here. Thanks, and keep up the great work guys!
If you can't tell by now, I'm a relationship person. I have a hard time getting invested into something if there's no relationship (or why) behind it. So, I thoroughly appreciate the folks I've met through Inbox over the years (Keith from Landover sends us a $25 priority shipping box filled with Girl Scout cookies every year for crying out loud) as well as the personalities that have flourished in this forum. That's why I'm so excited for Outsider Inbox IV in two weeks. It's your time to shine.
I know this is a bit late, but I hope the two of you had a wonderful Father's Day!
Thank you so much, Andy. I did. There's nothing better than being a father. It's the most gratifying thing I could ever do in this life.
Katherine from Milwaukee, WI
Which running backs will make the final roster?
Aaron Jones, AJ Dillon and…oops, looks like I reached my word limit.