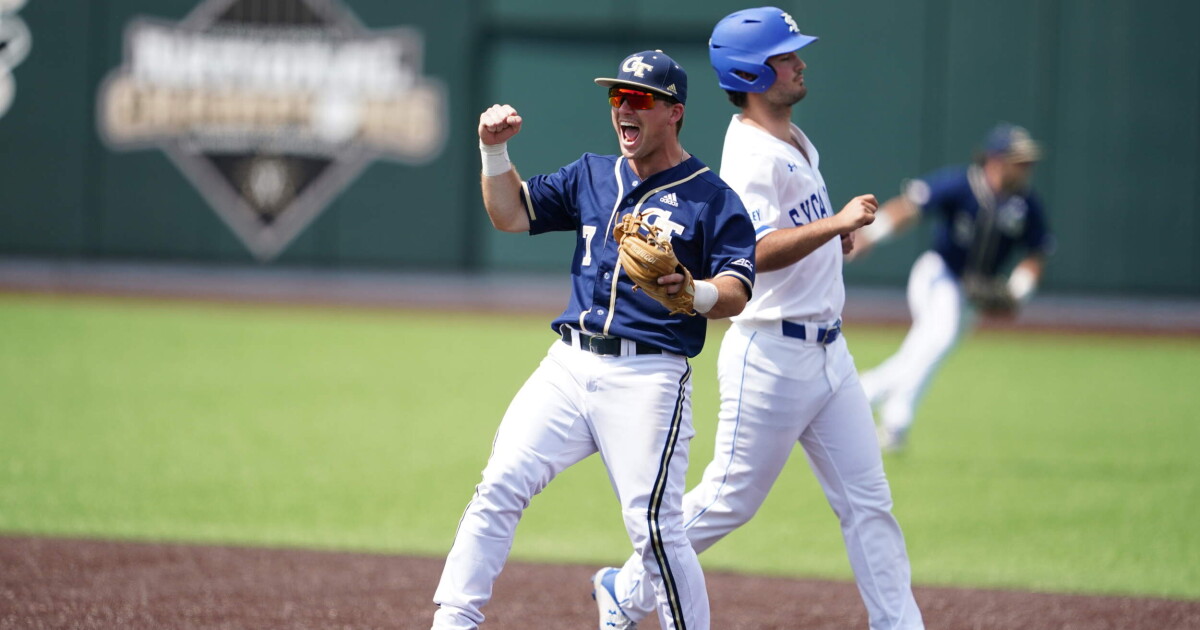 Box Score (.pdf) | Photo Gallery
NASHVILLE – #CardiacJackets were back in action as Georgia Tech baseball used a seventh-inning rally to climb back from a 6-2 deficit to win 7-6 over Indiana State in the opening game of the Nashville Regional at Hawkins Field on Friday afternoon.
The rally began when Jake DeLeo doubled to lead off before Luke Waddell knocked him in on a single to right center. Tres Gonzalez then walked to put two on before Justyn-Henry Malloy's two-out blast to right center scored another run and put runners on the corners. Andrew Jenkins, who had homered earlier in the game on a nine-pitch at-bat, then worked an eight-pitch AB to load the bases.
Stephen Reid and Drew Compton then capitalized with back-to-back singles through the right side to complete the comeback.
Reid paced the Yellow Jackets (30-23) with a 3-for-4 day, while Jenkins, Malloy and Gonzalez all finished with two hits.
On the mound, LHP Josiah Siegel (2-0) got the win after entering the game with two on and one out and pitching twice to get a double play ball. LHP Luke Bartnicki then worked two shutout innings of two-hit, three strikeout baseball to get his seventh save of the season.
The Sycamores (30-20) were led by Grant Magill, who had two hits and four RBI. RHP Connor Fenlong (4-3) received the loss, allowing one run on three hits in 1.1 innings of work late.
Georgia Tech will now play the 1-0 game on Saturday, June 5 at 7 p.m. ET and face the winner of the Vanderbilt-Presbyterian game.
Postgame Notes:
Georgia Tech improves to 4-2 on Hawkins Field in the postseason;
Georgia Tech improves to 8-3 in one-run games this season, 20-10 since 2019 and 144-101 since 2002.
Georgia Tech has now played eight one-run games in its last 12, winning six of them;
Georgia Tech improves to 66-54 in the NCAA Regionals;
Drew Compton now has six game-winning RBI this season, tying him for the most with Justyn-Henry Malloy.
Multimedia:
Postgame Press Conference (Coach Hall, Drew Compton, Justyn-Henry Malloy)
Around Social Media
JACKETS WIN!

Brad Grenkoski gets the fly ball and doubles up the runner at second! pic.twitter.com/bPU8knCtSN

— Georgia Tech Baseball (@GTBaseball) June 4, 2021
TIE GAME!!! STEPHEN REID BLASTS ONE THROUGH THE INFIELD!! pic.twitter.com/AEb6svfv1Z

— Georgia Tech Baseball (@GTBaseball) June 4, 2021
ANDREW JENKINS!! Nine-pitch AB turns into a two-run MISSILE!! pic.twitter.com/zTBgi4n9Xg

— Georgia Tech Baseball (@GTBaseball) June 4, 2021
Alexander-Tharpe Fund
The Alexander-Tharpe Fund is the fundraising arm of Georgia Tech athletics, providing scholarship, operations and facilities support for Georgia Tech's 400-plus student-athletes. Be a part of developing Georgia Tech's Everyday Champions and helping the Yellow Jackets compete for championships at the highest levels of college athletics by supporting the Support The Swarm Fund, which helps Georgia Tech athletics offset the significant financial challenges associated with Covid-19, and the Annual Athletic Scholarship Fund, which directly provides scholarships for Georgia Tech student-athletes. To learn more about supporting the Yellow Jackets, visit atfund.org.
For the latest information on the Georgia Tech baseball team, follow us on Twitter (@GTBaseball), Facebook, Instagram (@gt_baseball) or visit us at www.ramblinwreck.com.