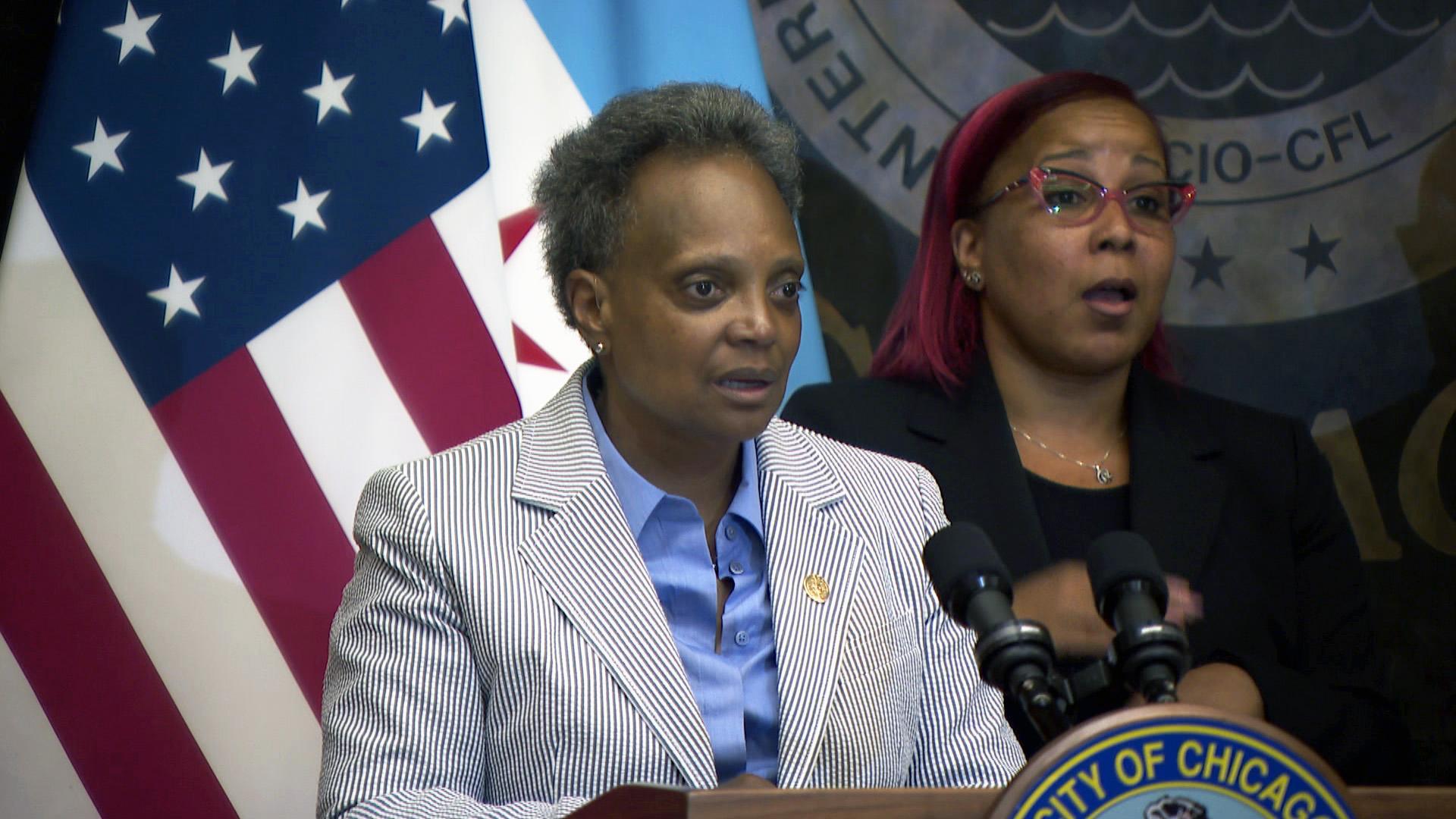 Mayor Lori Lightfoot addresses the news media Thursday, July 1, 2021. (WTTW News)

Determined to convince tech companies to trade in views of the Golden Gate Bridge for the City of Big Shoulders, Mayor Lori Lightfoot spent Wednesday and Thursday wooing Silicon Valley entrepreneurs, even as the city reeled from the most violent weekend of 2021.
Thanks to our sponsors:
Touting her administration's efforts to "build the most diverse tech economy in the country" in Chicago, Lightfoot met with leaders of Uber Freight and Salesforce in San Francisco Thursday. The two tech firms announced plans to expand their operations in Chicago before the COVID-19 pandemic up-ended the U.S. economy.
"We have no indication that it is anything but full-steam ahead," Lightfoot said. "I feel very good about the conversations we had today."
Describing herself as Chicago's "advocate-in-chief," Lightfoot also met with San Francisco Mayor London Breed, presided over a roundtable of venture capital leaders and planned to host a reception Thursday evening.
Alongside Deputy Mayor Samir Mayekar and World Business Chicago CEO Michael Fassnacht and a delegation of tech entrepreneurs, Lightfoot sought to "raise awareness of Chicago's tech ecosystem" in an attempt to convince tech firms to "explore new opportunities in Chicago."
Lightfoot said her first official trip outside of Chicago after the start of the COVID-19 pandemic was designed to "tell the Chicago story" about how the city has rebounded after the pandemic and should be considered by firms looking to expand — or leave — the Bay Area.
"We did a good job in really articulating why Chicago should be part of that conversation," Lightfoot said.
But Lightfoot acknowledged that some of the firms she romanced in San Francisco were concerned about crime and the safety of their workforce.
"Public safety is my No. 1 priority," Lightfoot said, adding that there was no need to cancel the trip in the wake of the violent weekend. "There are these things called phones and computers, so I am never far away from what's happening in Chicago whether I am physically there or not."
The "best and most effective" long-term solution to the violence plaguing Chicago is to grow jobs and opportunities for residents of all neighborhoods, Lightfoot said.
But in the short term, Lightfoot said she was hopeful that a federal strike force — set to arrive in Chicago by the end of July — would tamp down the violence that swept the South and West sides, wounding more than 100 people and killing 18 people.
"We all have a sense of urgency about the necessity of getting these resources on the ground," Lightfoot said.
Contact Heather Cherone: @HeatherCherone | (773) 569-1863 | [email protected]
---
Thanks to our sponsors:
Thanks to our sponsors: