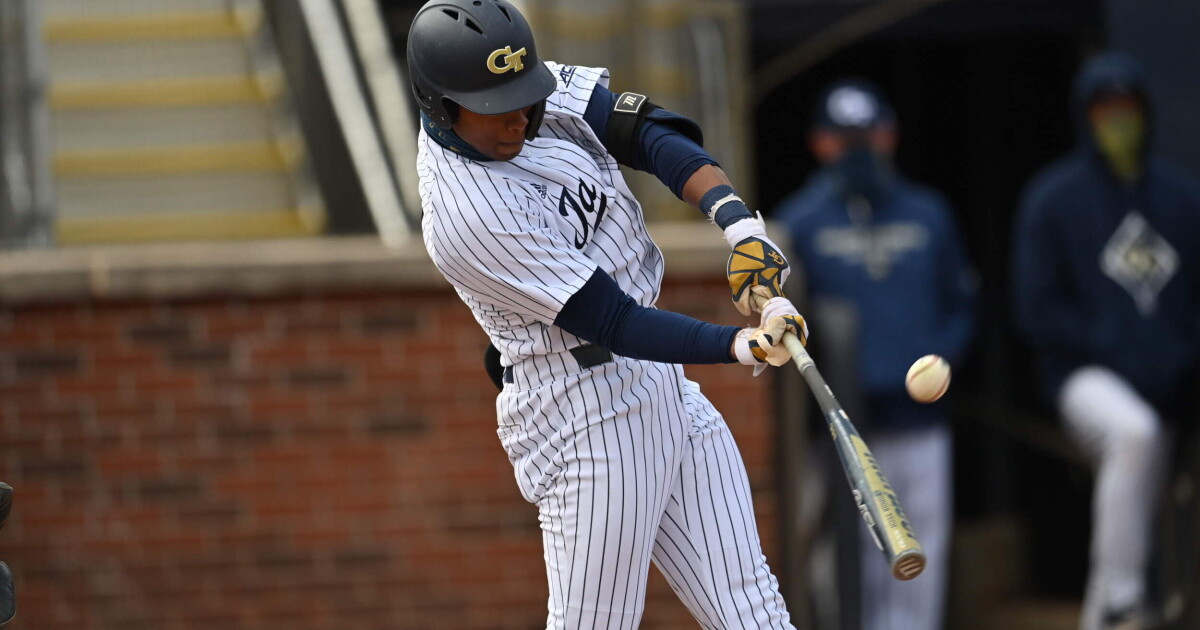 Jackets win thriller off two-out home run
THE FLATS – A 2-1 pitch with two outs in the bottom of the ninth was taken well beyond the left center by Justyn-Henry Malloy to give Georgia Tech a 6-5 series-clinching victory over Clemson on Saturday afternoon at Mac Nease Baseball Park at Russ Chandler Stadium.
The Yellow Jackets (23-18, 17-12 ACC) tied the game in the eighth on a Jake DeLeo RBI single after the Tigers (22-20, 15-14 ACC) had rallied from their 4-1 deficit to take a 5-4 lead.
LHP Luke Bartnicki pitched a full inning to get to one out in the top of the ninth before RHP Chance Huff (1-0) got two straight outs to strand Clemson's runner on second.
On the day, John Anderson and Andrew Jenkins led the way with two-hit performances, including Anderson's two-run homer to give Tech its early lead. Tres Gonzalez and Cameron Turley also knocked in runs in the effort.
Clemson was led by a 2-for-4 day from Kier Meredith. RHP Geoffrey Gilbert (3-5) received the loss, allowing the home run in the ninth.
Georgia Tech wraps up the series against Clemson on Sunday, May 9. First pitch is scheduled for 1 p.m. and will be broadcast on the ACC's Regional Sports Networks and WREK 91.1 FM. Single-game tickets for Saturday's matchup has sold out.
Postgame Notes:
The walk-off is Georgia Tech's first since March 6, 2020 against Virginia Tech (Jadyn Jackson);
The walk-off home run is Georgia Tech's first since Feb. 22, 2019 against then-No. 3 UCLA (Kyle McCann;
Georgia Tech improves to 3-1 in one-run games in 2021;
Georgia Tech is 15-8 (.652) in one-run games since 2019 and 139-99 (.584) since 2002.
Multimedia:
Postgame Press Conference – Danny Hall, Justyn-Henry Malloy
Alexander-Tharpe Fund
The Alexander-Tharpe Fund is the fundraising arm of Georgia Tech athletics, providing scholarship, operations and facilities support for Georgia Tech's 400-plus student-athletes. Be a part of developing Georgia Tech's Everyday Champions and helping the Yellow Jackets compete for championships at the highest levels of college athletics by supporting the Support The Swarm Fund, which helps Georgia Tech athletics offset the significant financial challenges associated with Covid-19, and the Annual Athletic Scholarship Fund, which directly provides scholarships for Georgia Tech student-athletes. To learn more about supporting the Yellow Jackets, visit atfund.org.
For the latest information on the Georgia Tech baseball team, follow us on Twitter (@GTBaseball), Facebook, Instagram (@gt_baseball) or visit us at www.ramblinwreck.com.