Titans of industry gathered at 120 S. Main St. in Victoria decades ago. Now, with a reimagining of the historic building, more are set to start up there.
In Victoria, financial commitments from various local entities are still in progress, and work on 120 S. Main St. is set to begin in about 60 to 90 days, said building owner Bill Wendlandt.
"Innovation Collective has the potential to be a catalyst for the revitalization of downtown as well as activating some of the most innovative businesses in the state or the world," said Mike Etienne, assistant city manager.
Between March 2019 and March 2021, Victoria ranked the 10th worst city with a population below 150,000 people in the U.S. for job growth with a loss of 9.1%, according to a study of 394 U.S. cities by small business research firm AdvisorSmith and the Bureau of Labor Statistics. During that same time, Coeur d'Alene, Idaho, ranked fourth best in the country with 6.8% growth.
In Innovation Collective's founding city of Coeur d'Alene, job growth has come at the same time old building restorations, events and new businesses have developed alongside Innovation Collective. But this is not CEO Nick Smoot's only metric for success.
When Innovation Collective partners with a community, Smoot said in January while visiting Victoria, other metrics include the number of patents filed, partnerships between Innovation Collective and local entities, startups created, buildings revitalized and the amount of venture capital. But the focus is on creating innovative businesses and innovative jobs that are not lost to automation.
Innovation Collective does this by gathering a community around a vertical, or niche in the economy, to create new startups with the assistance of Innovation Collective's worldwide Rolodex of experts across industries.
That niche for Victoria has yet to be announced by Smoot.
Around the massive boardroom table in 120 S. Main St., Victoria Bank & Trust board members representing cattle, finance, health care, journalism, law, oil and retail developed Victoria generations ago.
The building at 120 S. Main St. formally opened to the public Oct. 3, 1954, according to Advocate archives, to house Victoria Bank & Trust.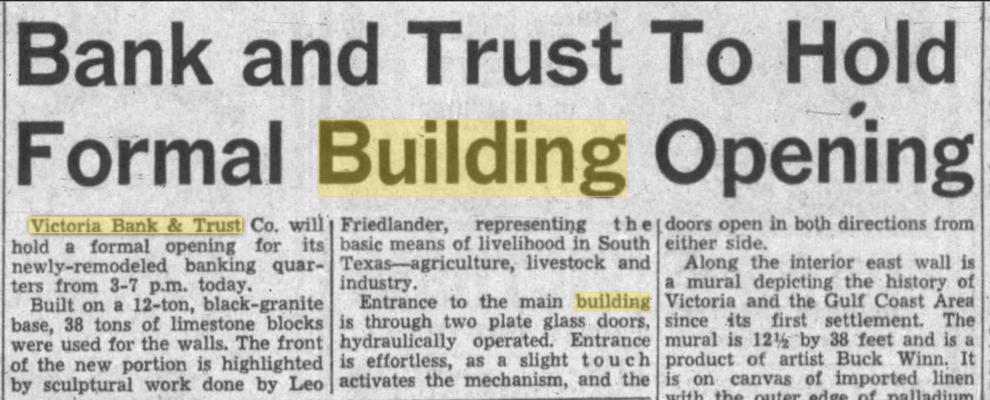 The largest of three area banks of that era then grew the building in 1960 with a four-story addition and expansion of its lobby area, according to Advocate archives.
"The concept of learning from history is huge," said Wendlandt, who has restored and repurposed many downtown Victoria buildings. "This building, this conference room right here is where the pioneers of the Victoria business community were. We're going to have a 'passing the torch' to this new group, and it's not just entrepreneurs but existing businesses."
Italian marble and a 475-square-foot mural of the region's settlement still remain even as the bank lobby has since been transformed into the reception area and computer lab for Workforce Solutions Golden Crescent. That same space will then transform into an open event space surrounded by small and large offices for forthcoming businesses.
The process to finalize a commitment between Innovation Collective and other entities — from the public and private sectors — is still underway.
"We're fully committed to the project and how things are progressing," Smoot said.
In a June 15 City Council meeting, councilmembers approved $100,000 to come from the Sales Tax Development Corp. for the initial three years of Innovation Collective, sparking one of the first official approvals of Innovation Collective from the City Council and an economic development organization.
For funding directly from the city, Etienne said city government is still considering supporting the startup.
Adjacent to Workforce Solutions Golden Crescent will be Vocational Rehabilitation, said Raquel Garza, HireAbility Navigator at Golden Crescent Workforce Solutions.
The job seeking entity is still making the move from its previous location, 4102 N. Navarro St., but new and existing clients can visit the office in person at 120 S. Main St., Garza said. The building also will comply with access guidelines for the Americans with Disabilities Act when the remodel is done, Wendlandt said.
"I'm tickled," said Henry Guajardo, executive director of Workforce Solutions Golden Crescent. "Integration is something that we've been looking forward to it for the last couple of years."
The two new tenants at 120 S. Main St. come as representatives of different entities, such as the University of Houston-Victoria, express interest in partnering with Innovation Collective.
"Victoria has a rich history of being an innovator," Smoot said. "We need to bring back our manufacturing. We need to bring back our talent. We need to bring back our tax, and this building will play a key role in that. But more importantly is, this community will play a really key role."