When Ypsilanti resident Cheranissa Roach's daughter was 8 years old, she said to her mother, "You always encourage others to go after their dreams. Why don't you?"
That was a life-changing moment that helped affirm Roach's desire to pursue her dream of being an entrepreneur.

Cheranissa Roach.
"As a mom, you can raise your children to be smart, compassionate, kind, and successful while you pursue the dream of business ownership," Roach says. "You can do it, and in doing it, you give your children one of the most important lessons in the world. You tell your children they can do it, they can go after their dreams, but what if they see you are not doing it?"
Now, Roach coaches other women in entrepreneurship through her business and life coaching firm, My Coach Char. Her business tagline is: "Helping moms pursue their dreams, while raising their families without sacrificing either."
Roach is just one of many "mom-preneurs" – women juggling motherhood and running a business – in the greater Ypsilanti area.
Kristin Gapske, director of the Entrepreneurship Center (EC) at Washtenaw Community College, says that women, most of them mothers, make up a large number of those using the EC's services. She says she's seen moms with strollers doing market research in the EC while feeding their babies, or engaging in EC coursework online as children hover in the background. She also notes that all of the nine final winners of this year's WCC business pitch competition, Pitch @ WCC, were women – and some even had business ideas that were aimed at supporting other moms.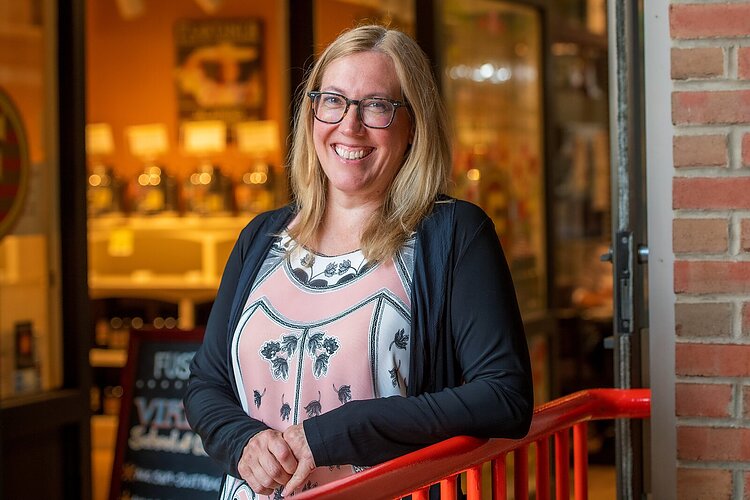 Kristin Gapske.
"Seeing 'mom-preneurs' come into the Entrepreneurship Center so often and being a mother myself, I appreciate the effort and incredible dedication it takes to raise families and raise a business at the same time," Gapske says.
We talked to several Ypsi-area "mom-preneurs" about their businesses, how they juggle parenthood with entrepreneurship, and their tips for other moms who might be considering starting a business themselves.
"It was about transforming people's lives"
Ypsi Township entrepreneur Eboney Byrne started her financial coaching business, Liberty Financial Services, to help other women who find themselves in the same place she was several years ago: trying to rebuild her life and finances after divorce.
She used what she had learned from her own situation, and started coaching family and friends informally. In 2015, she began following Tiffany Aliche, founder of "The Budgetnista" on social media, and was inspired to get more serious about her budding business with the mission of "helping women build a financial legacy after divorce."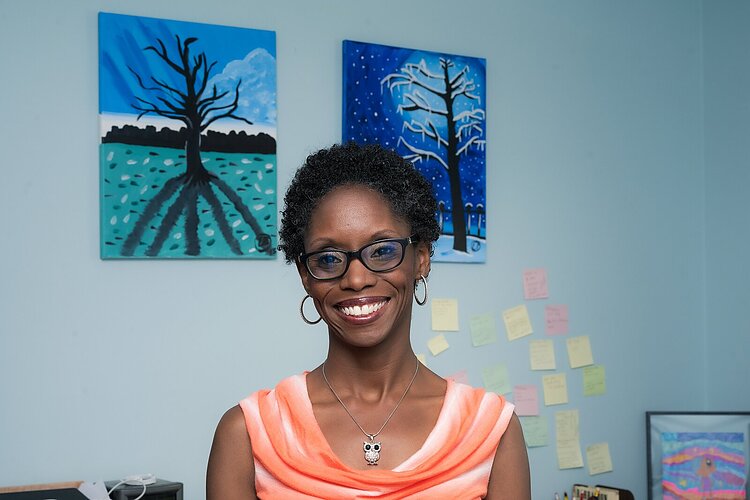 Eboney Byrne.
"Beyond the money part of it, it was about transforming people's lives," Byrne says. "I loved that. I thought, 'I have a story to tell, and I can help people too.'"
Many financial coaches don't have any formal degrees or education in the subject, but Byrne thought it would boost her new business to have some credentials. She took an online course and became a certified financial educator.
"It made me feel more professional when I was talking to people. I have life experience, and I know how to present it to you and make it make sense," she says.
Byrne started a blog in 2019 as a way to "dip her toes" into entrepreneurship, but things really got moving after she took a 12-week small group coaching program focused on attracting clients, figuring out your niche, and deciding on pricing for services. But then COVID-19 came to Michigan.
"When the pandemic happened, I thought, 'Well, that's going to be that,'" she says. "But I ended up getting more clients in the pandemic because people were really worried about their money and had the time to say, 'Okay, let me figure out how to get better with this.'"
Byrne was laid off from her full-time job in March of this year and decided to seize the opportunity to make a full-time job of her business.
"I'm giving myself a year to be serious and go for it," she says.
Her advice to other mom-preneurs is to recruit your children so they're on your team, rather than seeing your business as something that's taking away from family time.
"My daughter just turned 10, and she loves it. She seems to think I'm Oprah-level fancy," Byrne says. "She thinks it's really cool and wants to help me do things. She has a title: assistant marketing director."
She says starting a new business can be "emotionally draining," so it's also important to connect with other entrepreneurs or even a good therapist to keep yourself grounded and focused.
From a life of "side hustles" to full-time entrepreneurship
Ypsilanti business owner Taryn Willis says she's had some kind of "side hustle" for most of her life. Even as she worked full-time as the marketing and communications coordinator for Ypsilanti Community Schools (YCS), she was also coaching tennis and helping her husband Travis with the printing company he has owned for about 17 years. Before that, she always had multiple sources of revenue, largely centering around event planning.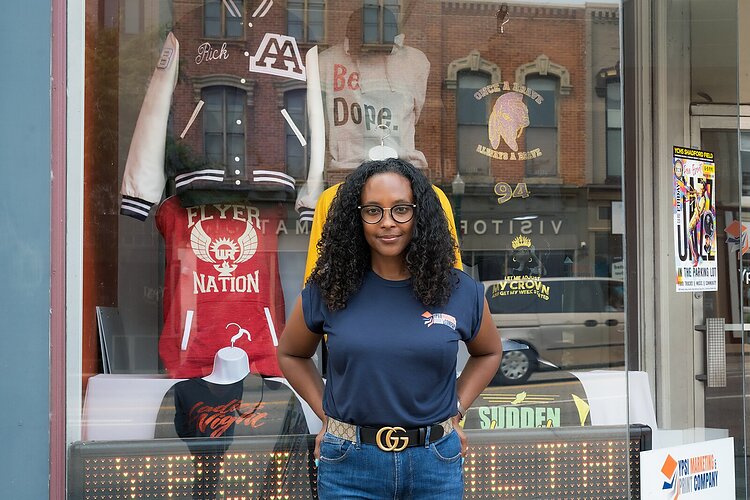 Taryn Willis.
"But I was also painting glasses for weddings, doing small T-shirt sales, creating greeting cards. It's a whole arts and crafts lifestyle here," she says with a laugh.
This summer, she's leaving her position at YCS in order to focus on the family business and bring her marketing expertise to Ypsilanti Marketing and Print Co. When Travis Willis and his partners in the print business went their separate ways, he continued the business in the same space with a new name.
"People trust my husband with major businesses and projects," Taryn Willis says. "He created a legacy, and together we're going to continue to grow it."
She says the pandemic created some struggles, but as businesses get back to their usual operations, they're seeking out T-shirts, print material, and other items to promote their offerings to customers they might not have seen much in the last 18 months. In addition to traditional print company services, Willis is offering marketing and branding services.
"My husband knows about things like what size paper and how many," she says. "My part is to come in and help with project management and the logistics of the company."
Willis currently has a 1-year-old and a 2-year-old with her husband, but she also has a 20-year-old child from a previous relationship. She says she struggled to keep her entrepreneurial spirit up when she was parenting as a single mother. But single motherhood also taught her how to juggle job and family responsibilities, she says.
"It definitely helps to have a great partner, having someone supportive of you," she says. "It's also important to be organized. My husband and I talk about our calendar the night before or in the early morning."
Her main advice to other local mom-preneurs is to "get out there [and] meet and greet people."
She says the Ypsilanti area offers a variety of vendor fairs and pop-up markets, which are a great way to meet people and network with other small business owners. She says even local community events that have an arts and culture focus, like Jazz in the Parking Lot, offer vendor booths for local small business people to rent a vendor booth, and mom-preneurs should take advantage of those opportunities.
Building a tutoring and learning resources center
Dr. Angie Williams-Chehmani is one of Ypsilanti's newest mom-preneurs. After 20 years as an educator, she decided to open a tutoring business, Dr. Angie's Tutoring and Learning Resources Center, at 317 Ecorse Road, Suite #1, in Ypsilanti Township.
She noticed many students and their parents struggling with online learning during the COVID-19 pandemic, and noticed that students who had outside resources like private tutors often did better.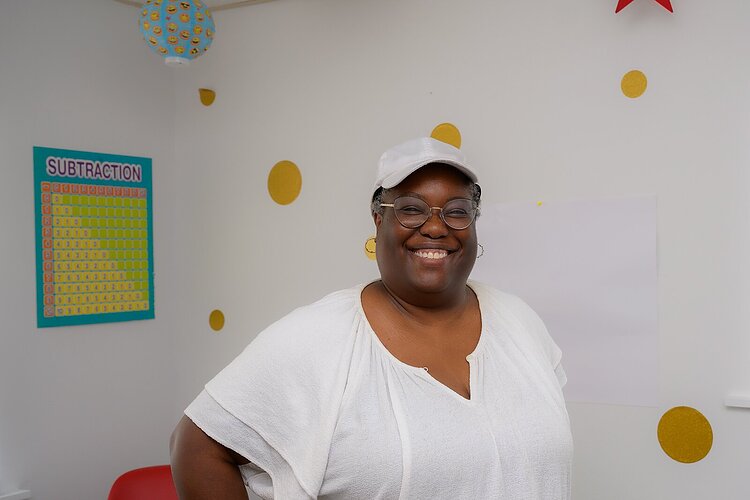 Dr. Angie Williams-Chehmani.
"In Canton or Ann Arbor or Detroit, there are big-box commercial tutoring services, but they're very expensive," she says. "I wondered where would be a good place where that kind of resource is not readily available."
She found an answer in Ypsi Township, where she got the keys to her business' space in March and held a ribbon-cutting ceremony June 21. The business is currently established as an LLC, but she is in the process of transitioning to a nonprofit model. Her hope is to win grants and make individual or small-group tutoring more financially accessible for her target market: low-income and/or minority K-12 students and adults.
"Learning resources" is part of her business' name because she offers more than tutoring. She can also help adults write resumes, figure out how to get their GED, or make a plan for going back to college.
Williams-Chehmani also involves her children in the business. Her 14-year-old son runs errands and keeps the tutoring center clean. Her daughter is in college in Illinois, but when she comes home to visit, she helps at the front desk.
"I try to get them involved. It's good for them to see other aspects of life and help people," she says. "I've always been into volunteering and humanitarian efforts, and they've seen me do it. You have to model what you want from them."
She says aspiring mom-preneurs should also make sure their children are more independent than average. For instance, Williams-Chehmani never has to stop in the middle of paperwork to make a meal or do laundry for her son, because he routinely does his own laundry and knows how to cook.
She also says it's okay to drop any perfectionist tendencies about housework.
"It's okay if there are dishes in the sink. It's not going to kill anybody," she says.
She says the A2Y Chamber has been a big help and recommends it to other mom-preneurs. If she has an event, the chamber will add it to their calendar, and many chamber members turned out for her ribbon-cutting ceremony.
Williams-Chehmani says to think outside the box when it comes to marketing your business. She recently had the opportunity to talk about her tutoring services to parents of children attending a local church's vacation bible school program. She says even big subdivision sales can be an opportunity to set up a table and put out your marketing materials.
Williams-Chehmani is running the tutoring business on the side while she works full-time as associate dean of arts and sciences at Macomb Community College, but she would love for her new business to be her full-time gig.
"I like what I do, and I think I'm pretty good at it," she says. "I think we all want to be our own boss at some time. You can come and go as you please and set your own goals. I think an entrepreneur lives in all of us, to some extent."
Considering becoming a mom-preneur yourself?
Check out these local resources:
Back Office Studio (for office space or using meeting rooms)
Local vendor fairs
Michigan Small Business Development Center
Sarah Rigg is a freelance writer and editor in Ypsilanti Township and the project manager of On the Ground Ypsilanti. She joined Concentrate as a news writer in early 2017 and is an occasional contributor to other Issue Media Group publications. You may reach her at [email protected].
All photos by Doug Coombe.