BUSHNELL PHANTOM 2 – CONVENIENTLY SIMPLE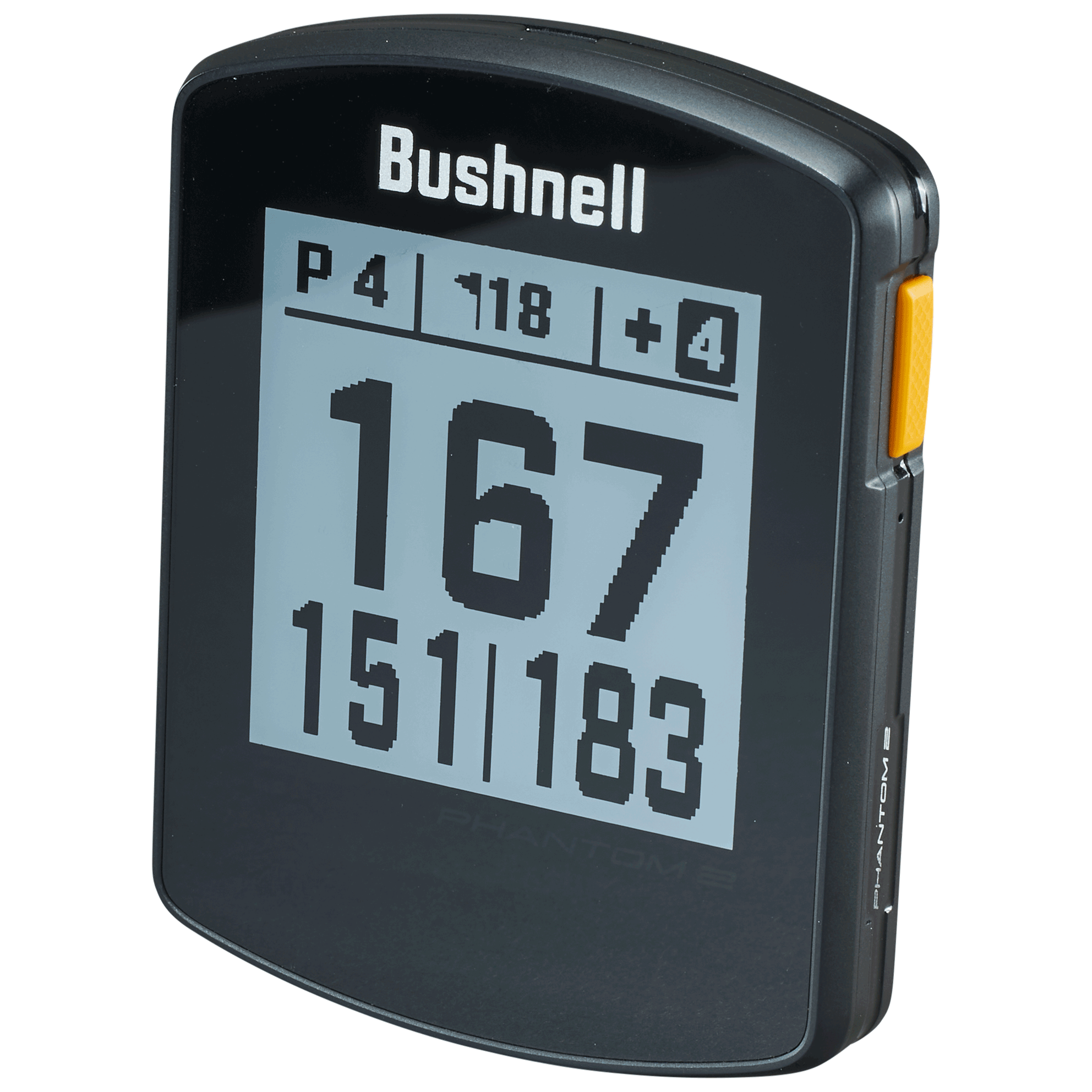 To improve upon its predecessor, the new Phantom 2 includes evolved GPS distances and convenience measures in a small and easier to read unit.
New 'GreenView' distances allow for movable pin placements and more accurate distances, while 'Dynamic Green Mapping' adapts distances to where the golfer is playing from.
Featuring a battery with more than 18 hours of life per charge, the Phantom 2 has 40 percent larger text and Bushnell 'BITE' technology allowing it to magnetically attach to the arm of a cart or metal buggy for quick reference to the up to six hazard and layup distances per hole.
RRP: $229.
WEBSITE: www.bushnellgolf.com
BUSHNELL ION EDGE – WEARABLE DISTANCE
Featuring many of the same features as the Phantom 2 GPS unit, the Bushnell ION EDGE is a GPS watch with a new touchscreen.
Beyond the convenience of yardages on your wrist, the ION EDGE has a 15 plus hour battery life, GreenView and Dynamic Green Mapping capabilities.
Connecting with the Bushnell Golf App like the Phantom 2 for course updates of the more than 38,000 worldwide mapped layouts, the ION EDGE instantly recognises courses and advances holes, making the user's primary job to look at the distance and hit the shot.
The ION EDGE is offered in two colour combinations and features a scorekeeper and shot distance calculator.
RRP: $329.
WEBSITE: www.bushnellgolf.com
BUSHNELL WINGMAN – MUSIC & METRES
Like the entire tech world, golf technology is a constantly changing field. And Bushnell's Wingman is in response to the differing needs of the modern golfer.
With more players opting to add music to their golf experience, Bushnell combined its core business of measuring distance with high quality audio in the Wingman.
Featuring BITE technology to attach to a cart arm, the speaker plays a golfer's choice of music through their preferred app while at the same time linking with Bushnell's own application that produces audible front, centre and back green distances at the press of a button on the remote control.
RRP: $299.
WEBSITE: www.bushnellgolf.com
RAPSODO MOBILE LAUNCH MONITOR – IMPROVE ON THE GO
Able to be used both indoors and outdoors, the Rapsodo Mobile Launch Monitor is conveniently sized and uses a mobile device to give instant launch data, video replay and shot tracing.
Used by many golf instructors and recreational golfers alike, the Rapsodo Mobile Launch Monitor delivers accurate shot distance, ball speed, clubhead speed, shot shape, smash factor, launch angle and direction.
RRP: $849.95.
WEBSITE: www.performancebrandsaustralia.com
BUSHNELL PRO XE – LASER FOCUS
Bushnell's line of laser rangefinders are the most used on the PGA Tour and offer a variety of features, with the Pro XE sitting at the top of the pile.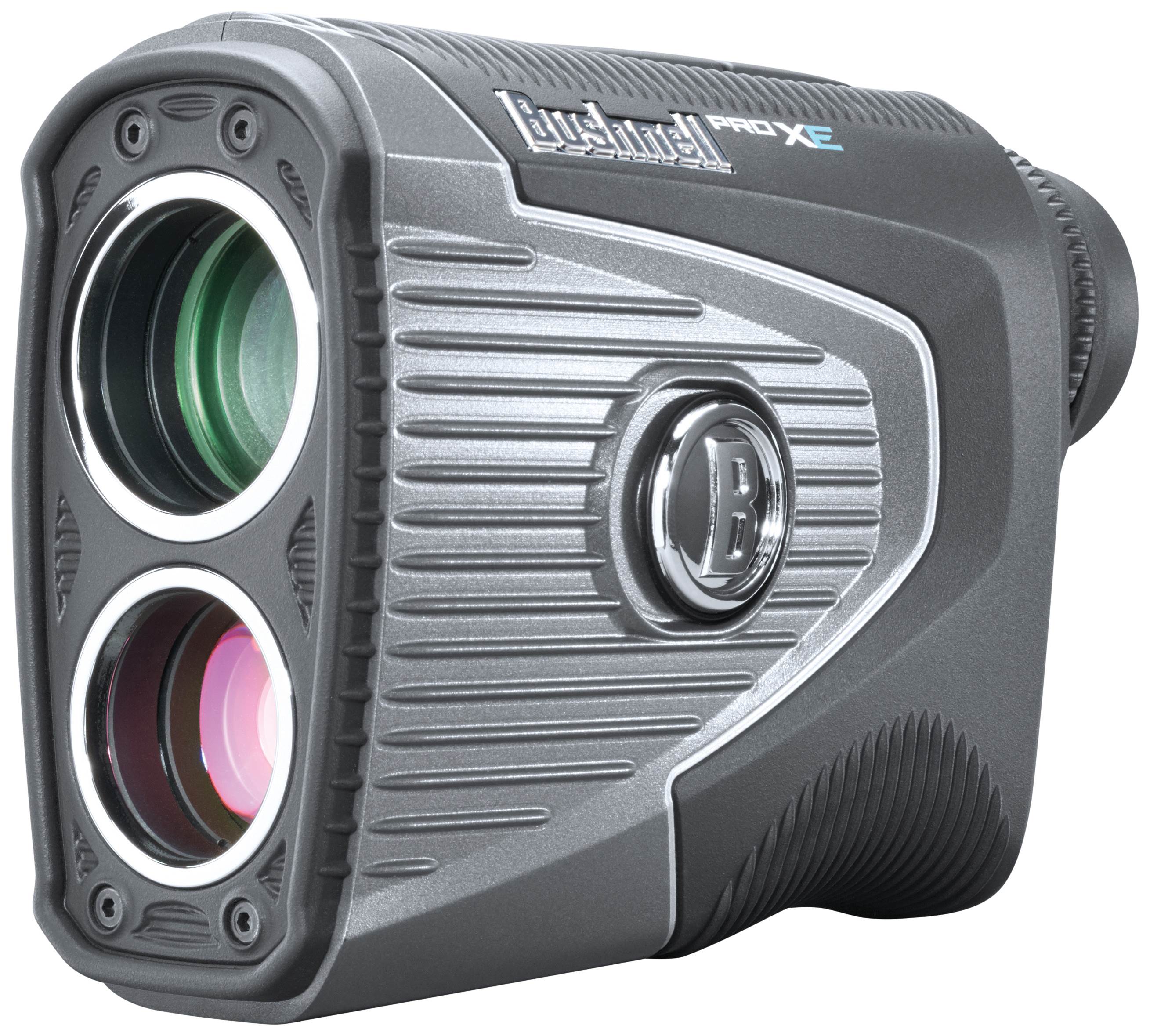 "The longest, most accurate, most consistent golf laser rangefinder ever" according to the company, the Pro XE utilises a new slope algorithm that more accurately reflects modern ball flights in the "Play As" distance.
Fully waterproof, accurate to one yard and able to measure 500 plus yards to a flag, the Pro XE incoproates new 'PinSeeker with Visual JOLT Technology' that locks onto flagsticks and flashes a red ring in the eyepiece and vibrates to confirm the target has been acquired. And for ease of use, Bushnell's BITE technology allows the Pro XE to be magnetically attached to a cart, while slope capabilities can be turned on and off with a switch to make the rangefinder tournament legal.
RRP: $899.99.
WEBSITE: www.bushnellgolf.com
SWING CADDIE SC300I LAUNCH MONITOR – PORTABLE AND PLAYER FOCUSED
The latest addition to the Performance Brands Australia range of portable launch monitors, the Swing Caddie SC300i provides swing and ball flight metrics direct to your phone or tablet.
Connecting via Bluetooth and delivering audible distances, the unit uses Doppler radar technology and atmospheric pressure sensors to produce spin rate, launch angle and apex data. And a remote control adds to the simplicity of use.
RRP: $749.95.
WEBSITE: www.performancebrandsaustralia.com
PRGR PORTABLE LAUNCH MONITOR – PRACTICE PARTNER
Every golfer wants to improve, and the PRGR launch monitor allows them do so without breaking the bank and in any location.
Measuring clubhead speed without a ball needing to be hit, the unit uses its database of swings to give accurate predictions, while golfers can also monitor the impact of actually hitting a golf and the pressure of a result on their swing.
Now offering metre measurements, the lack of a need of a golf balls means the PRGR launch monitor can be used in the backyard or on the back nine.
RRP: $349.95.
WEBSITE: www.performancebrandsaustralia.com
SURESHOT PINLOC 6000iPSM LASER RANGEFINDER – LOCKED-IN DISTANCE
Sureshot's PINLOC 600iPSM features a range of technologies and measuring capabilities to give every distance a golfer could need in an easy to read and accurate format.
The unit's 'Priority Loc' focuses on the target, while 'Pinloc' locks on and displays the distance for 15 seconds. Offering slope adjusted measurements, the 600iPSM vibrates once on your desired target, has a magnetic component for ease of use and also offers 'Scan Mode' to survey entire terrain with distances appearing quickly.
Water and shock resistant, the PINLOC 600iPSM is designed for a comfortable fit in any hand.
RRP: $429.95.
WEBSITE: www.mgigolf.com
SURESHOT AXIS GPS WATCH – WATCH & IMPROVE
The stylish design means Sureshot's AXIS GPS watch can be worn as a simple timepiece. But its golf capabilities make it an indispensable piece of golf technology.
More than 38,000 courses are ready to be played, with front, centre and back green measurements, distances to hazards, shot distance measuring and scoring capabilities.
Possessing a battery life of as much as a month in time mode and 12 hours in golf mode, the AXIS GPS watch can also save 10 scorecards.
RRP: $279.
WEBSITE: www.mgigolf.com
TRACKMAN LAUNCH MONITORS – TOUR PROVEN
Any golfer who watches golf has likely heard of Trackman launch monitors. The small orange boxes that help produce numbers in TV coverage and are a constant behind nearly every Tour pro on the range.
The units are also a fixture in fitting and teaching environments, and are capable of remarkable measurements as well as part of simulator setups.
The 3e Trackman uses 'Single Radar Technology' to produce a shot's 3D trajectory with 26 impact and ball flight parameters in real time.
Powered by 'Dual Radar Technology', the Trackman 4 is thinner, lighter and faster and like the 3e connects to a smart phone or tablet for ease of use.
Producing highly detailed club and ball data, the Trackman 4 contains 'Performance Putting', impact location, dynamic lie angle and simulator course play capabilities.
RRP: Indoor only $14,995 (3e); $24,995 (4). Outdoor/Indoor $16,995 (3e); $29,995 (4). All prices excluding GST, shipping and import tax.
WEBSITE: www.trackman.com