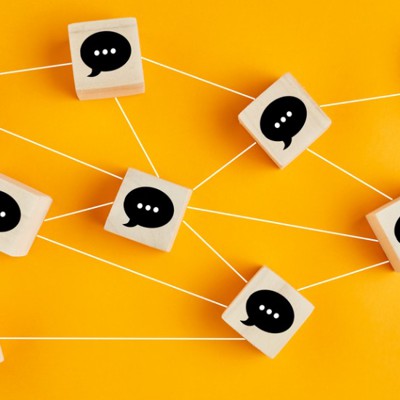 The National Science Foundation wants the next generation of communications networks—think future-facing Wi-Fi and 6G capabilities—to be designed tough from the get-go.
Through its recently announced Resilient and Intelligent NextG Systems or RINGS program, NSF teamed up with the Defense Department, National Institute of Standards and Technology, Apple, Google, IBM and other industry players to coordinate new research into the connectivity landscape of tomorrow.
Up to $40 million in total could be funded across up to 48 awards, NSF estimates.
"The RINGS program is the largest R&D partnership in NSF history, in terms of the number of direct partnerships, which widely represent the communications ecosystem, and amount of funding," Thyaga Nandagopal, acting deputy division director of NSF's Division of Computer and Network Systems, told Nextgov recently. "This is the first program to focus directly on NextG technologies with an emphasis in security, intelligence, and resilience."
Nandagopal holds dozens of patents, a Ph.D. in electrical engineering, and he spent years at Bell Labs/Alcatel-Lucent Bell Labs before joining NSF in 2012. He's managed a range of agency-led research projects and confirmed that the roots of RINGS trace in some ways back to "COVID-19 experiences." Taking note of the impacts of inadequate and uneven broadband connectivity nationwide and perspectives on advanced wireless capabilities, the agency began exploring the possibility of supporting a new program that would help develop secure and robust next-generation networks—going well beyond today's 5G networks.
Around the same time, multiple companies approached NSF with interest in collaborating in research and development into future generations of mobile wireless communication systems.
"We pitched our idea of building resilient networks from scratch as the motivating driver for a joint program, which they found appealing," Nandagopal explained. "This was the genesis of the program."
In the program's solicitation, officials said establishing resilience as a primary consideration in the buildout of such networks incorporates a different but perhaps necessary research perspective. For that document's intent and purposes, resiliency "is the ability to survive, gracefully adapt to, and rapidly recover from malicious attacks, component failures, and natural and human-induced disruptions." An ultimate aim of RINGS is to back research that will lead to secure and reliable NextG systems, and support underlying technologies that'll be needed to reach demands expected of such networks over the next 20 years.
The effort comes as the nation grapples with ongoing cybersecurity intrusions across the government and major industries.
But those up-and-coming, post-5G systems will likely encompass heaps more connections—and potential threat vectors. They hold promise to connect "billions of heterogeneous Internet of Thing devices along with billions of people, enable machine-to-machine communications, and provide low-latency computational and storage resources on-demand at the edge and in the cloud," NSF's solicitation said. Combining both intelligence and autonomy, such the assets will likely underpin a range of critical and personalized services across the United State's education, transportation, public health, defense and other major sectors. The economy could become highly dependent on them, NSF predicts, and any "failure, tampering or degradation in network service can have highly disruptive, if not potentially catastrophic, effects."
Two- and four-year institutions of higher education, including community colleges, are invited to submit proposals by July 29.
Applicant materials will need to address at least one of the various "research vectors," or RVs listed by NSF. They fall under two categories: resilient network systems and enabling technologies. The RVs include topics like autonomy, merging digital/physical/virtual worlds, scalable device-to-edge-to-cloud continuum, among others.
"In the best-case scenario, awardees would provide early results in the next 2 years. Subsequently, our partners would incorporate those results into products and services and set up standards before the end of the 5G era," Nandagopal said, clarifying that that would come well before 2028. "Given the rapid convergence of computing, communication, and data that we are seeing, we believe that such a scenario might not be that far-fetched."
Nine companies signed on to collaborate, including Microsoft, Intel, Nokia and others. On top of what NSF is bringing to the table, each partner company will provide $1.5 million in funding over a three-year period.
"After awards are made, they will also engage with the awardee teams to share insights from practice and potentially offer access to specialized knowledge, datasets, toolkits, labs, testbeds, etc., to researchers and students, as well as training opportunities for students working on these projects," Nandagopal noted.
In their proposals, applicants can request access to public clouds such as Amazon Web Services, Google Cloud Platform, IBM Cloud, and Microsoft Azure through the NSF-funded CloudBank project. "CloudBank seeks to simplify accounting processes and helps optimize resource usage for researchers, who can also explore and access multiple clouds to find the right services, or mix-and-match these cloud services to optimize the value of their research," Nandagopal explained.
NIST and DOD are also set to participate in RINGS.
Pentagon-supporting next-gen networks are anticipated to be at the forefront of intelligence and automation adoption spanning many locations and layers of the protocol stack. So, DOD is "naturally interested," Nandagopal noted, in secure and resilient network operations involving all components and emergent network security architectures, such as zero trust. RINGS will enable academic and non-profit research communities to contribute novel solutions that address some of the DOD's key operational priorities.
"On the other hand, NIST hopes to further leverage existing partnerships with industry, federal agencies, and the research community to accelerate the work of the NextG Channel Model Alliance," he confirmed, which is essentially an international research consortium promoting future-facing communications research. Several existing wireless and spectrum testbeds established by the agency will be made available to RINGS-funded teams.
"We hope to expand the number of industry and agency partners for a subsequent iteration of this program, and we already have received expressions of interest from multiple prospective partners," Nandagopal said.