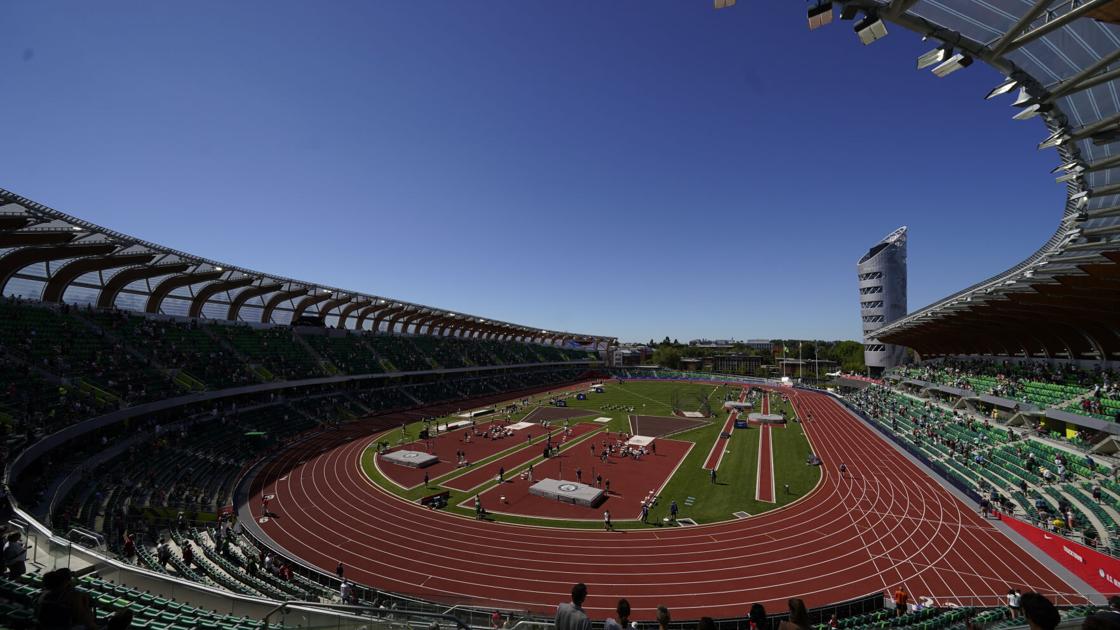 EUGENE, Ore. — Former Virginia Tech stars Kristi Castlin and Queen Harrison-Claye advanced to the semifinals of the 100-meter hurdles with their performances in the prelims Saturday night at the U.S. Olympic track and field trials.
Castlin finished 13th overall (12.88) out of the 30 women in the prelims to advance to the 16-woman semis. Castlin, who was a seven-time All-American at Tech, won bronze in the 100 hurdles at the 2016 Rio Olympics.
Her former Tech teammate Harrison-Claye finished 15th overall (12.93) in the prelims. She was third in her heat to clinch an automatic spot in the semis.
Harrison-Claye was known as Queen Harrison when she competed in the 400 hurdles at the 2008 Beijing Olympics as a 19-year-old rising Tech junior. The three-time NCAA champ took fourth in the 100 hurdles at the 2016 trials, just missing out on another Olympic berth.
The semifinals in their event will be held Sunday night, as will the eight-woman final.
Blacksburg High School graduate Cole Beck of Virginia Tech finished 27th overall in the prelims of the men's 100 meters (10.35) Saturday night. He did not advance to Sunday's 16-man semis.
Tech's Chauncey Chambers was 17th in the prelims of the men's triple jump (50-8 3/4). He did not make Monday's 12-man final. Harrison-Claye's husband, Will Claye, was the top finisher in that event.
Ryan Crouser won the men's shot put Friday night with a world-record heave of 76-8 1/4. The old mark of 75-10 1/4 had been held by Randy Barnes since 1990.
Woody Kincaid won the 10,000 (27:53.62) on Friday.
OMAHA, Neb. — Two-time Olympic gold medalist Caeleb Dressel won the men's 100 butterfly final Saturday night at the U.S. Olympic trials for his second win of the week.
He had a time of 49.87 seconds. Tom Shields was second to earn the other Olympic berth in the event.
UVa's Kate Douglass was fifth overall in the women's 50 freestyle prelims (24.78) Saturday morning, with UVa signee Gretchen Walsh seventh (24.88). Both made the 16-woman semis.
Virginia Tech's Caroline Bentz was 35th in those 50 freestyle prelims (25.87), with Tech's Abby Larson 63rd.
UVa's August Lamb finished 15th in the men's 50 freestyle prelims (22.41) Saturday morning to advance to the 16-man semis. UVa's Matt Brownstead was 25th (22.65).
Douglass finished seventh out of eight women in the 100 freestyle final Friday night (54.17). She did not earn a Tokyo berth in that event, but she had already earned a Tokyo trip by taking second in the 200 individual medley Wednesday.
Two-time Olympic medalist Abbey Weitzeil won the 100 freestyle final (53.53) Friday, with Erika Brown second.
Olivia Smoliga and Natalie Hinds finished third and fourth, respectively, in that race to earn Tokyo relay slots. Hinds became the first Black swimmer to earn a spot on this year's U.S. Olympic team.
Virginia Tech's Blake Manoff finished 16th overall in the men's 100 butterfly semifinals (53.32) Friday night, so he did not make the eight-man final.
Michael Andrew won the 200 individual medley (1:55.44) on Friday night. Chase Kalisz took second (1:56.97) to earn his second Tokyo berth of the week. Twelve-time Olympic medalist Ryan Lochte finished seventh (1:59.67) and will not be moving on to Tokyo.