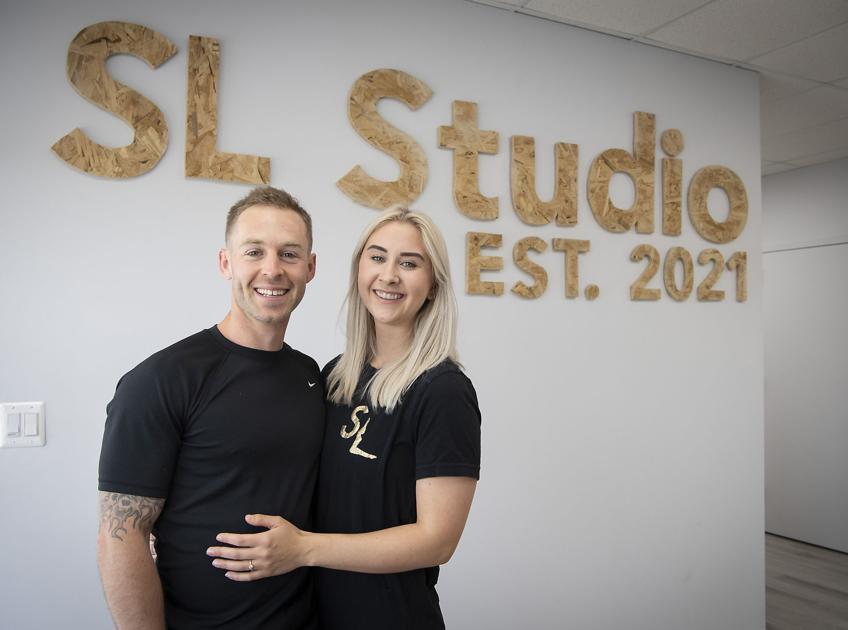 Members at SL Studio, the new co-working space in Frederick, can reserve a private office for a few hours, grab lunch from a meal prep service and meet their personal trainer for a workout — all in the same building.
Hannah King, the owner of Squadstyle Lifestyle training, opened SL Studio with her husband, Jimmy, on May 1. Co-working stations, two private offices and a kitchen stocked with snacks make up about half the space. But the other half is a fully functional gym open to members to use whenever they want, with or without a personal trainer.
"We are the place where people come to work hard on themselves, for their own wellness … which means business, which means being healthy, which is emotionally being stable and all these different things," Hannah King said.
King had been training clients full time in her at-home garage gym for the past two years. But once the pandemic started, she had to pivot. She began renting out the gym for hourlong blocks so people could get in a workout in isolation.
"People loved it because gyms were closed. Everything was shut down, and we gave people a place where they could still stay healthy, which is so important, especially during the pandemic," she said.
She and her husband began to think about taking the community they were creating to a higher level, and SL Studio was born.
"It came down to really wanting to provide a space for professionals to run their own business and grow within a community like the SL Studio," she said.
Hannah King has already started renting out time blocks to personal trainers in Frederick, who bring their clients in for workouts. There is also a wellness room available for masseuses or athletic trainers.
After learning about how large corporate gyms take a large percentage of trainers' fees, Hannah King wanted to allow trainers to build their own businesses without investing in equipment or space themselves.
"If someone is new to the field, I'm very happy to, like, help with programming and … finding leads and really helping on the business side of things as well," she said.
Members of the co-working studio have access to the gym anytime between 4 a.m. and midnight. There are four individual stations in the gym, all of which are spaced 6 feet apart.
"It's so cool because literally everyone has their own private gym. Sometimes you come in here, and no one's in here," said Hannah King. "And especially from a trainer perspective, if you're working at a commercial gym, sometimes it's almost impossible for trainers to get a workout in because … it's super busy, it's just not the same."
In addition to the open co-working space and the kitchen, members can rent two private offices at their convenience, using the SL Studio app. For example, if someone were to need a private office for a Zoom meeting at 2 p.m., they could use the app to reserve the private office for that time slot.
Jimmy King, who works as the community manager at SL Studio, also runs a meal prep business. Clients of his service can come to SL Studio during the week to pick up their meals. Additionally, Jimmy offers tours to prospective clients.
Hannah King said she and Jimmy have received positive feedback so far. It's a relief, she said, after the months of hard work they put in renovating the space.
Angela Brooks, an HR manager who has been training with King since November, just began working at SL Studio. She said she prefers co-working for her remote job. Pre-pandemic, she worked at a WeWork location.
"It's been really challenging working from home, just kind of siloed, so I appreciate the interaction — the human interaction is really nice," Brooks said. "So that's my favorite piece about it, just being able to have the community feel."
Hannah King hopes to expand and open more studios in the area or expand into the space next door, which is currently vacant. But more than anything, she wants to create a space for hard workers to grow and work on themselves.
"We're still trying to create community, a healthy and happy community," she said. "That's our motto: live healthy, be happy."
Open for Business is an occasional feature highlighting new businesses around Frederick County. Contact Erika Riley at [email protected].