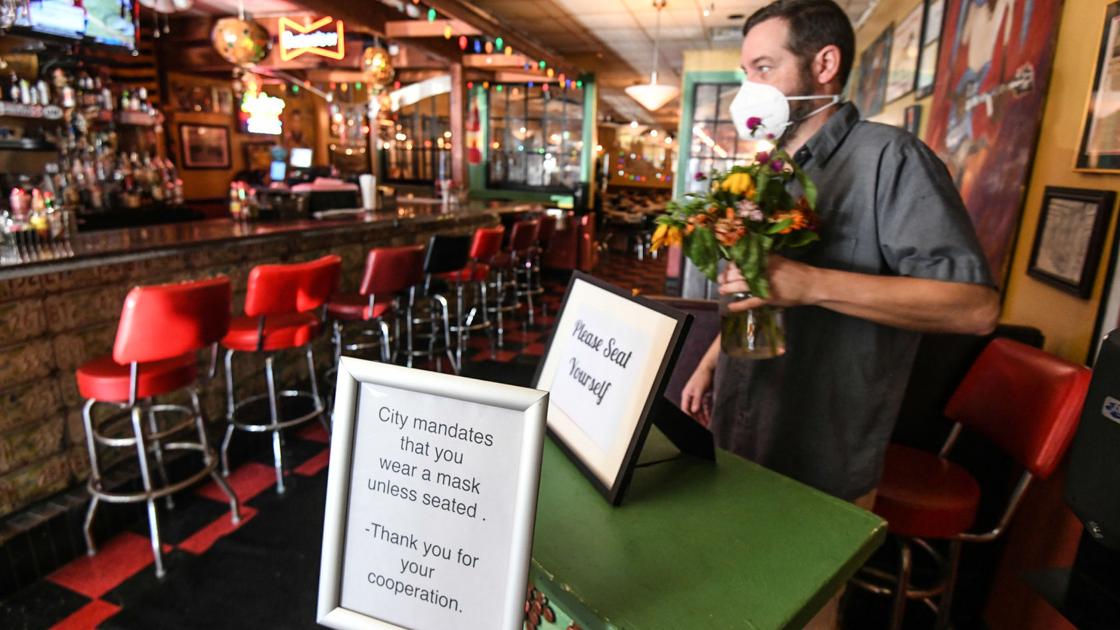 OXFORD • With a mask properly covering her nose and mouth, Lyn Roberts greeted customers as they walked through the front door of Off Square Books.
A sign on the door politely asks customers to wear their masks, too, and as of 4 p.m. Wednesday, everyone in the city was expected to comply with a mask mandate approved by the city's board of aldermen on Tuesday.
But that won't be an issue for the staff at the store.
"Our staff never stopped wearing masks," said Roberts, who is the general manager of all four Square bookstores. "All of our staff is vaccinated, too."
For a time, the stores kept signs that recommended masks if customers weren't vaccinated.
"But about two weeks ago, we decided we needed to asked everybody to wear a mask whether they were vaccinated or not," she said.
Around the Square and elsewhere throughout the city on Wednesday, it wasn't uncommon to see people wearing masks. Many businesses had signs reminding people to wear masks, or at least suggested they wear them prior to the 4 p.m. start of the of the mandate.
Spencer Carter was shopping on the Square, Wednesday morning. He said he doesn't mind being required to wear a mask while indoors.
"I don't have a problem with it at all," he said. Carter added that he's been covering his face whenever he entered a building.
"Even when it wasn't a requirement any more, I wore one just in case," he said.
On the other hand, Corri Hayes said she didn't like wearing a mask, but would comply with the mandate to avoid getting in trouble.
"But I think it's ridiculous that you walk into a restaurant with a mask, but you can take it off when you sit down," she said. "What's really the point?"
The mandate, which the city's board of aldermen passed on a narrow 4-3 vote during a special called election, requires individuals ages 6 and older wear face masks indoors, and outdoors where social distancing is not possible.
The decision to require masks in public came fewer than two weeks after the Board of Aldermen mandated face masks be worn indoors by all city employees and for the public while inside city buildings.
Jon Maynard, President and CEO of the Oxford-Lafayette County Chamber of Commerce, said the response from business owners has been muted.
"It's hard to say either way," he said. "We haven't gotten any phone calls, but we do know that some people are happy and some people aren't."
Maynard said his overall read is that most business owners, even those who aren't happy about the mask mandate, are prioritizing the safety of the city's citizens.
"We've proved that a mask can slow things down, so if we mask up and get a vaccine, it's the best way to get a much more normal economic situation," Maynard said.
Maynard said shutting down businesses is not a viable option, and thinks the vast majority of businesses and citizens will comply with masking orders to help decrease the number of active COVID-19 cases.
"Like everything else these days, the loudest are the extremes, whether you hate it or love it," he said. "There's no middle voice being heard, but they're the ones we have the most of."
At Yaya's Frozen Yogurt, manager Amanda Hawkins already had a "mask required" sign on the door. She said she understands city leaders' reasoning in reimplementing the mask mandate.
"I'm all for keeping everybody in the community safe," she said. "With this second round of COVID, it's bad. I just hope everybody comes together as a community and get it out of here."
The city of Oxford was among Northeast Mississippi's first municipalities to institute a mask mandate during the initial surge of the pandemic, last spring. Hawkins said she remembers it took some time for most people to get on board.
Once people became accustomed to wearing masks, however, the change was a smooth one.
"Some people don't want to wear masks and say they don't work. But even if it helps only a little, why not go that extra level to help somebody else?" she said.
With the practice of masking — and requiring masking in particular — currently a hot-button topic, businesses are treading carefully while trying to enforce the mandate as best they can.
None of the Square Books locations will have "mask enforcers" at the doors, Roberts said. She added that, in most cases, such stringent methods aren't even needed.
"Rather than have somebody at the stores telling everybody to wear a mask, we just put up signs that said, 'Please wear a mask,' period," she said. "And actually, because people have gotten out of the habit of wearing them, we did have disposable masks available, but that can get very expensive."
Roberts said that tactic appears to be working pretty well, as a lot of their customers were already wearing masks.
"So we're very pleased about the community mask mandate because we think it's the safest thing to do, and it's great to have community support," she said. "It is a bookstore, and a closed environment and we want everybody to be safe."