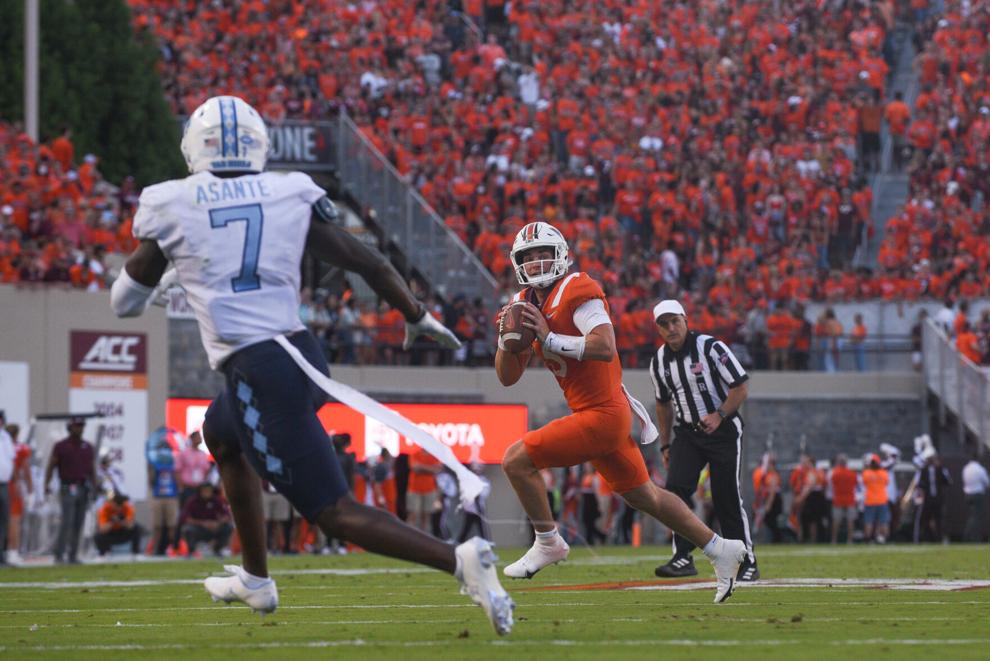 Virginia Tech's win against North Carolina on Sept. 3 marked the first top-10 home win since 2009 for the Hokies, and it definitely gave fans confidence in the upward direction this team can go this season. Now, the monumental win has been celebrated, and it's time to look ahead. The Hokies will be back in action in Lane Stadium this Saturday, Sept. 11, against Middle Tennessee.
Virginia Tech is ranked No.19 in this week's AP Poll.
On Sept. 4 Middle Tennessee dominated the Monmouth Hawks 50–15 in its season opener at home. The Blue Raiders demonstrated their strength on all sides of the ball.
"I would stop short of waving the banner for or against any team right now," said Justin Fuente, Virginia Tech's head football coach.
Middle Tennessee quarterback Bailey Hockman was difficult for Monmouth to contain, and Virginia Tech's defensive line must keep its momentum to make sure Hockman does not establish a rhythm. Hockman threw for 215 yards and three touchdowns against the Hawks, but he'll be going up against a Virginia Tech defensive line that recorded six sacks and four quarterback hurries in its top-10 win. If Tech's defensive line brings the same energy, Hockman should not be able to connect with his players nearly as often.
It wasn't just Middle Tennessee's offensive line putting points on the board, though. The Blue Raiders scored on a pick six and a punt return. It marks the first time Middle Tennessee has scored in all three phases of football since 2014.
It was a long game for Monmouth's offense and defense against the Blue Raiders. The Blue Raiders' defense stripped the ball four times with three fumbles and one interception; it is not to be overlooked. Virginia Tech cannot get lazy in terms of holding onto the football or the matchup could turn into a closer game than previously anticipated.
Blue Raider linebacker DQ Thomas led the team in tackles with nine last Saturday. He is also in third on Middle Tennessee's cumulative tackle-for-loss list. Braxton Burmeister will need to be accurate on his passes because Thomas is likely to be in tight man-to-man coverage.
Although Middle Tennessee is a talented football team, the Hokies have shown so far they can perform at a high level while the pressure is on. If Virginia Tech can continue its focused play from the North Carolina game, it should not be much of a problem to defeat the Blue Raiders in front of the fans in Blacksburg. However, Virginia Tech has an unfortunate track record of a poor performance the week after a big win. The 1–0 mentality must be embraced for Tech to be in the headspace to play just as well as last week.
Score Prediction: VT 28–10