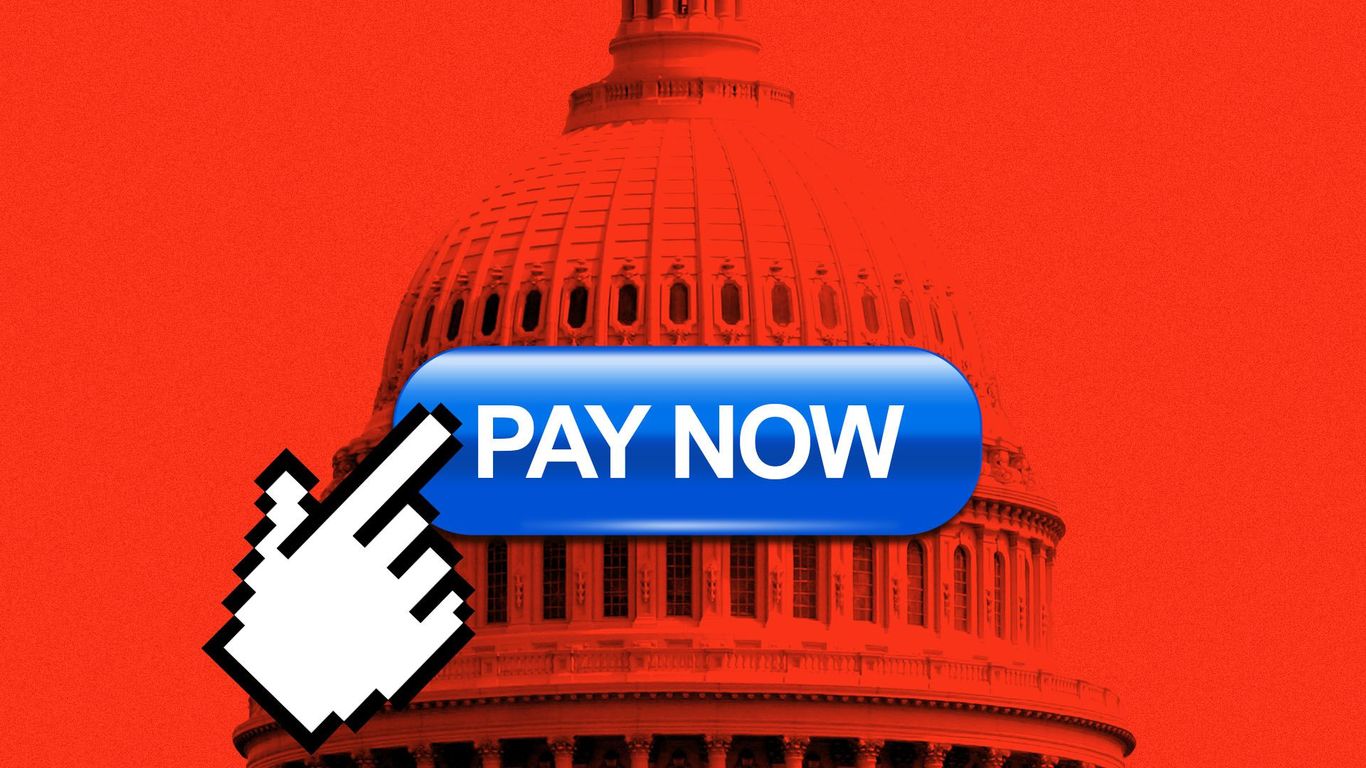 Key Republicans are warming to an idea that was once anathema to the party — leveling taxes on big American companies to pay for internet subsidy programs.
Why it matters: Republican interest in taxing Big Tech could help shore up a struggling subsidy fund that supports broadband in rural areas, schools, libraries and hospitals.
State of play: An idea from GOP FCC commissioner Brendan Carr to force tech companies to pay into a pool of money used to fund broadband programs is gaining steam with some key lawmakers.
What they're saying: GOP Minority Leader Kevin McCarthy called the proposal "thought-provoking," and his office notes that video streaming accounts for more than 50% of web traffic and online advertising is a $100 billion a year industry.
"Any conversation about building out broadband for unserved Americans should include a Big Tech user fee that corresponds to their use of that infrastructure," a McCarthy spokesperson told Axios. "Funding for the Universal Service Fund — which is increasingly at odds with the principle of user pays — needs to be updated and reimagined."
Likewise, Sen. Roger Wicker, the top Republican on the Commerce Committee, thinks Congress should explore the idea, his office told Axios. Rep.. Cathy McMorris Rodgers, ranking Republican on the House Energy & Commerce Committee, thinks all options should be on the table, her office said.
The big picture: The interest in taxing Big Tech coincides with some GOP support for antitrust bills that would prevent the companies from buying up smaller rivals or favoring their own products.
Catch up quick: Americans pay a fee on their phone bills that goes into the FCC's Universal Service Fund, which is used for broadband subsidy programs.
But the fee has been increasing as the revenue base decreases, leading for calls to reform how contributions are made to the fund.
Companies like AT&T have suggested Congress use direct appropriations instead of the fee.
Details: Carr, the FCC commissioner, argues instead that Congress should direct the companies that benefit from using internet networks to pay into the subsidy fund.
That means Apple would pay because of its App Store, Amazon because of cloud services and video streaming, and Facebook and Google because of online advertising, Carr said.
"It's just simply asking them to pay a fair share and start contributing on an equitable basis for these networks that they benefit from so tremendously," Carr told Axios.
The other side: The Internet Association, a trade group that includes Amazon, Facebook, Google and Apple, called the idea an attempt to punish its members.
"We hope the FCC will take a common sense approach and not punish innovative, high-quality streaming services that are fulfilling consumer demand," President K. Dane Snowden said in a statement.
Between the lines: Big telecom companies have argued for years that the online companies that ride their networks should have to pay more for the privilege.
But Carr said under his proposal, broadband providers would pay into the fund as well.
"I'm not drawing a line around the entities and protecting them," Carr told Axios. "I think we should follow this precedent and apply it."
Yes, but: While Carr has homed in on a popular political target for both sides of the aisle, reforming the FCC's broadband programs requires a much broader rethink than just figuring out who should pay, Blair Levin, a non-resident fellow with Brookings Institution, told Axios.
"It's kind of like pretending that a piece of a 100-piece puzzle is the puzzle, and it's not," Levin told Axios. "You've got to look at the whole puzzle."
He also noted the difficulty in assessing the very different revenue streams of tech companies, and drawing the limits around who would have to pay.
"Should this be on the table? Absolutely," Levin said. "Should it be the result? I don't know. The question is what institution is really going to take on the challenge of studying it and coming up with the best answer."
What's next: While acting FCC Chairwoman Jessica Rosenworcel has called the idea "intriguing," the FCC can't do much on its own to force Google or Amazon to pay into its fund.
"We should be open to new ideas," Rosenworcel said. "But it's clear that this would require action from Congress."
And though Republicans seem interested, that's a long way from advancing legislation.