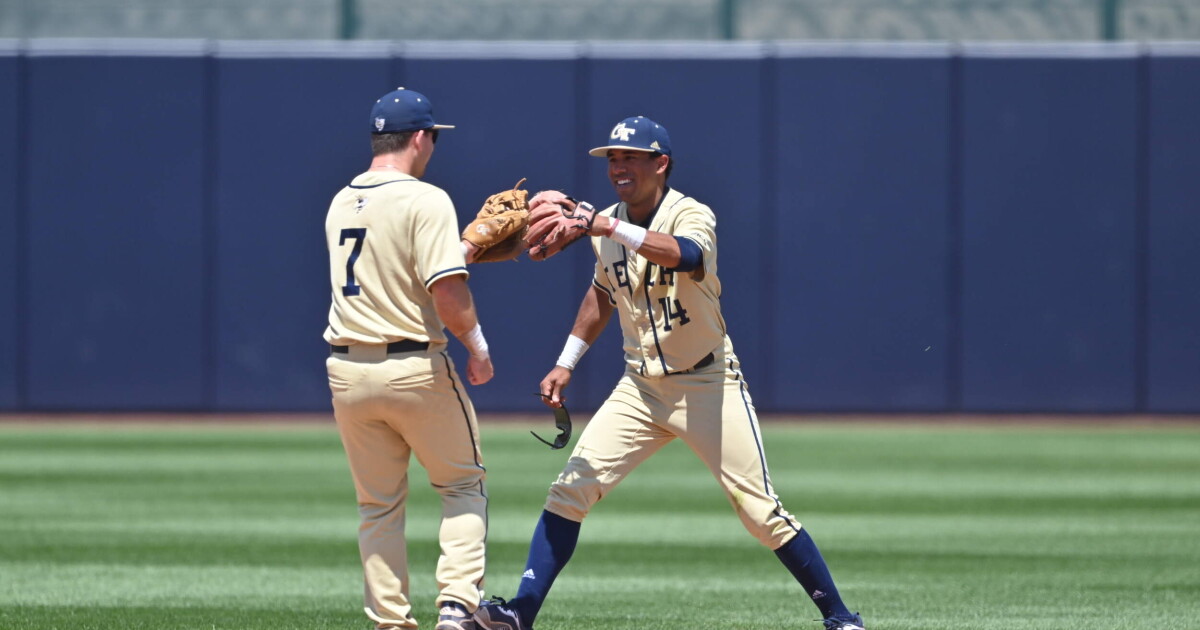 THE FLATS – Georgia Tech baseball put on a complete performance when it needed it most, downing North Carolina 10-6 to win the series and capture its second-straight ACC Coastal Division Championship on Saturday afternoon at Mac Nease Baseball Park at Russ Chandler Stadium.
After being recognized on Senior Day, both Luke Waddell and Austin Wilhite combined for big at-bats and big defensive plays, finishing a combined 4-for-8 with four RBI and a double between them. Andrew Jenkins and Stephen Reid also smoked a double RBI apiece to finish with two hits as well. Justyn-Henry Malloy went 2-for-4, while Kevin Parada broke the game open in the third with a bases-clearing three-RBI double in the third.
The Yellow Jackets (28-21, 21-15 ACC) got another terrific start out of true freshman RHP Marquis Grissom, Jr. (1-1), who earned his first collegiate decision after surrendering just two runs on five hits in five innings, striking out two in the process. LHP Josiah Siegel dominated the middle innings, allowing just one run on one hit in 3.0 innings before LHP Dalton Smith came in after UNC got hot to slam the door on three-straight pitches to earn his first save of the season.
The Tar Heels (26-22, 18-18 ACC) were led by Justice Thompson, who finished 2-for-5 with a double and solo home run. RHP Max Alba (2-4) received his fourth loss of the season after allowing two runs on two hits in the second.
Georgia Tech will now head to Charlotte, N.C., where it awaits the final ACC Championship schedule of the round of pool play. Securing the No. 2 seed in the tournament, the Jackets will have seven-seeded Louisville and 11-seeded Clemson in its pool.
Postgame Notes:
Georgia Tech wins its second consecutive ACC Coastal Division Championship;
Georgia Tech has won six ACC regular season championships and three ACC divisional championships since joining the league in 1985;
Only one ACC team has more regular season and division championships than Georgia Tech's six since 2000 (Florida State, 11);
Georgia Tech improves to 80-65 against North Carolina all-time.
Multimedia:
Postgame Press Conference – Coach Hall, Marquis Grissom, Jr., Austin Wilhite
Around Social Media
108 OFF THE BAT MY GOODNESS STEPHEN REID!! 🔥🔥🔥 pic.twitter.com/JvhZKDLTah

— Georgia Tech Baseball (@GTBaseball) May 22, 2021
A-DUB HIT AND RUN!! Tech takes the lead! #KillerDubs pic.twitter.com/N5hegXsldP

— Georgia Tech Baseball (@GTBaseball) May 22, 2021
#KillerDubs AGAIN!! PERFECT bunt for a single and Tech plates another! pic.twitter.com/yChk2jIIKL

— Georgia Tech Baseball (@GTBaseball) May 22, 2021
HIT AND RUN!! JENKINS launches an RBI double down the left-field line!

GT 4 // UNC 1 pic.twitter.com/zgpZYX7gU1

— Georgia Tech Baseball (@GTBaseball) May 22, 2021
THE @ACCBaseball Doubles leader CLEARS THE BASES!!

Kevin Parada!!

GT 9 // UNC 1 pic.twitter.com/YHP3y2NAX3

— Georgia Tech Baseball (@GTBaseball) May 22, 2021
SENIOR DAY SNAG!! What a play by Austin Wilhite! pic.twitter.com/ggTNBAxpld

— Georgia Tech Baseball (@GTBaseball) May 22, 2021
𝙎𝙚𝙧𝙞𝙚𝙨 𝘾𝙡𝙞𝙣𝙘𝙝𝙚𝙙!

Georgia Tech is back-to-back ACC COASTAL DIVISION CHAMPS!! pic.twitter.com/hXCAySiwo8

— Georgia Tech Baseball (@GTBaseball) May 22, 2021
Photo Gallery
Alexander-Tharpe Fund
The Alexander-Tharpe Fund is the fundraising arm of Georgia Tech athletics, providing scholarship, operations and facilities support for Georgia Tech's 400-plus student-athletes. Be a part of developing Georgia Tech's Everyday Champions and helping the Yellow Jackets compete for championships at the highest levels of college athletics by supporting the Support The Swarm Fund, which helps Georgia Tech athletics offset the significant financial challenges associated with Covid-19, and the Annual Athletic Scholarship Fund, which directly provides scholarships for Georgia Tech student-athletes. To learn more about supporting the Yellow Jackets, visit atfund.org.
For the latest information on the Georgia Tech baseball team, follow us on Twitter (@GTBaseball), Facebook, Instagram (@gt_baseball) or visit us at www.ramblinwreck.com.