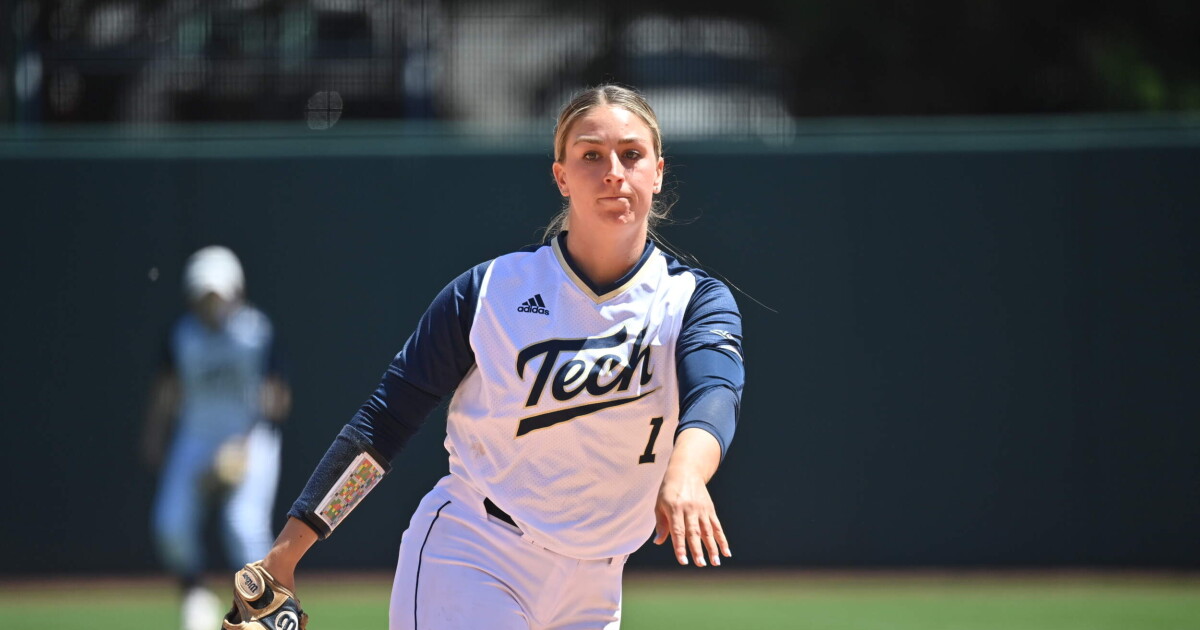 THE FLATS – Georgia Tech softball (15-25) took care of Kennesaw State (22-20) in a low scoring affair with a 3-2 win on Sunday at Mewborn Field. The Jackets made the most of their opportunities at the dish, highlighted by a solo bomb off the bat of sophomore catcher Emma Kauf, while the hurlers for the White and Gold kept the Owls in check.
Kennesaw State knocked a leadoff homerun in the top of the first to get started, but Tech responded with a pair of runs in the bottom half to take the lead. Senior first basemen Tricia Awald knotted things up first with an RBI single before a sacrifice fly courtesy of senior outfielder Cameron Stanford put the Jackets on top. Georgia Tech added one more run in the third by way of a solo shot from Kauf to further the lead to 3-1. The Owls drew back within one on a solo shot of their own in the fifth, but failed to even the tally as senior southpaw Madison McPherson closed out the final two innings allowing just one hit for the 3-2 Tech win and a save.
Softball vs. Kennesaw State
April 25, 2021 – Atlanta, Ga. (Danny Karnik)
Game Notes
Kauf went 1-for-2 at the dish on the day to lead the Jackets with her ninth homerun on the year (15th career) along with two runs scored.
Awald also went 1-for-2 at the plate with her RBI.
Stanford came into the game tied for sixth in the ACC in RBI as she moved up to 34 on the season with her sacrifice fly.
Sophomore right-hander Blake Neleman got the start in the circle, tossing five innings and allowing two runs with four strikeouts for her ninth win on the year.
McPherson closed out the game for her second save of the season as she threw two innings with a strikeout to her name.
Up Next
Georgia Tech will face Virginia in a four-game ACC series April 30-May 1 at Mewborn Field to finish off the regular season. Coverage information will be provided on RamblinWreck.com.
Alexander-Tharpe Fund
The Alexander-Tharpe Fund is the fundraising arm of Georgia Tech athletics, providing scholarship, operations and facilities support for Georgia Tech's 400-plus student-athletes. Be a part of developing Georgia Tech's Everyday Champions and helping the Yellow Jackets compete for championships at the highest levels of college athletics by supporting the A-T Fund's Annual Athletic Scholarship Fund, which directly provides scholarships for Georgia Tech student-athletes, and the Support The Swarm Fund, created to give fans an opportunity to help Georgia Tech athletics maintain its recent momentum through the financial challenges of the Covid-19 pandemic! To learn more about supporting the Yellow Jackets, visit atfund.org.
For the latest information on the Georgia Tech Yellow Jackets, follow us on Twitter (@GTAthletics), Facebook, Instagram or visit us at www.ramblinwreck.com.