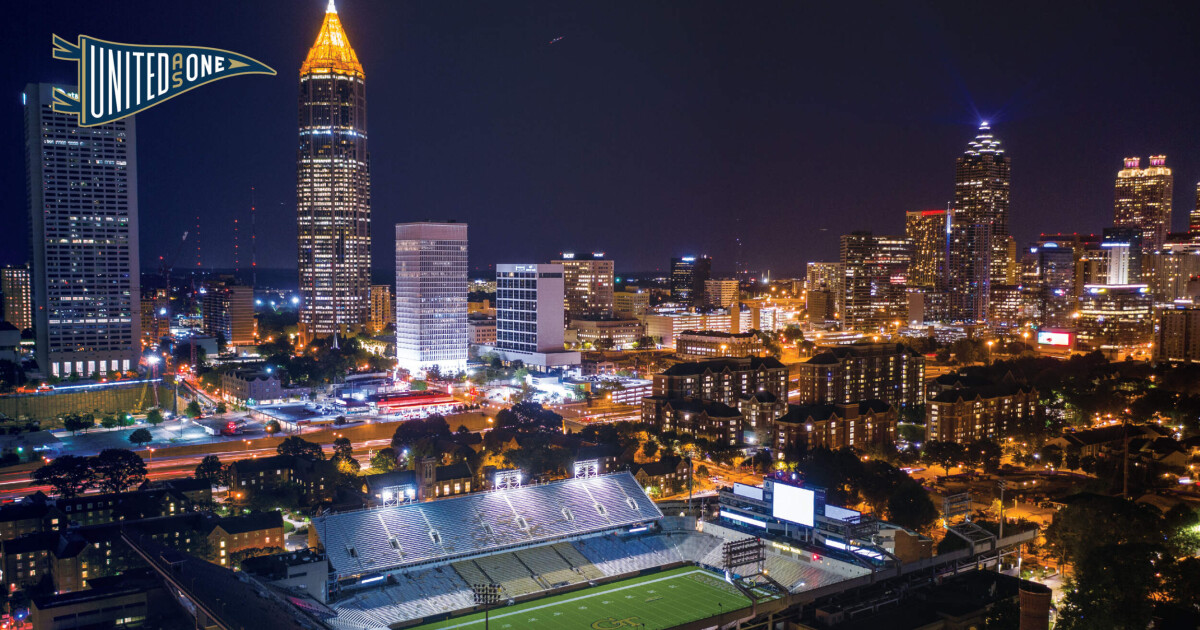 THE FLATS – The Georgia Tech Athletic Association and Atlanta-based Dickey Broadcasting Company have agreed to a multi-year agreement to extend their long-standing partnership, Georgia Tech athletics, Dickey Broadcasting and Legends – Tech athletics' multimedia rights holder – announced on Wednesday.
As part of the agreement, 680/93.7 The Fan – the preeminent sports radio station in the Southeast – will remain the flagship station of the Georgia Tech Sports Network, bringing fans the live broadcasts of all Tech football and men's basketball games throughout the Atlanta metro area.
680/93.7 The Fan will also remain the metro-Atlanta home of regular Tech athletics radio programming, including Geoff Collins' and Josh Pastner's weekly coach's shows, as well as director of athletics Todd Stansbury's weekly "Ask The A.D." segment.
Adding a new element to the partnership between Tech athletics and Dickey Broadcasting (a relationship that reaches the 30-year mark in 2022), Dickey will take over full production of all Georgia Tech Sports Network broadcasts, much like it does for the Atlanta Braves Radio Network.
In addition to listening to the Yellow Jackets on 680/93.7 The Fan, Georgia Tech fans can continue to hear Yellow Jackets games and other radio broadcasting on a wide range of platforms in Atlanta, throughout Georgia and worldwide, including on the statewide Georgia Tech Sports Network, the Georgia Tech Yellow Jackets app, the 680 The Fan app, Tune-In Radio and ramlinwreck.com.
"We're excited and grateful to extend our partnership with Dickey Broadcasting and 680/93.7 The Fan," Stansbury said. "Georgia Tech fans will benefit from our enhanced relationship with The Fan, as our radio broadcasts will take on the same level of production quality that The Fan provides for the Atlanta Braves Radio Network, and be carried on a wide variety of over-the-air and online platforms in the Atlanta metro area, across the state of Georgia and worldwide. We're looking forward to 680/93.7 The Fan continuing to be Atlanta's radio home for Georgia Tech athletics for years to come."
"We are thrilled to extend our decades-long partnership with Georgia Tech Athletics and we are equally thrilled to be working with the great team at Legends," Dickey Broadcasting president and general manager David Dickey said. "This expanded partnership creates a dynamic, multi-media platform in which to create and distribute Georgia Tech-focused content to Tech fans throughout the State of Georgia and the Southeast. We look forward to working with this incredible team for many years to come."
"We're proud to help lead the great relationship between Georgia Tech athletics and Dickey Broadcasting into a fourth decade," Legends senior vice president for partnerships and activation Jean-Paul Dardenne said. "As we explored ways to grow Georgia Tech athletics' multimedia presence in Atlanta and beyond, it was clear that Dickey Broadcasting and 680/93.7 The Fan were the right partners to help us make that happen. We're delighted to expand our partnership with the outstanding team at 680/93.7 The Fan and to bring great Georgia Tech content to listeners throughout Atlanta, the state of Georgia and worldwide."
Georgia Tech Sports Network programming returns on Wednesday, Sept. 1 with the 2021 debut of The Geoff Collins Show, hosted by the Voice of the Yellow Jackets Andy Demetra. Tech football opens the 2021 season on Saturday, Sept. 4 versus Northern Illinois, with kickoff set for 7:30 p.m. and pregame coverage beginning on the Georgia Tech Sports Network at 5:30 p.m.
About Georgia Tech Athletics
With 400-plus student-athletes across 17 varsity sports, Georgia Tech competes at the highest level of intercollegiate athletics as a member of NCAA Division I and the Atlantic Coast Conference (ACC), while also developing young people who will change the world. Georgia Tech has long been a leader in innovation in college athletics with the NCAA CHAMPS/Life Skills Program (known as the Total Person Program at GT), commitments to athletics scholarships until a student-athlete graduates and the use of virtual reality in recruiting among the many concepts that originated on The Flats. The Yellow Jackets have won five national championships during their illustrious history (four in football – 1917, 1928, 1952 and 1990; one in women's tennis – 2007), appeared in two Final Fours in men's basketball (1990 and 2004) and three College World Series in baseball (1994, 2002 and 2006). Combining world-class education with top-notch athletics, Georgia Tech has produced 86 Academic All-Americans.
About Dickey Broadcasting Company
Dickey Broadcasting Company has been an Atlanta sports leader for over 28 years. In addition to launching the sports-talk radio format in Atlanta, Sports Radio 680 The Fan/Dickey Broadcasting Company also owns and operates multiple radio networks including the Braves Radio Network, the Georgia Tech Radio Network and Southern Sports Today Network, and a recently launched news talk station XTRA 106.3. The company also manages robust digital offerings, and a sports-based events series, Tailgate Central. Dickey Broadcasting Company headquarters and studios are located inside the Battery Atlanta next door to Truist Park.
About Legends
Founded in 2008, Legends is a premium experiences company with six divisions operating worldwide – Global Planning, Global Sales, Hospitality, Global Partnerships, Global Merchandise, and Global Technology Solutions – offering clients and partners a 360-degree service solution platform to elevate their brand and execute their vision. Currently, Legends works with marquee clients across business verticals including professional sports; collegiate; attractions; entertainment; and conventions and leisure. We are the industry leaders in designing, planning and realizing exceptional experiences in sports and entertainment. For more information, visit www.Legends.net and follow Legends at Facebook, Twitter and Instagram @TheLegendsWay.
For the latest information on the Georgia Tech Yellow Jackets, follow us on Twitter (@GTAthletics), Facebook, Instagram or visit us at www.ramblinwreck.com.