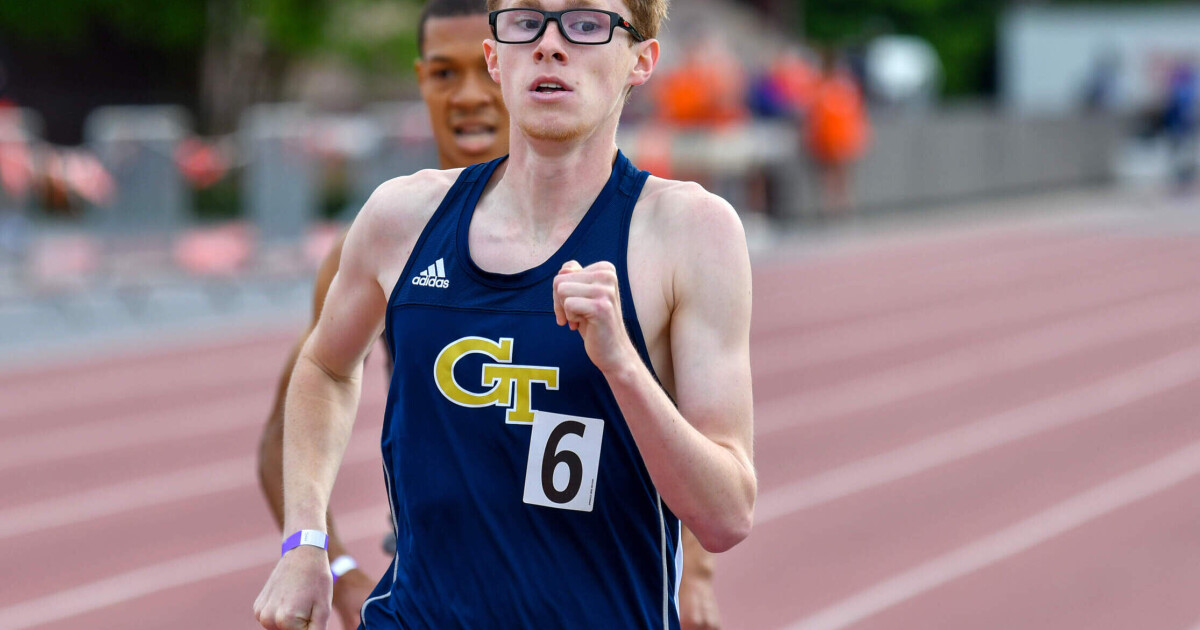 ATHENS, Ga. – Georgia Tech track & field concluded its 2021 outdoor regular season at the Torrin Lawrence Memorial Meet hosted by the University of Georgia at Spec Towns Track in Athens on Saturday afternoon. The Yellow Jackets laced it up against host UGA, Clemson, Columbia International University, Connecticut, Emory, Georgia State, North Carolina and Virginia Tech.
"We had a good weekend at UGA," said head women's track & field coach Alan Drosky. "The highlight was Bria breaking her own school record in the long jump yesterday. Then today she gets a seasonal best in the triple jump. Taylor jumped an outdoor personal best yesterday in the long jump and Reese had a nice personal best in the hurdles. The weekend ended well with a seasonal best in the 1600m relay. Being right in the middle of exams, we were a little flat in some areas."
"We had some very solid performances over the two days of this meet," said head men's track & field coach Grover Hinsdale. "The guys posted several PR's but the four that stood out to me were Brian Hauch in the pole vault, McKinley Thompson in the high jump and Alex Thomas posted two very solid performances in the 800m & 1500m. We have ten important days of prep before we head to Raleigh for ACC Championships."
Thomas led a swarm of Jackets in the men's 1500m run, obtaining a silver finish after crossing the line at 3:47.30 to set a new personal best. Six Tech men's distance runners placed in the top-10 in the 1500m as Braeden Collins (4th, 3:48.73), Zach Jaeger (5th, 3:50.58), Joshua Williams (6th, 3:52.29), Henrik Anderson (7th, 3:53.43) and Mac Bloodworth (8th, 3:54.17) rounded out the White & Gold's top representation in that race.
Senior jumper Bria Matthews had a seasonal best effort in the women's triple jump competition, leaping for a mark of 13.19m/43′ 3.25″ on her third attempt. At the time of publication that mark ties the 19th overall spot on the national outdoor list, as well as the No. 9 jump in the East Region. On the men's end of the triple jump event freshman John Watkins took fifth leaping for 14.68m/48′ 2″.
The Yellow Jacket women & men each earned second-place finishes in the 4×400, posting seasonal best times of 3:48.21 and 3:15.82, respectively. The women were guided by Lydia Troupe, Ilene Soleyn, Reese Crawford and Haley Unthank, while the men represented by Jameson Miller, Anthony Brooks, Dwayne Watkins and Ben Jean.
A third-place showing was performed by Abby Kettle in the women's 1500m race, as she nearly PR'd coming in at 4:38.10. She was joined by freshman Kayla Rose in that event who came in fifth-place with a time of 4:40.96.
Taylor Grimes also placed fifth in the women's 100m hurdles, clocking in at 13.78. Teammate Anna Witherspoon finished first in her heat in that event, coming in at 13.92. In the men's 100m hurdles Brandon Stone took first among collegiate athletes in his heat posting a time of 15.48, which is good for his second best time this outdoor season.
The men's high jump saw Thompson PR as he cleared a height of 2.07m/6′ 9.5″. Olivia Moore collected a seventh-place showing in the women's pole vault after clearing a height of 3.83m/12′ 6.75″.
The Torrin Lawrence Memorial Meet served as Tech's last competition prior to the 2021 ACC Outdoor Track & Field Championships, which will be held in Raleigh, N.C., on May 13-15.
Alexander-Tharpe Fund
The Alexander-Tharpe Fund is the fundraising arm of Georgia Tech athletics, providing scholarship, operations and facilities support for Georgia Tech's 400-plus student-athletes. Be a part of developing Georgia Tech's Everyday Champions and helping the Yellow Jackets compete for championships at the highest levels of college athletics by supporting the A-T Fund', which directly provides scholarships for Georgia Tech student-athletes, and the Support The Swarm Fund, created to give fans an opportunity to help Georgia Tech athletics maintain its recent momentum through the financial challenges of the Covid-19 pandemic! To learn more about supporting the Yellow Jackets, visit atfund.org.
For the latest information on the Georgia Tech Yellow Jackets, follow us on Twitter ( @GT_TrackNField ), Facebook ( Georgia Tech Track & Field/Cross Country ) or visit us at www.ramblinwreck.com