LEXINGTON, Ky. – Georgia Tech volleyball has been ranked No. 24 in the AVCA Division I Coaches Top 25 Preseason Women's Poll, the organization announced on Monday.
The selection marks the first time the Jackets have been named in a preseason poll since 2005. Since then, Tech first appeared in the Top 25 at No. 12 on Sept. 30, 2020 and has since been listed in each poll to date. The Yellow Jackets reached as high as No. 6 during that stretch for two consecutive weeks from Nov. 18-25 in the fall of 2020, the highest ranking for the Gold and White since 2003.
Georgia Tech comes in as one of four ranked ACC teams. The Jackets are slated to face four opponents ranked in the preseason top 25 this season in No. 9 Pitt (Oct. 10, road; Nov. 19, home), No. 12 Penn State (Aug. 27, neutral), No. 13 Louisville (Oct. 3, home; Nov. 12, road) and No. 25 Notre Dame (Oct. 1, home). Each of the aforementioned teams participated in the 48-team reduced field NCAA Tournament in 2020 as Pitt advanced to the Elite Eight, Penn State and Louisville reached the Sweet 16 and Notre Dame advanced to the Second Round.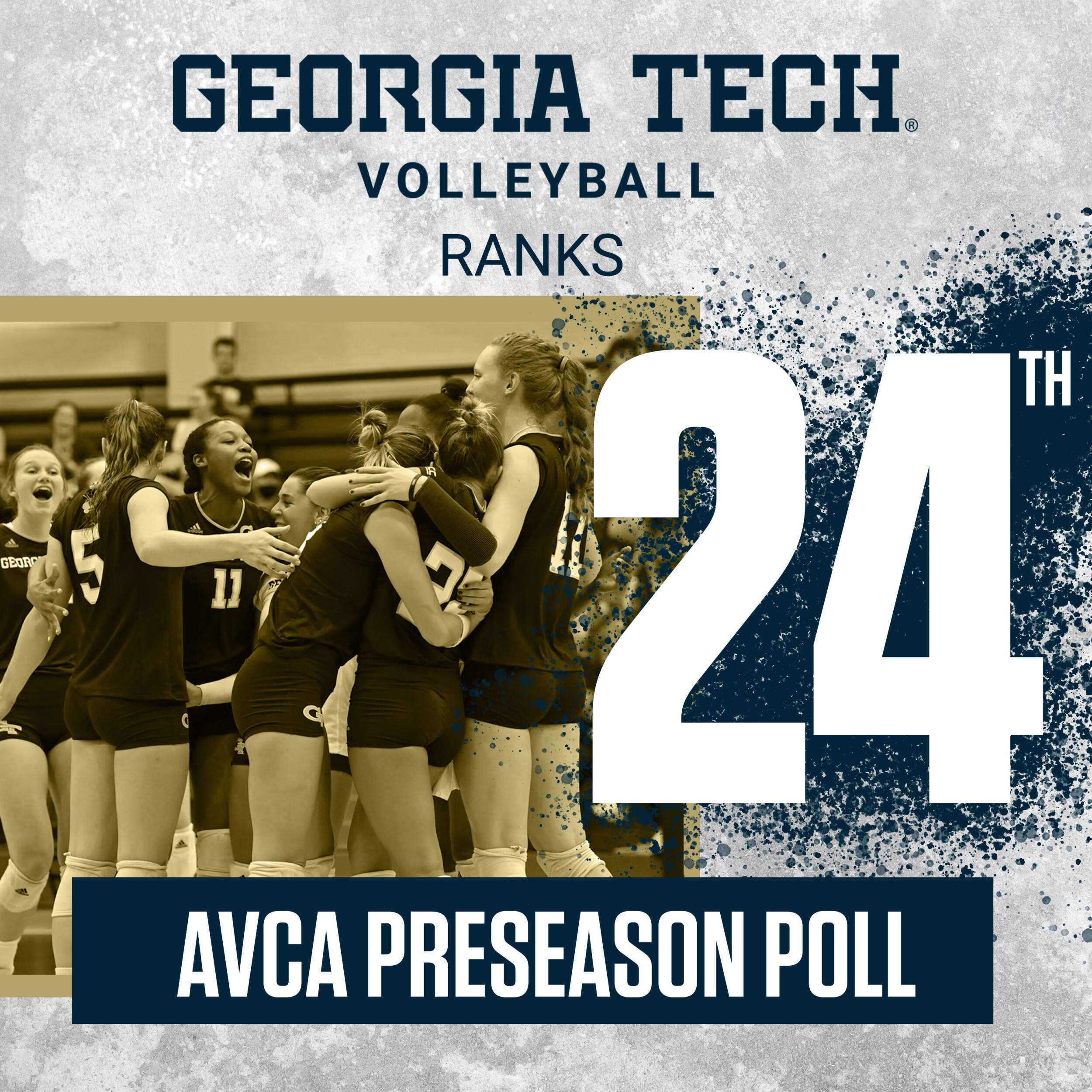 The Jackets boast 10 returners from the 2020 NCAA Tournament team coming into the 2021 season, including 2020 AVCA All-Americans and unanimous All-ACC First Team selections Mariana Brambilla and Julia Bergmann, along with All-ACC Second Team selection and former ACC Setter of the Year Matti McKissock. The incumbents are joined by eight newcomers, including Nebraska transfer Nicole Drewnick and Miami Dade transfer Paola Pimentel, along with six incoming freshmen.
Tech will host its final preseason match in an exhibition against South Carolina on Saturday at 4 p.m. in O'Keefe Gymnasium. Admission to the exhibition is free, and doors open at 3 p.m. Fans may park in the McCamish Pavilion lot or in the East O'Keefe Gymnasium lot.
Following the exhibition, Tech will open the regular season on the road at the UCF Challenge by taking on No. 12 Penn State and UCF (Aug. 27) in Orlando, Fla. The Jackets will make their official return to O'Keefe Gymnasium hosting the Georgia Tech Classic, beginning with Mississippi State (Sept. 9).
Season Tickets
Adult Season – $55.00
Youth (ages 3-18)/Senior (55+) Season – $30.00
Season tickets are now available. Secure your new season tickets online HERE or renew your season tickets through your ticket account found at www.ramblinwreck.com/myaccount or by calling the Georgia Tech Ticket Office at 888.TECH.TIX. To renew online, please log into your account and click on Season Ticket Renewals located in the right-hand column. If you need assistance, the Georgia Tech Ticket Office is open Monday – Friday 9 a.m.-5 p.m. The renewal deadline is Aug. 27. Seating inside O'Keefe Gymnasium is general admission.
Alexander-Tharpe Fund
The Alexander-Tharpe Fund is the fundraising arm of Georgia Tech athletics, providing scholarship, operations and facilities support for Georgia Tech's 400-plus student-athletes. Be a part of developing Georgia Tech's Everyday Champions and helping the Yellow Jackets compete for championships at the highest levels of college athletics by supporting the Annual Athletic Scholarship Fund, which directly provides scholarships for Georgia Tech student-athletes. To learn more about supporting the Yellow Jackets, visit atfund.org.
For the latest information on the Georgia Tech Yellow Jackets, follow us on Twitter (@GTAthletics), Facebook, Instagram or visit us at www.ramblinwreck.com.