Leaderboard via Golfstat | Tournament information | Complete results (PDF)
Tallahassee, Fla. – Christo Lamprecht, Noah Norton and Bartley Forrester carded subpar rounds Tuesday, and Georgia Tech posted a 3-under-par final round of 285 to finish third in the NCAA Tallahassee Regional at Seminole Legacy Golf Club. The Yellow Jackets advance to the NCAA Men's Division I Championship for the 30th time in team history and will begin play May 28 at Grayhawk Golf Club in Scottsdale, Ariz.
It was the highest finish in an NCAA regional for the Jackets, who have won five in their history, since a third-place performance in 2015 in San Diego. Since then, Tech had failed to advance three times and finished fourth in 2019. Top-seeded Florida State won on its home course, while No. 2-seed Georgia finished second, No. 3-seed Liberty fourth and sixth-seed TCU fifth to also advance to the championship finals.
Tech began the final round in third place and never was in danger of falling out of the top five to advance, building a strong cushion with nine birdies over holes 11 through 14 on the back side, at one point reaching 9-under-par for the round and 22-under for the regional.
TECH LINEUP – Tech collected three birdies each on the par-5 11th, the par-4 12th and the par-5 14th holes, enabling the Yellow Jackets to weather a 5-shot slide on the final hole.
Lamprecht, a freshman from George, South Africa, shot a 2-under-par 70 with six birdies on his card, and finished the tournament as high Yellow Jacket, a tie for seventh place at 7-under-par 209. Norton, a senior from Chico, Calif., and Forrester, a sophomore from Gainesville, Ga., who replaced Will Dickson in Wednesday's starting five, each posted 1-under-par 71. Forrester played bogey-free golf, getting consecutive birdies on 12, 13 and 14, before finishing his round with bogeys at 17 and 18.
Ben Smith, a junior from Novi, Mich., provided the Jackets' fourth counting score with a 1-over-par 73 and tied for eighth place overall at 6-under-par 210. Connor Howe's 74 didn't count for Tech Wednesday, but the junior from Ogden, Utah finished in a tie for 21st place individually at 215 (-1).
Norton tied for 28th place individually at 217 (+1).
Notable – The Yellow Jackets finished the tournament third in the field in scoring on par-5s and par-4s, and sixth in scoring on par-3s … Lamprecht, Smith, Forrester and Dickson played in an NCAA regional for the first time … Howe has finished T17 and T21 in two NCAA regionals, while Norton has posted T26, T29 and T28
TEAM LEADERBOARD – Top-seed and host Florida State won the Tallahassee Regional comfortably, posting the day's best round at 10-under-par 278 for a 54-hole total of 830 (-34). The Seminoles finished 17 strokes ahead of No. 2-seed Georgia, who rallied late for an 8-under-par round of 280 and a tournament score of 847 (-17).
Tech finished another shot back in third place at 848 (-16), with Liberty fourth at 849 (-15) and TCU fifth at 855 (-9).
Ohio State (857, -7), which began the day in fifth place, and Kansas (858, -6) took turns in the top five over the final round, but finished out of the money.
INDIVIDUAL LEADERBOARD – Georgia's Davis Thompson, one of the nation's top amateur players, took home medalist honors after posting rounds of 67-67-68 for a 14-under-par total of 202, winning by one stroke over Jacksonville's Michael Sakane, who shot a closing 70 Wednesday for a 54-hole total of 203. He will advance to the NCAA Championship as an individual.
Florida State teammates Vincent Norman (207, -9) and John Pak (208, -8), who each shot 69 Wednesday, finished third and fourth respectively, followed by the Yellow Jackets' Lamprecht in a three-way tie for fifth at 209 (-7).
Tech's Smith and Georgia's Trent Phillips were among five players tied for eighth place at 210 (-6).
Round 3 in Photos
Photos by Mike Olivella
TOURNAMENT INFORMATION/FORMAT – Eighty-one teams and 45 individuals competed for spots in the NCAA Division I Men's Golf Championship finals in six regional qualifying tournaments. The top five teams and one individual from each regional are advancing to the finals, May 28-June 2 at Grayhawk Golf Club in Scottsdale, Ariz., which has a field of 30 teams and six individuals.
Each regional is a 54-hole, stroke-play event with 13 teams and 10 individuals, or 14 teams and five individuals, competing. Tech is part of a regional field that includes 14 teams and five individuals.
The Tallahassee regional in which Tech will compete included eight teams that are ranked among the top 50 teams in the nation according to Golfstat. In order of seed, the field includes Florida State (No. 2), Georgia (11), Liberty (16), LSU (23), Georgia Tech (27), Georgia Southern (32), TCU (43) and Indiana (46).
The other five regional sites are: Albuquerque, N.M. (UNM Championship Course, host: New Mexico); Kingston Springs, Tenn. (Golf Club of Tennessee, host: Vanderbilt); Stillwater, Okla. (Karsten Creek Golf Club, host: Oklahoma State); Cle Elum, Wash. (Tumble Creek Golf Club, host: Washington); and Noblesville, Ind. (Sagamore Golf Club, host: Ball State).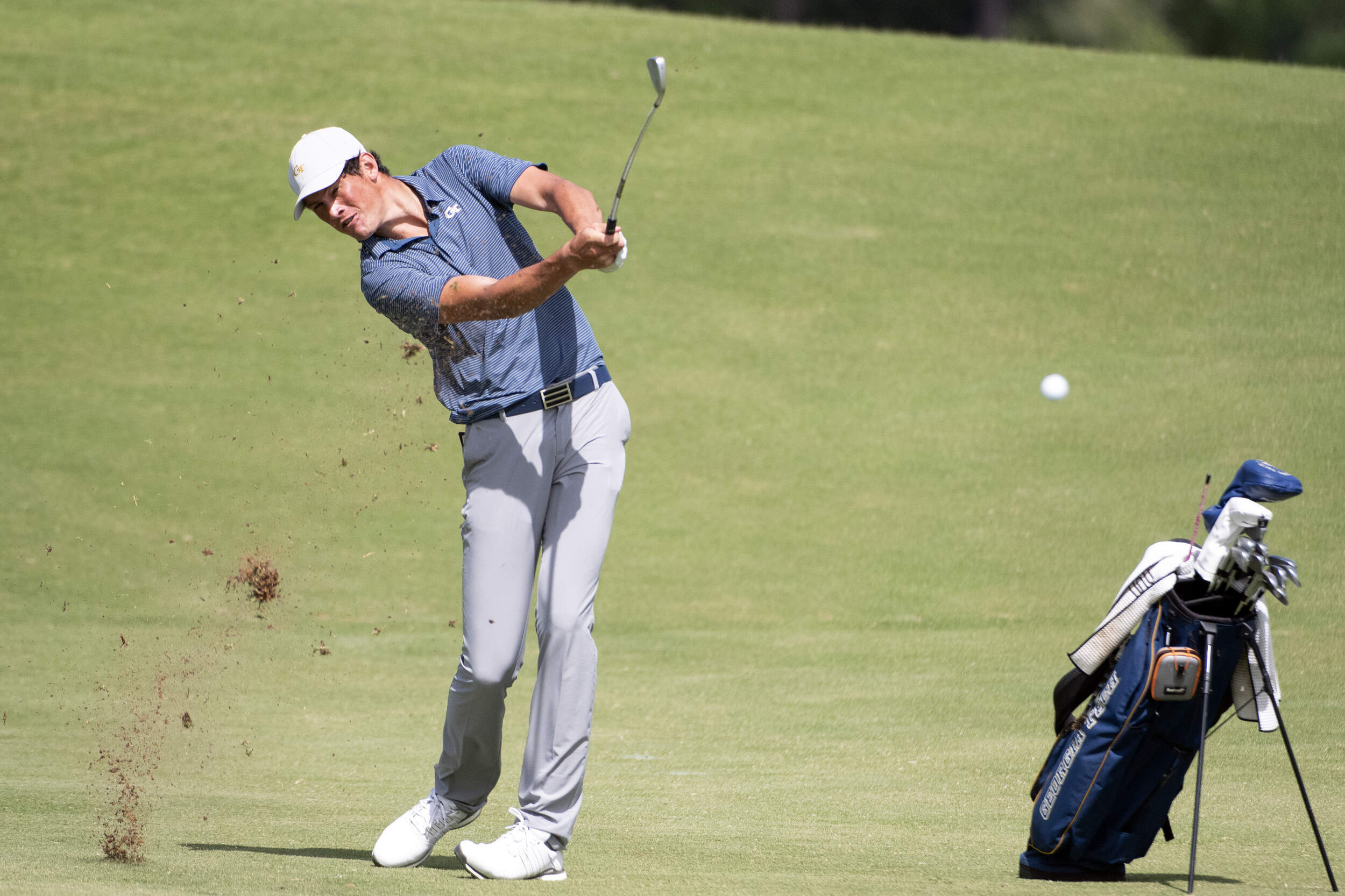 Freshman Christo Lamprecht was Georgia Tech's high individual, tying for fifth place at 7-under-par 209. (photo by Mike Olivella)
Alexander-Tharpe Fund
The Alexander-Tharpe Fund is the fundraising arm of Georgia Tech athletics, providing scholarship, operations and facilities support for Georgia Tech's 400-plus student-athletes. Be a part of developing Georgia Tech's Everyday Champions and helping the Yellow Jackets compete for championships at the highest levels of college athletics by supporting the Support The Swarm Fund, which helps Georgia Tech athletics offset the significant financial challenges associated with Covid-19, and the Annual Athletic Scholarship Fund, which directly provides scholarships for Georgia Tech student-athletes. To learn more about supporting the Yellow Jackets, visit atfund.org.
ABOUT GEORGIA TECH GOLF
Georgia Tech's golf team is in its 26th year under head coach Bruce Heppler, winning 65 tournaments in his tenure. The Yellow Jackets have won 18 Atlantic Coast Conference Championships, made 29 appearances in the NCAA Championship and been the national runner-up four times. Connect with Georgia Tech Golf on social media by liking their Facebook page, or following on Twitter (@GTGolf) and Instagram. For more information on Tech golf, visit Ramblinwreck.com.