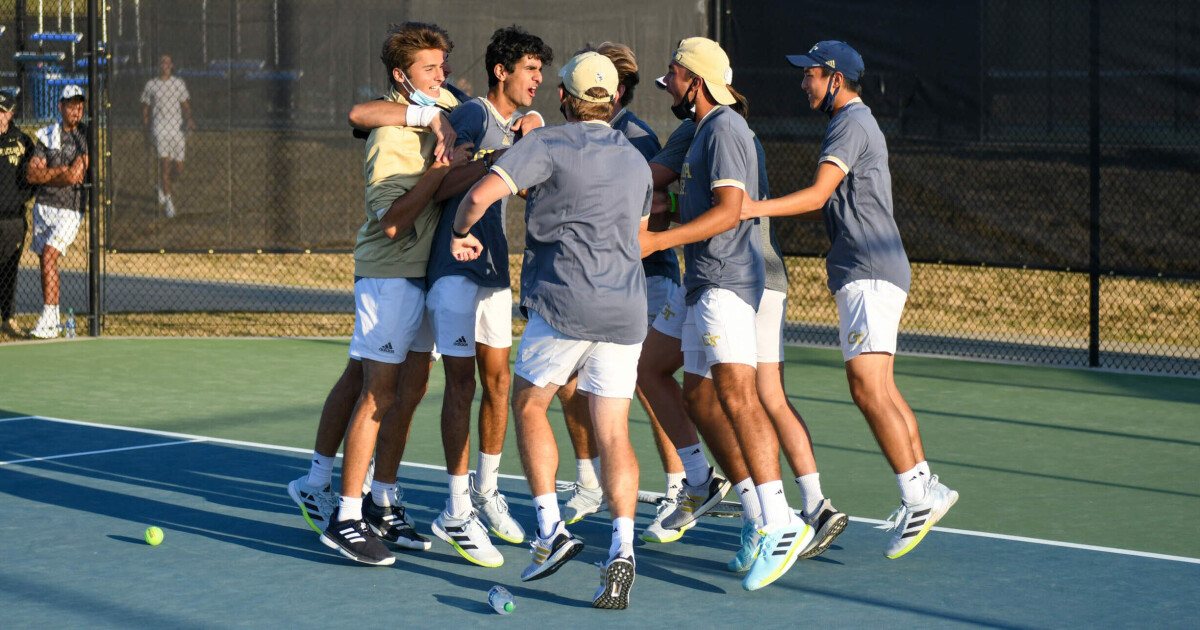 ROME, Ga. – No. 31 Georgia Tech men's tennis opened up the 2021 ACC Championships with a 4-3 victory over Miami at the Rome Tennis Complex in Rome, Ga., on Thursday evening. The No. 8 seed Yellow Jackets (13-8, 7-6 ACC) grabbed their first team win at ACC's since April of 2018, snagging the doubles point and outlasting the No. 9 seed Hurricanes in singles, backed by some late match heroics by Keshav Chopra. Tech advances to the quarterfinals and will face No. 1 seed Virginia tomorrow at 2;30 p.m. (EST).
"Got off to a good start playing smart and aggressive doubles," said Byers Head Men's Tennis Coach Kenny Thorne. "Miami did a great job taking it to us winning five of six first sets. They played well and we had to dig deep to get back in. We came back in three of those matches and won the second which showed good fight. It was a good team win and showed toughness we have developed."
The match came down to a battle at position four between Chopra and Stefan Milicevic, with it tied up at three-all on the team leaderboard. On the last court standing Chopra fell early dropping the first set 6-7, but bounced back with a 6-1 showing in the second, before claiming the final singles point for Tech posting a score of 6-4 in the final set. In the final set Chopra started out behind 0-2, but was able to keep his composure and keep the Jackets season alive capturing his seventh consecutive singles win in the process.
In doubles Tech gained an early advantage as No. 50 Marcus McDaniel/Andres Martin defeated No. 27 Benjamin Hannestad/Franco Aubone 6-2 at position one. After Chopra/Chen Dong lost a 6-4 effort to Milicevic/Bojan Jankulovski, Brandon Freestone/Pablo Schelcher clinched the doubles point for the Jackets with a 7-6 (1) performance over Adria Soriano Barrera/Oren Vasser to put Tech up 1-0 heading into singles.
Dong shook off the loss in doubles and earned a 6-3, 6-3, win against Aubone at position six to kick-off singles and give the Jackets the 2-0 advantage.
Miami surged to three straight victories at positions five, one and three to turn the score to 3-2 in its favor. At position two No. 38 Martin lost the first set 2-6 to Jankulovski, but was able to muster up a 6-3, 6-4 performance and tie it all up at three before Chopra sealed the deal. Tech now owns a 13-36 record all-time versus the Hurricanes.
In mid-March the Jackets dropped a 5-2 decision to Virginia on the road in Charlottesville. It should be noted that earlier this season Tech also lost to Miami 6-1, but was able to come together and swarm the Hurricanes for some post season revenge on Thursday.
BRACKET: Click Here
CHAMPIONSHIP CENTRAL: Click Here
Tennis Match Results
Miami vs Georgia Tech
Apr 22, 2021 at Rome, Ga.
(Rome Tennis Complex)
#31 Georgia Tech 4, Miami 3
Singles competition
1. #51 A. Soriano Barrera (UM) def. #20 Marcus McDaniel (M-GT) 6-3, 3-6, 7-6 (7-5)
2. #38 Andres Martin (M-GT) def. Bojan Jankulovski (UM) 2-6, 6-3, 6-4
3. Benjamin Hannestad (UM) def. Pablo Schelcher (M-GT) 6-1, 6-7 (4-7), 6-1
4. Keshav Chopra (M-GT) def. Stefan Milicevic (UM) 6-7 (4-7), 6-1, 6-4
5. Oren Vasser (UM) def. Brandon McKinney (M-GT) 6-2, 7-5
6. Chen Dong (M-GT) def. Franco Aubone (UM) 6-3, 6-3
Doubles competition
1. #50 Marcus McDaniel/Andres Martin (M-GT) def. #27 Benjamin Hannestad/Franco Aubone (UM) 6-2
2. Pablo Schelcher/Brandon Freestone (M-GT) def. A. Soriano Barrera/Oren Vasser (UM) 7-6 (7-1)
3. Bojan Jankulovski/Stefan Milicevic (UM) def. Chen Dong/Keshav Chopra (M-GT) 6-4
Match Notes:
Miami 8-10
Georgia Tech 13-8; National ranking #31
Order of finish: Doubles (1,3,2); Singles (6,5,1,3,2,4)
Played Outdoors
Georgia Tech won
T-3:45
Alexander-Tharpe Fund
The Alexander-Tharpe Fund is the fundraising arm of Georgia Tech athletics, providing scholarship, operations and facilities support for Georgia Tech's 400-plus student-athletes. Be a part of developing Georgia Tech's Everyday Champions and helping the Yellow Jackets compete for championships at the highest levels of college athletics by supporting the A-T Fund', which directly provides scholarships for Georgia Tech student-athletes, and the Support The Swarm Fund, created to give fans an opportunity to help Georgia Tech athletics maintain its recent momentum through the financial challenges of the Covid-19 pandemic! To learn more about supporting the Yellow Jackets, visit atfund.org.
For the latest information on Georgia Tech Men's Tennis, follow us on Twitter (@GT_MTEN), Instagram (GT_MTEN), Facebook (Georgia Tech Men's Tennis) or visit us at www.ramblinwreck.com