Final leaderboard via Golfstat | Complete results (PDF)
Milton, Ga. – Connor Howe fired a 1-under-par 69, while Noah Norton and Christo Lamprecht added even-par rounds of 70, leading a rally from seven strokes behind in a bid to advance to match play at the Atlantic Coast Conference Men's Golf Championship Sunday. But the Georgia Tech came up one stroke shy at the finish and tied for fifth place at the conclusion of the stroke-play portion of the championship.
Tech, Wake Forest and Florida State were locked in a three-team battle down the stretch for fourth place and the final spot in match, and the No. 2-ranked Seminoles advanced, completing 54 holes with a score of 845 (+5). The Yellow Jackets, who shot 282 (+2) Sunday, and the Demon Deacons (284, +4) finished tied for fifth at 846 (+6). FSU shot 288 (+8) Sunday.
The Jackets began the day in sixth place, seven shots behind the fourth-place Seminoles, with the Demon Deacons in fifth position. Both Wake and Tech occupied solo fourth place at different times on the back nine, and the Jackets took over fourth by a single stroke as the final two groups came to the 18th tee. But Lamprecht and Howe each bogeyed the last, while the Seminoles carded a bogey and a par to edge them out.
Tech, ranked No. 30 by Golfstat, now looks ahead to finding out where they will begin competition in the NCAA Championship. The fields for the six regional tournaments will be announced at 2 p.m. May 5, live on Golf Channel.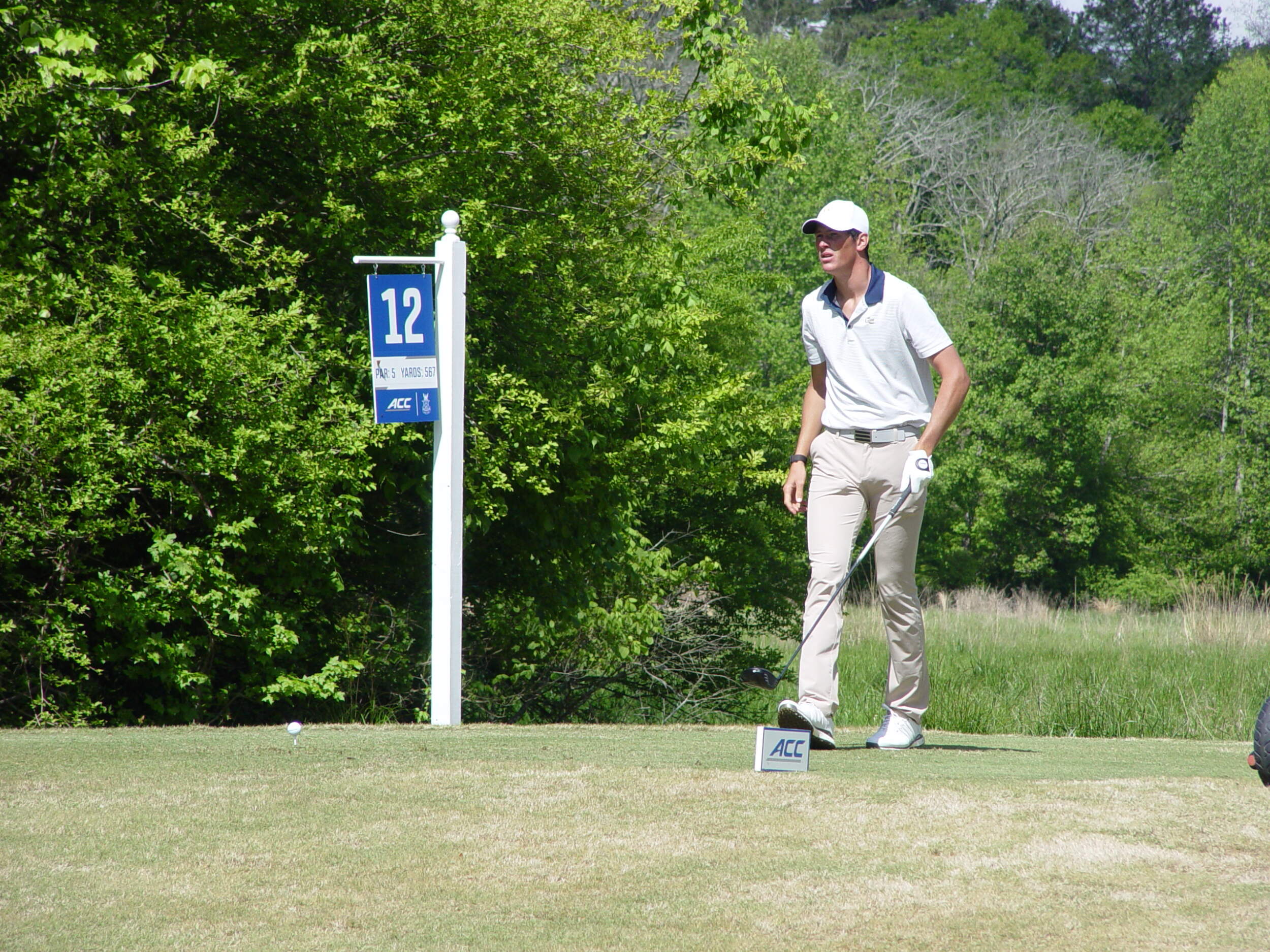 Freshman Christo Lamprecht earned a tie for 15th in his first ACC Championship (photo by Mike Stamus)
TEAM LEADERBOARD – The other three spots in the match play bracket were never in doubt. No. 17 North Carolina, which took a commanding lead after its 265 in round 2, shot 5-under-par 275 Sunday and earned a 15-stroke victory over No. 4 Clemson at 814 (-26). The Tigers shot 278 (-2) Sunday and posted a 54-hole total of 829 (-11). No. 10 NC State, with a final-round score of 283, finished third at 831 (-9).
In the semifinals of match play Sunday afternoon, the Tar Heels battled Florida State, while Clemson faced off against NC State. The winners will meet Monday in the championship match beginning at 9 a.m.
Virginia (859, +19), Duke (863, +23), Louisville (865, +25), Virginia Tech (767, +27), Notre Dame (870, +30) and Boston College (873, +33) rounded out the stroke-play leaderboard.
INDIVIDUAL LEADERBOARD – North Carolina freshman Peter Fountain followed his second-round 63 with a 66 Sunday and captured medalist honors with a 10-under-par 200, earning an automatic spot on the All-ACC team in the process. He was one of four Tar Heels to finish among the top eight individuals.
Fountain was one stroke better than NC State grad student Benjamin Shipp, who opened Friday with a 64 and finished at 201 (-9), and two clear of his Tar Heel teammate Austin Hitt, who carded three subpar rounds on the way to a 202 (-8) score.
Clemson's Kyle Cottam was alone in fourth place at 205 (-5), while UNC's Austin Greaser and Ryan Burnett were among four players tied for fifth at 206 (-4).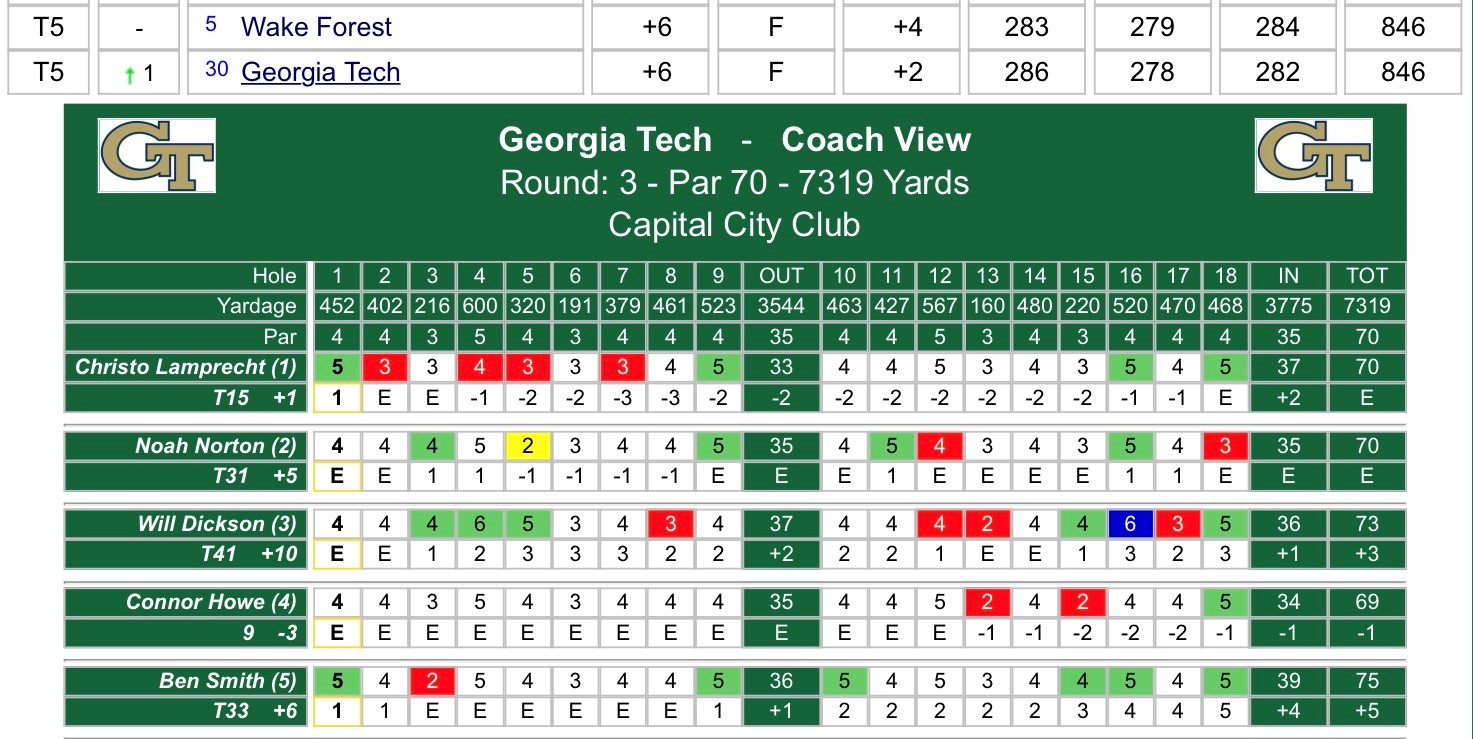 "We made a great run and gave ourselves a real chance. If Connor doesn't birdie the two par-3s – the second is a 220-yard hole, and he drops it to six feet – then that last hole doesn't matter. It's obviously disappointing, but these guys have come a long way. They're fighting two teams in the top five to make it and fought them all day. Noah got a birdie for us there at 18. To be right there with what we've done this spring, to get to match play would have been a tremendous accomplishment, and we just missed it by one."
Head coach Bruce Heppler
---
TOURNAMENT INFORMATION – The ACC Championship was held at the Capital City Club's Crabapple Course in Milton, Ga., a course that has hosted the NCAA Men's Division I Championship in 2013 and the 2010 NCAA Southeast Regional.
The course played to a par of 70 and measure 7,319 yards for the ACC Championship, which will feature a new format over four days of competition (Friday through Monday), departing from the 54-hole, stroke-play format which has been used since 1980. All 12 competing teams (Miami, Pittsburgh and Syracuse do not sponsor men's golf) will play 54 holes of stroke play, 36 holes Friday and 18 holes Saturday, with the standard low four rounds counting toward the team's daily score each round. The top four teams after 54 holes will be seeded in a match play bracket, with the semi-final matches to take place Sunday, and the championship match Monday. Each match will be 18 holes and involve all five players from each team. The format is similar to the way the NCAA Championship has been conducted every year since 2009.
The Yellow Jackets have captured 10 of the last 15 championships, including the 2019 title at the Old North State Club in New London, N.C. It was the 18th in program history, tying Wake Forest for the most in conference annals. The championship was not held in 2020 due to COVID-19.
BROADCAST INFORMATION – The championship match on Monday will be streamed live on the ACC Network Extra platform, available on the ESPN app, beginning at 9 a.m. A one-hour recap show of the entire championship will be aired at 7 p.m. Monday, May 3, on the ACC Network.
SCHEDULE OF EVENTS
Monday, April 26
9-9:48 a.m. Championship Match Play Tee Times (All off No. 1)
Team Champion Awards Ceremony at Conclusion of Play at manual scoreboard
Alexander-Tharpe Fund
The Alexander-Tharpe Fund is the fundraising arm of Georgia Tech athletics, providing scholarship, operations and facilities support for Georgia Tech's 400-plus student-athletes. Be a part of developing Georgia Tech's Everyday Champions and helping the Yellow Jackets compete for championships at the highest levels of college athletics by supporting the Support The Swarm Fund, which helps Georgia Tech athletics offset the significant financial challenges associated with Covid-19, and the Annual Athletic Scholarship Fund, which directly provides scholarships for Georgia Tech student-athletes. To learn more about supporting the Yellow Jackets, visit atfund.org.
ABOUT GEORGIA TECH GOLF
Georgia Tech's golf team is in its 26th year under head coach Bruce Heppler, winning 65 tournaments in his tenure. The Yellow Jackets have won 18 Atlantic Coast Conference Championships, made 29 appearances in the NCAA Championship and been the national runner-up four times. Connect with Georgia Tech Golf on social media by liking their Facebook page, or following on Twitter (@GTGolf) and Instagram. For more information on Tech golf, visit Ramblinwreck.com.