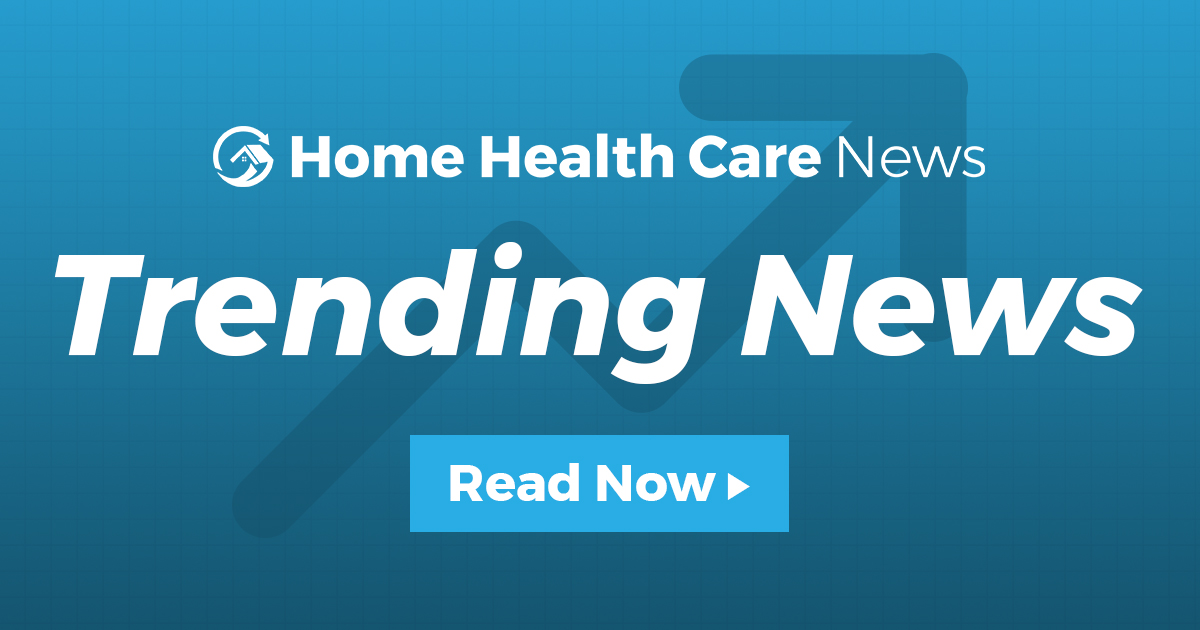 Amedisys Inc. (Nasdaq: AMED) has completed its purchase of Visiting Nurse Association's (VNA) assets.
Baton Rouge, Louisiana-based Amedisys has a number of in-home care capabilities, including home health, hospice and personal care services.
Amedisys also recently acquired Contessa Health for $250 million. The deal gives the company a range of acute-level care services.
Meanwhile, VNA is a nonprofit that offers community-based care in Nebraska and Iowa. The organization delivers home health, hospice and palliative care.
The closing of the deal allows Amedisys Home Health and AseraCare Hospice — an Amedisys Company — to provide services in Omaha, Nebraska and Council Bluffs, Iowa.
"By continuing the exceptional VNA home health and hospice care legacy, Amedisys will provide additional scale and resources that will expand our ability to care for more patients and extend health care at home services to more communities across Nebraska and Iowa,"
Chris Gerard, president and chief operations officer at Amedisys, said in a statement.
In addition to its home-based care offerings, VNA provides homeless shelter nursing services, parenting support, physician-ordered mother and child services, flu and immunization services, school health programs and infusion pharmacy. The organization will continue to deliver these services in Omaha and western Iowa.
"As VNA reflects on its mission and long history, it has become clear that we should return to our original focus — to serve those in the community who may not have the resources," James Summerfelt, president and CEO at VNA, said in a statement. "This was our original mission, and there is still tremendous need in our community. We want to ensure that the needs of marginalized individuals and families can be met with expertise and compassion well into the future."
AccordCare purchases Just for You, Personal Support Services
AccordCare, a private-duty home health company, has acquired Just for You, Personal Support Services (JFYPSS).
JFYPSS is a College Park, Georgia-based home care company that provides personal care, skilled nursing, respite care and companionship services.
Marietta, Georgia-based AccordCare delivers clinically complex care, skilled nursing, personal
care and companion services. The company serves more than 1,300 clients daily.
From a growth perspective, the acquisition of JFYPSS allows AccordCare to serve Medicaid clients through Georgia's waiver programs, Veterans Administration and private-pay sources.
"We are excited to expand our Medicaid presence in Georgia as we continue to provide quality home care and reach underserved individuals," Brandon Ballew, CEO of AccordCare, said in a press release."Just for You has a great reputation and a commitment to providing excellent care to clients and driving an employee-first culture, it made them a natural fit for AccordCare."
Overall, JFYPSS is AccordCare's fifth transaction in 18 months.
InnovAge opens new senior care center
InnovAge (Nasdaq: INNV) — one of the largest Program of All-Inclusive Care for Elderly (PACE) providers in the U.S. — has opened a new center for seniors in Roanoke Valley, Virginia.
PACE is a Medicare and Medicaid program that helps keep people in their communities instead of nursing homes. Oftentimes, programs are run out of community-based centers with the support of in-home care providers and their staff.
Denver-based InnovAge has about 1,900 employees. It serves 6,700 seniors across 18 centers in five states.
The new center will allow InnovAge to further expand its coverage. The company's centers allow seniors to receive health services, such as social support, medication management, transportation and meals.
"The need for caregiver and health services for older Americans is growing," Maureen Hewitt, president, and CEO of InnovAge said in a statement. "As we transition out of the COVID-19 pandemic, frail seniors and their families, more than ever, are looking to enjoy life in the safety of their own homes and communities. We bring a deep passion for geriatric care to our work, and our new Roanoke center will enhance our ability to provide participants with personalized care and guide them through every aspect of the aging journey."
Dare Board approves BrightSpring Health Services deal
The Dare County Board of Commissioners — the governing body of Dare County, North Carolina — approved the sale of the county's Home Health and Hospice (HH&H) agency to BrightSpring Health Services for $2.9 million. The sale was approved in a six-to-zero vote.
Based in Louisville, Kentucky, BrightSpring provides a diverse array of home- and community-based services. It serves more than 350,000 patients across 50 states.
Last year, the county began the bidding process after deciding that it wasn't financially sustainable to continue operating the agency.
HH&H was also having trouble keeping up with the growing demand for care amid staffing shortages, according to reports from HHCN sister site Hospice News.
"I do believe the number one priority for me, and the decision I have to make, has got to be made for the citizens of Dare County," Commissioner Ervin Bateman said in a public hearing. "If we don't make the decision to do this, according to what people have told me, and I've talked with [the county's Health and Human Services Director Sheila Davies] at length, this thing might implode, and we can't handle it ourselves."
As part of the deal, BrightSpring must maintain services throughout the Dare County agency's current service region and keep on its employees.
Health care organizations form a new kidney care coalition
A number of health care organizations have joined together to launch Innovate Kidney Care, a campaign to improve patient options for home dialysis.
"The dialysis industry has long been stagnant when it comes to delivering innovation to patients," Tonya Saffer, a spokesperson for Innovate Kidney Care, said in a statement. "We now have new, patient-centered dialysis technologies, and health care providers who want to innovate care delivery, in order to enable more options for where and how self-dialysis can be trained and supported. We can accelerate home adoption by clarifying guidance and updating outdated regulatory restrictions for both patients and providers."
Among the founding members are Intermountain Healthcare, one of the largest health systems in the country, and CVS Kidney Care.
Intermountain Healthcare is no stranger to offering kidney care. In 2019, the health system launched its own Kidney Care Center which granted patients access to doctors, nurses, and dietitians through at-home dialysis.
In general, home options for kidney care are often underutilized due to outdated regulations, among other reasons.
Ultimately, Innovate Kidney Care's goal is to update and improve the Conditions for Coverage which would give individuals the choice to adopt home dialysis, according to the statement.
Other founding members of the coalition include the American Society of Nephrology, Anthem, Inc., Cricket Health, Home Dialyzors United, the National Kidney Foundation, Outset Medical, Inc. and Strive Health.