The first time Joni Genovesi tried Beyond Juicery + Eatery, it was during a casual lunch with a friend. At the time, she was the owner of a quick-service restaurant that "served unhealthy food."
"I myself was becoming a much healthier person physically and mentally, and I didn't believe in the product I was selling anymore," Genovesi said. "I was looking for a change, and the first time I tasted Beyond, I fell in love. It really felt like home."
Genovesi, who graduated from Central Michigan University with a degree in hotel management, was drawn to the fast-casual health food restaurant that offers smoothies, salads, juices and wraps. Founded in 2005 and franchising since 2019, the brand has grown to 28 locations operated by 16 franchisees.
Early on in the discovery process, one of the first people in her professional life that Genovesi came out to as transgender was Mijo Alanis, who founded Beyond Juicery + Eatery with his wife Pam Vivio in Birmingham, Michigan.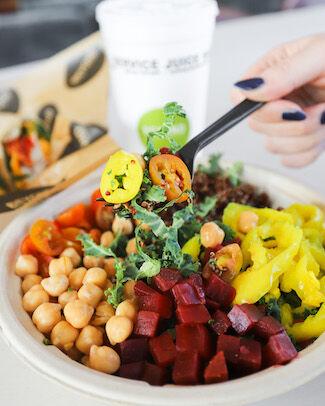 "People in my personal life, since the very beginning of my transition, told me to sign the contract first, don't tell anyone because they're not going to want you," Genovesi said. "I was very nervous and didn't know how it would go, but Mijo, he didn't grasp exactly what I was saying, and I don't mean that in a bad way at all—most people don't understand what it means to be trans—but he was never against it. It was always, how can I support you?"
Genovesi had her heart set on Beyond Juicery and after that positive experience, stopped looking at other brands. She opened her franchise in Detroit, Michigan on January 16, 2020, just a few months before the pandemic hit. Though she never had to shut down completely, the dining room was closed for long stretches and she struggled being in a commercial-heavy area.
"Two months after opening up, those buildings were empty and it got very slow and very scary," Genovesi said, "but I'm so grateful for PPP loans that has really helped me survive. Without those, I would not still be in business today, and they (the franchisor) got very creative."
Though some brands and franchisors are working to create more inclusive environments—such as LunchboxWax that eliminated male/female checkboxes and asks guests for their preferred pronouns—McKinsey & Company reported last year that trans employees face a distinct set of obstacles to performance and career progression.
"The transgender community is not really represented well in any aspect of life, so the privilege I have and the ability to open up a franchise and be successful—hopefully it shows other trans people out there they can do the same thing," Genovesi said. "I don't necessarily think franchises have negative connotations towards trans people, but trans people in general often don't have the resources or opportunities that I've had."
When asked what franchises can do to be more inclusive of the trans community, Genovesi responded simply: "Hire more of us. We have the highest rate of unemployment out of any demographic. Giving the trans community access to work and improving their quality of life is a great first step."
Work-life balance
For Genovesi, being a transgender woman "greatly impacts the way I do business. For one, just going through the journey and trauma and struggles, I have become an extremely empathic and understanding person," she said. "I don't look at my employees like they're there to make me money, but as human beings there to make themselves money and to make a life for themselves. I think that's why a lot of people are attracted to work for me."
Though counterintuitive to many ambitious business owners and entrepreneurs, Genovesi puts a heavy emphasis on creating a healthy work-life balance. That focus on self-care and "understanding that money does not make or break my life" has helped her to have fun along the way.
"In my previous life all I cared about was money, and I ended up being depressed, full of anxiety and the worst mental state one could possibly be in," Genovesi said. "Releasing my truth was the biggest step and first part of my journey."
In her free time, Genovesi competes in triathlons and takes care of her two sons, who are both on the autism spectrum.
"I work when I'm needed, which is of course a lot, but you have to be able to trust your people," Genovesi added. "I have people where you can leave the store and feel confident they'll work. No one is ever perfect, but that's all I ask of my people is that they give their best, and I've cultivated an environment where I get that and it allows me to do things outside of work."
Genovesi said she would open up a second Beyond Juicery store tomorrow, if she could, and has been saving for a down payment for that second franchise at some point, but the pandemic certainly didn't help. In terms of how many locations she wants in the future, "I would love to say I want 10, 20, or 50, but knowing my lifestyle, I would be very content with three, four or five tops," Genovesi said. "I don't need a ton in life."
It costs $370,000 to $630,000 to open a Beyond Juicery + Eatery franchise.
Lesbian, Gay, Bisexual, Transgender and Queer (LGBTQ) Pride Month is celebrated in June to honor the Stonewall riots of 1969. This year marks the 51st anniversary of Pride traditions. Transgender—or trans—is an umbrella term for people whose gender identity differs from the sex assigned at birth. The transgender community has historically been discriminated against in many areas of life, including work, school, housing, health care and public accommodations, and anti-transgender hate crimes increased 20 percent in 2019.