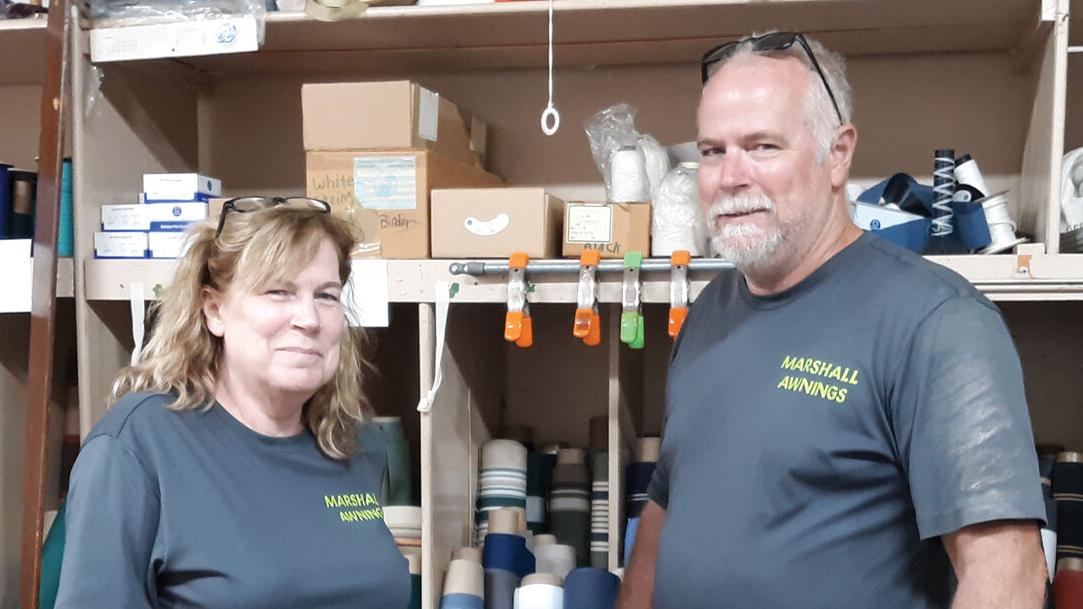 "Marshall stayed," says Kim Morgan during an interview in the front office of G.E. Marshall, Inc., at 810 South Broad Street.
Morgan is talking about how businesses and the "old Italians and Hungarians" who lived on both sides of the main city street joined an exodus to the suburbs.
But, she continues, four generations of the same family have been using the front office and large backroom workshop since 1936.
And while marriages changed the family last name, the original name identifies the longstanding product: custom awnings.
"We might be one of the oldest businesses in Trenton. I don't know too many out there," says Morgan's brother and co-partner Chris Adler.
The two continue to add bits and pieces of the family history, with Morgan saying she got a refresher from her mother the night before the interview.
She says it started with Elisha Marshall, their great-grandfather. "He went by the name of Clinton because he hated his first name," says Morgan. "He worked in the awning and shade department in Van Sciver's," a furniture store in downtown Trenton. "They decided to get rid of it and they gave him the equipment.
"He started around the corner (from the office) in a garage. My great grandparents lived across the street; that's why they bought the store. Downstairs was a two lane bowling alley, and upstairs was a tobacco store.
Adler says their great-grandfather turned the bowling lane divider into a work bench and built the tables and shelving still used by the family.
Through the years younger generations assumed proprietorship, and the shop changed from the original Marshalls Awnings to G.E. Marshall, Inc., "after our grandfather George E. Marshall."
Then their mother and her husband, named Adler, took over the store. "Dad got out of the Navy, and he and my mother took over. Then they retired, and now it is us. I've been doing it for 25 years."
Chris adds, "I put my first awning up when I was 13. I'm 53 now. I've been doing it for a long time."
Now crafters in a niche small Central New Jersey business, Morgan says their training was simple: "You worked for the family business because that's what you did. I think every cousin and uncle we have has worked for us."
They also tapped into another labor pool. "When my grandmother and mother worked here, we had a lot of firemen."
The story is that an Uncle Fred Marshall was a fireman who worked there and tipped off his firemen friends who wanted to work part-time. "They all worked here," says Morgan.
Although the siblings live in Florence, New Jersey, they note their connection to Trenton. "We were always here and raised here (on Riverside Avenue) and took the bus to come after school," says Morgan.
The two put their business in perspective by noting that awnings were much more fashionable around the mid-20th century and that they have to explain their use to a new generation.
"They're energy efficient, cut down on energy cost, and look pretty," Morgan says about the canvas installations over store and home windows. "And the canopies are like an extra room," adds Adler about the patio or sidewalk canvas extensions.
However, the awnings business is holding its own and more so. "There has been an uptick over the past years. Even last year, there were a lot of people who were stuck at home, and they wanted to put retractables and mechanicals (awnings) in their yards. I thought during a pandemic that we'd sink. The last five or eight years, the summers seem to be hotter," says Morgan.
The basic business model starts with a home consultation that has Adler arriving to measure, share advice, leave sample books that show material and patterns, and instruct the customer to take a few days to select. A written estimate then follows and asks for a percentage.
When the ordered material arrives in Trenton, it is laid on long tables and measured, cut, and fabricated by Morgan and niece Kimi, who is there with her daughter.
The next step is for Adler and the last of the four fulltime staff members, Muhammad Abdullah, to arrange for the installation. While the cost varies according to selection, a recent five window installation cost approximately $1,600.
The company also offers the service of removing the awnings in the fall, storing them in the winter, re-hanging them in the spring, and providing any maintenance that is needed.
"The Awning Standards say they last 8 to 10 years. We say 8 to 20 years. They can last and we keep putting them up," says Kim.
Using Trenton as their center, the siblings say that their general service range extends as far south as Medford and Tabernacle and as far north as Flemington and Frenchtown.
However, Chris says, they will provide service for an existing customer with a home outside the region.
"We're probably one of the smaller awning companies," says Morgan. "The one down the shore, Jersey Shore Awning, does huge jobs. The ones up in North Jersey are just huge and do New York City. We are definitely a small business. We do 75 percent residential. Then commercial, restaurants, and beauty parlors," she says.
Volume-wise, the two say they annually service approximately 250 maintenance accounts, generate approximately 150 new customers for just awnings, and see cash transactions hovering around $400,000. "It all depends on the economy and weather," says Morgan, adding that the highest concentration of customers is in Hamilton.
She adds that since the company owns the building, their overhead is low and they are able to support their employees — not that it is as simple as that.
Adler says it is difficult to find part time help and that since the season is short it's over as soon as someone is trained.
Additionally, it's not for everyone. "The hardest part of training is teaching people to work off a ladder," says Adler about the need to climb several stories. "Can you go up a ladder and let go (to do the work)? It takes a certain person."
One of those persons is niece Kimi Edge who during an installation climbed a ladder at seven months pregnant. She says her doctor said she could work up to that term.
The other team member and awning family member is Abdullah, a Trenton resident who started working at Marshalls in 2008, left to go to teach elementary school, but has since come back and has been with the company since.
Morgan says despite a year where they've seen an increase in orders, they are also experiencing a new problem. "Shipping is the biggest problem. Nothing is getting shipped. Everything is back ordered."
While they describe the relationship with canvas vendors as generally steady, they say that small vendors have merged with larger ones and products changed or were discontinued. And additionally hardware for fitting the awnings together became difficult to obtain and forced them to find more vendors who could address their needs but at a higher cost.
"This year has been extremely difficult with back orders," says Morgan. "It has been difficult mentally to survive, not business wise."
She then turns her thoughts to other business matters and says, "We always have concerns. You don't know when the next job is coming in. There isn't huge competition. But if someone doesn't want an awning, they don't want an awning. We have had years where there weren't any awnings. "
However, she says, she and her brother aren't going anywhere or moving from Trenton, and she takes joy in the family business' success.
"Surviving as a small business and survive this long is amazing," she says, while Adler says he feels successful "being able to stay open."
But then there is some more. "I feel pretty proud when we drive by (one of our awnings), see it, and go 'we made that,' and give ourselves a little pat on the back."
"Just hearing the customers say, 'I love it,' it makes you feel good," adds Adler.
G.E. Marshall, Inc., 810 South Broad Street, Trenton. www.marshallawnings.com