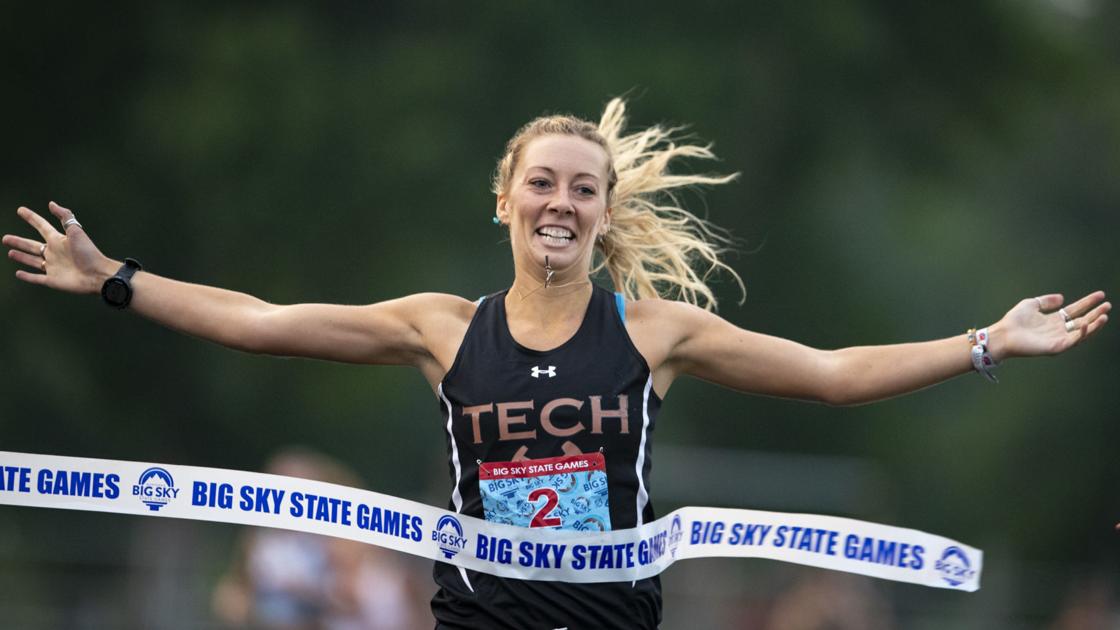 BUTTE — Becca Richtman travelled over 1,000 miles to pursue her running career alongside Zach Kughn. She earned a national championship during her first season at Montana Tech and even found victory in the offseason, winning the Montana Mile on Friday.
With a time of 5:01.61, Richtman ran through the finish line four seconds ahead of the second-place finisher at the Big Sky Games Montana Mile. She said the race had a different feel compared to those she has competed in with Montana Tech.
"Normally I'd prepare for a long run but I just ran seven miles the day before the Montana Mile," Richtman said. "It was a fun race to do, you're not sure what to expect from yourself when you're not in prime fitness, you save that for the season."
Richtman described the Montana Mile as a tactical race, where energy preservation was key. Racing against mostly high school competition, she intended to change her strategy to beat the field with a faster start and slower last lap.
This strategy countered that of traditional collegiate races, where starts tend to be slow and finishes are faster. Knowing this, Richtman made a change and ran as she would in a collegiate race, a decision she said formed some excitement.
"I just knew I was racing against good girls, especially the high schoolers that are progressing so fast," Richtman said. "Any one of them could shock the field so I had to be ready. So I wanted to wait to really go and trust my fitness. And I think it was exciting for the crowd to see."
The atmosphere at the Big Sky Games was another difference Richtman noticed compared to her races in college. With ample spectators, a festival-like vibe and athletes from across the state, Richtman represented Montana Tech, just as coach Zach Kughn did last year.
Richtman ran at Winona State University (Minnesota) where she was coached by Kughn to begin her collegiate career. When Kughn started the program at Montana Tech, Richtman followed him westward to continue her training, showing a firm believe in his coaching abilities.
"When Zach got the job at Montana Tech to start the new program, I thought of course, hands down I'm going out there with him," Richtman said. "I trust his training way more than I ever thought I could trust anyone."
"Zach won the Montana Mile last year so he joked with the team, 'alright, Becca Richtman has to represent us this year'," Richtman continued.
With an NAIA national championship in the 3,000 meter steeplechase and a new Montana Mile first-place finish, Richtman has a few months to train before Montana Tech events begin in September. She said that she still has goals to accomplish in the upcoming season, even if she has already found early success in her career.
Kughn seconded this outlook as he has watched Richtman progress. Kughn acknowledged her talent, but said she needs to remain diligent in working on the mental side of the sport.
"She's talented for sure, it's taking quite a while for the mental side to come around," Kughn said. The mental side and talent are separate, if you don't have both you have zero."
"The first two years in Winona her mental game was so-so, but the biggest change for her has been mentally," Kughn continued. "As you could tell on Friday her mental game has improved for sure, just the way she goes out knowing she can win no matter how the race plays out, and that's what it takes."
Richtman has entered her fifth year of eligibility at Montana Tech and said her goal has been to improve. She said she wants to do better than her third place finish in cross-country nationals from last year, and she also wants to improve in the 3k race.
As an Illinois native that has travelled to three different states to improve on the track, Richtman said that running has become a normalcy in her life and not just a sport. Running has become commonplace, but has always been a motivating factor.
"There's still a lot to accomplish," Richtman said. "You put in work to see results and it doesn't always go as planned, but that's kind of something I've always enjoyed. Zach always helps, always knows where I need to be. I think that's a big reason why I have success. It's fun to test your body, you know."
As an individual, Kughn said a goal for Richtman is to continue to improve mentally. But he wants Richtman's drive and success to further influence the rest of the Montana Tech team, in hopes of taking the team to the NAIA national championship this year.
But Richtman has already helped the Montana Tech program, according to Kughn. Her success, which has now been public on a statewide and national scale, has influenced her team to work hard and has also shown high school athletes what is possible within the the program.
"It's great for recruiting, every time you get the Tech logo in the paper and you see us have success, it's huge," Kughn said. "Lots of the runners in the Mile were high schoolers and they're the exact girls I'm trying to recruit."
"So it's like hey, the winner of this race is on our team, you should come check us out," Kughn continued. "And our current team is pumped for Becca, it really energizes the home base."
Once Richtman's racing days are over, she said she wants to open a running-themed restaurant that supports local events. Richtman is expected to graduate with a degree in interdisciplinary sciences from Montana Tech.