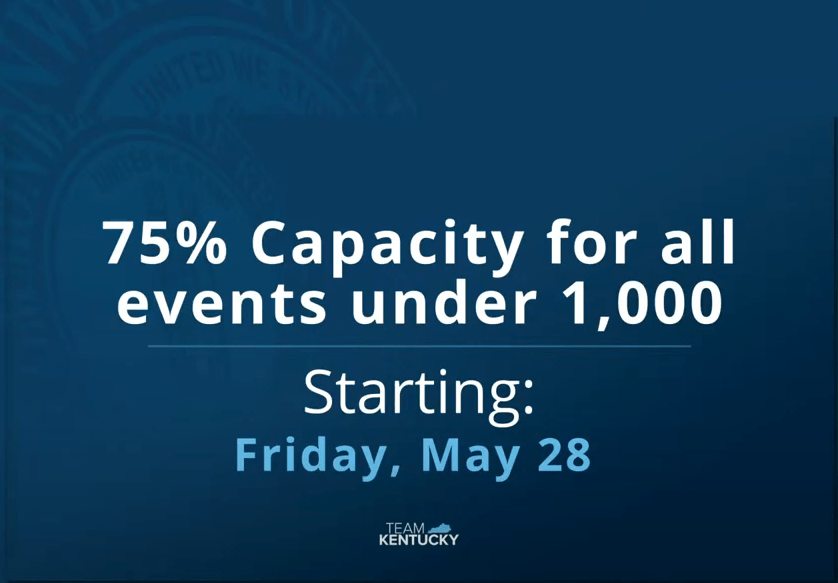 Kentucky Governor Andy Beshear announced plans Thursday to reduce restrictions in the state by the end of the month and said he will likely lift them all this summer before his goal of 2.5 million vaccinations is reached.
The governor said all events both indoors and outdoors with under 1,000 people in attendance can be held at 75-percent capacity. This applies to restaurants, retail, and other similar businesses.
He said events and venues with more than 1,000 people – such as graduations and sporting events – will be allowed at 60-percent capacity.
Beshear also said the mask mandate will not apply if everyone at a small gathering is 100-percent vaccinated.
The governor's announcement comes as 52-percent of the state's eligible population has been vaccinated.
While other states have announced hard deadlines to reopen businesses at 100-percent capacity following COVID-19 restrictions, Beshear said he will not fully lift all restrictions until after 12 to 15 year-olds begin to get vaccinated. He said that could come next week.
Kentucky Agriculture Commissioner Ryan Quarles, who is considered a likely candidate to run against Beshear in the next gubernatorial election, issued a statement on social media during the governor's press conference saying that nothing less than a 100-percent full reopening of Kentucky is acceptable. Quarles added that Kentucky is being left behind by other states that have announced plans to reopen.
State Representative Walker Thomas also agrees on setting a firm reopening date for the state.
click to download audioThe governor previously set a goal of 2.5-million vaccinations in the state before fully lifting restrictions. As of Thursday, just over 1.8 million Kentuckians had received their first dose. There were 194,000 people vaccinated in April and the first week of May compared to 613,000 in March.
Beshear conceded that restrictions will be lifted this summer whether or not the state reaches the 2.5-million goal.
click to download audioKentucky reported 655 new cases of COVID-19 Thursday with a testing positivity rate of 3.51-percent.