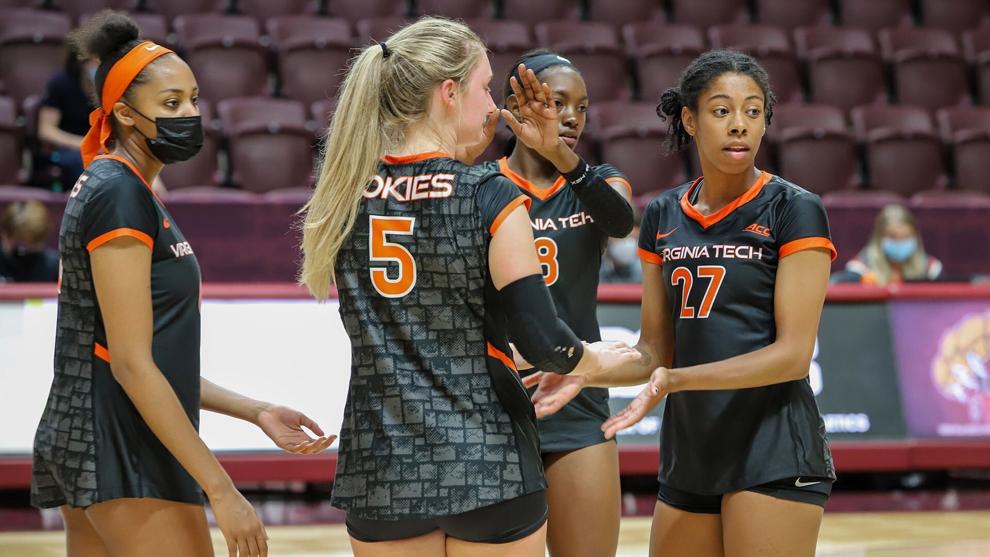 The Virginia Tech volleyball team was unsuccessful in its matches against ACC opponents North Carolina State and North Carolina on Oct. 8 and 10. Virginia Tech is now winless in conference play, falling to 0–6.
Oct. 8 vs. N.C. State
The Hokies got swept 3–0 by the Wolfpack as the team looked out of sync throughout the whole game. The team struggled to get offense going with its hit percentage far below par at -.021 for the match, hitting a bad low of -.179 in the third set. The Hokies were outmatched in most statistical categories. For the first time this season, no Hokie player achieved at least 10 kills in this game; graduate student Griere Hughes led the team in kills with only seven. Virginia Tech has not beaten N.C. State since Sept. 27, 2015. The team's losing streak against the Wolfpack unfortunately extends to eight straight losses.
Oct. 10 vs. North Carolina
After getting swept by the Wolfpack, the Hokies were defeated by the Tar Heels in another heartbreaking loss. They lost their first and third set 25–8, one of their worst losses in a set of the season. North Carolina's duo of Meghan Neelon and Nia Robinson dominated the Hokies. Robinson led the Tar Heels with 15 kills and Neelon served it up with 28 assists; Virginia Tech only had 20 assists in the whole match. For the second match in a row, the Hokies had no player get at least 10 kills; junior Cera Powell led the Hokies with only eight. North Carolina has not been great in conference play either, with the Tar Heels only having one win prior to this matchup. However, the Tar Heels came into the conference section of the season undefeated. The Hokies' all-time record against the Tar Heels in volleyball is now 6–28.
After a disappointing weekend, Virginia Tech returns to Blacksburg to play against the undefeated No.3 Louisville (16–0, 6–0 ACC) on Oct. 15 at 6 p.m.