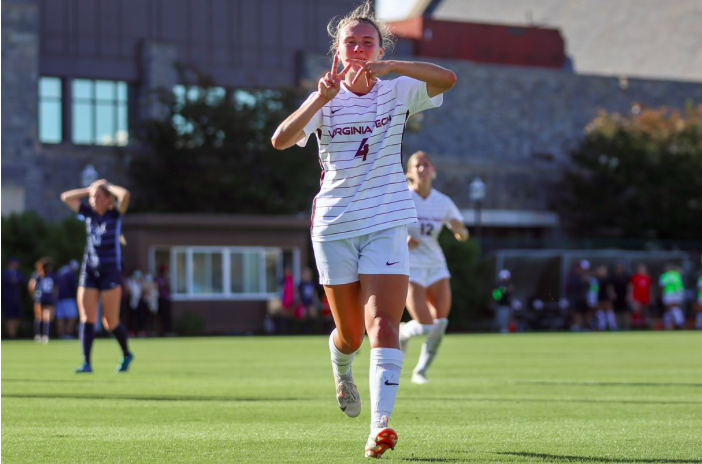 After a loss to top-10 Santa Clara, the Hokies returned home to begin a win streak by defeating Villanova 5–1. Before facing the Hokies, Villanova only let in three goals in the five games it had played so far this season.
The first five minutes set an aggressive tone for the rest of the match. Players were hitting the grass left and right, and the referees just let them play for the most part. Four yellow cards were given out throughout the game: one for Virginia Tech and three for Villanova.
Tori Powell made an incredible move in the 14th minute to score the Hokies' first goal. Powell broke away down the field, darted by a Villanova defender and sent the ball right past Wildcat goalkeeper Megan McClay. Virginia Tech built off that momentum and the Wildcats had to battle hard just to get the ball back to their side of the field.
Emily Gray scored an unassisted goal in the 27th minute and Nicole Kozlova scored a goal in the 31st to put the Hokies up 3–0 still with 14 minutes left in the first half. The goal breaks Gray into the top-10 leading scorers in program history.
"Gray has been a very impactful player," said head coach Chugger Adair. "In her off-the- field commitment and her leadership, she has been a wonderful player for us. It's nice that she's in the top 10 — she deserves to be."
Villanova came out with some spark in the second half with a seemingly effortless goal on Tech goalie Alia Skinner in the 51st minute. However, Virginia Tech continued to make it difficult for Villanova to gain possession. The Hokies made McClay stay on her toes and McClay's saves were the only reason Villanova was able to stay in the game.
Villanova was able to get one more solid shot on Skinner in the second half, but was not able to get much offense going. Virginia Tech was able to close the door on the Wildcats in the 84th and 85th minutes with back-to-back goals. A shot from Emma Pelkowski bounced off McClay's hands right in front of Sophie Maltese, setting her up for the shot. Pelkowski then assisted Aino Vuorinen's first collegiate goal to make the score 5–1.
The win moved the Hokies to 5–2 on the season. The team is back in action against No. 12 South Carolina on Sept. 12 in Columbia, South Carolina, and then will begin its conference season.
"We're going to make sure that we're ready," Adair said. "It was a great test for us, playing Santa Clara. We're looking to get ourselves on the right end of it this time."